Caroline Zaia and Zaia Zaia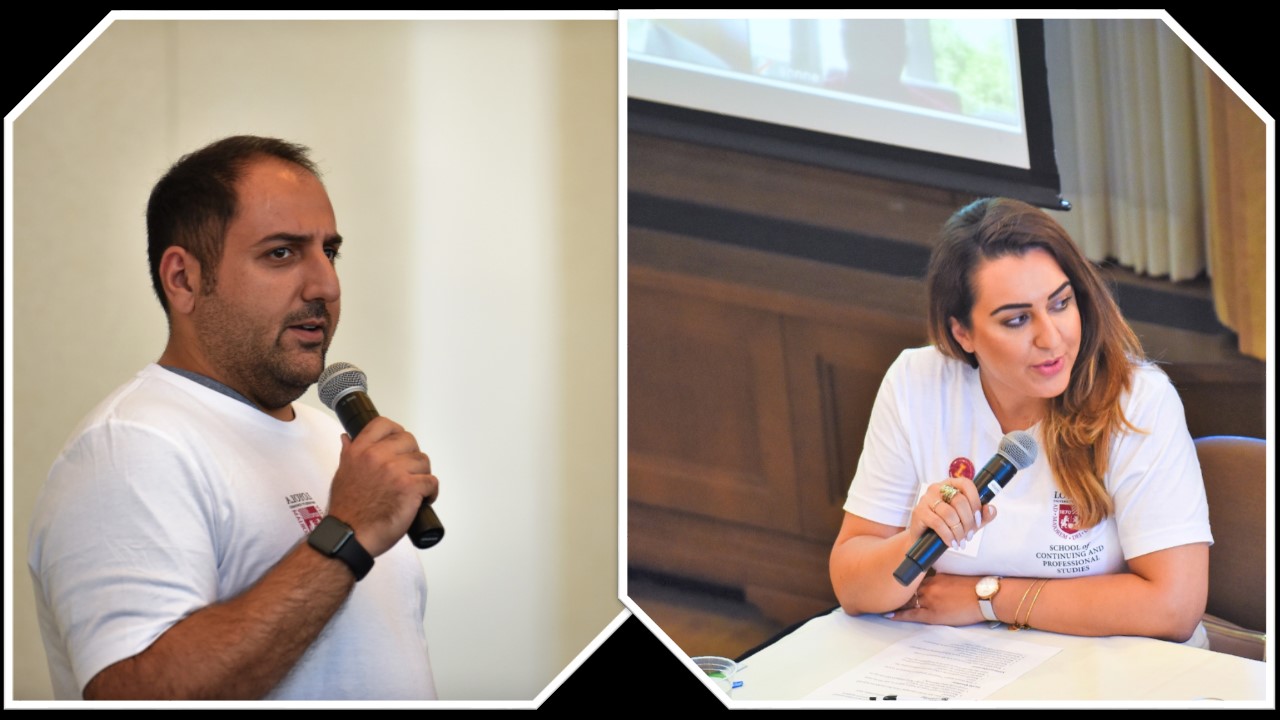 This brother-sister duo are making their mark at Loyola.
Siblings

Paralegal
Loyola family
Zaia Zaia (SCPS student) and Caroline Zaia (alumnae), attribute their success and career growth to their time at Loyola University Chicago's School of Continuing and Professional Studies (SCPS).
Both siblings pursued the BA in Paralegal Studies with a dual certificate in Litigation and Corporate Practice. Caroline graduated in 2016, while Zaia completed his education in December 2017.
"Coming back to school changes your life in so many ways. It changed the confidence I have in myself. As hard as I worked, I never felt accomplished because I always had this yearning to finish my degree," says Caroline.
Truly imbibing the spirit of a holistic Loyola education, the siblings are also SCPS Ambassadors; a group of dedicated students and alumni who act as liaisons for SCPS, assisting new students as they transition to the college environment.
"My favorite part about being an SCPS Ambassador is the fulfilling feeling of knowing you may have made an impact on a student's life. I think it is important that we all give back to our communities and what better way than to help the current and prospective students who want to join the Loyola family," says Zaia. While Caroline believes it is the "least she can do" to help the Loyola staff and faculty.
Through determination, hard work and time-management, Caroline and Zaia both excelled at their classes and stayed on top of their coursework.
Of course, managing school, work and your personal life is never easy.
"There will be times where your friends or family may get upset with you for not being able to spend time with them, but you will have to push through this. The reward at the end is completely worth it. And they will celebrate it with you."
However, having your sibling alongside you in this educational journey can make it a lot smoother, and DEFINITELY a lot more fun!
"Both of us always strive for the best and it almost created a healthy competition between us, pushing us to excel. However, we supported each other throughout the whole process. The most memorable part was our drives to school, where we would catch up on our day and quiz each other on class assignments. We were great study partners!"‌
‌The siblings unanimously agree that the approachability and support of Loyola faculty and staff, as well as the school's generous transfer credits and flexible hours, made it a lot easier for them to pursue their degree.
On a parting note of advice to new students, Caroline says, "Make connections with fellow students, they will become your pillars of support. Reach out to staff and faculty; everyone is willing to help you. And always take advantage of the resources available to you."
Adding to that, Zaia suggests spending ample time reviewing material and going over Sakai. "A critical, most useful and beneficial resource" in his books.
After graduating, Caroline is working towards her goal of a Master's degree. Zaia recently landed his dream job, and is contemplating law school in the future.
SCPS is proud to represent these wonderful siblings, and thrilled they represent the true (and literal) spirit of a close-knit and collaborative Loyola "family"!
‌####
If you would like to share your story as a current student or alum, please email it to scps@luc.edu. We would love to hear from you.