Click here for more photos.
ASN Application Information is Coming soon!
Information on the 2022-2023 Alpha Sigma Nu application process will be coming soon!
Information for Nominees
Learn About ASN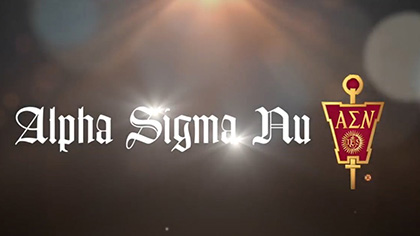 Have you been nominated for induction into the Alpha Sigma Nu Jesuit Honor Society? Check out our 2021 Alpha Sigma Nu Nominee Information Session!
WATCH VIDEO
ASN Video
The ASN Central Office utilized the central location of Chicago, Loyola's gorgeous campus, and our annual ASN Induction Ceremony as the base for their 100 year celebration video. Click to enjoy and learn more about ASN's legacy.
Mark your Calendars
The annual Loyola Alpha Sigma Nu Induction Ceremony is by invitation only for newly inducted members. The ceremony will be held Sunday, October 24, at 2 p.m. Watch the ceremony via live stream.
WATCH
Alpha Sigma Nu is the international honor society of Jesuit institutions of higher education. The society was founded in 1915 to honor a select number of students each year on the basis of scholarship, loyalty, and service. Alpha Sigma Nu is unique among honor societies in that it seeks to identify the most promising students in Jesuit schools. Inductees demonstrate an intelligent appreciation of and commitment to the ideals - intellectual, social, moral, and religious - of Jesuit higher education. Selection to Alpha Sigma Nu is one of the highest honors that can be given on a Jesuit campus.READ MORE

1. Only 4% of students are inducted, making ASN the highest honor across all disciplines at Jesuit institutions 2. Worldwide members are approaching 100,000, meaning you have an outstanding network to utilize 3. ASN enhances Jesuit education experiences via recognition, programming, and connecting members 4. Membership is for life with only a small, one-time fee Click for Benefits of MembershipLEARN MORE

Alpha Sigma Nu, the honor society of Jesuit institutions of higher education, recognizes those students who distinguish themselves in scholarship, loyalty and service. The only honor society permitted to bear the name Jesuit, ΑSΝ encourages its members to a lifetime pursuit of intellectual development, deepening Ignatian spirituality, service to others, and a commitment to the core principles of Jesuit education.LEARN MORE