Alumni Spotlight: Asya Meadows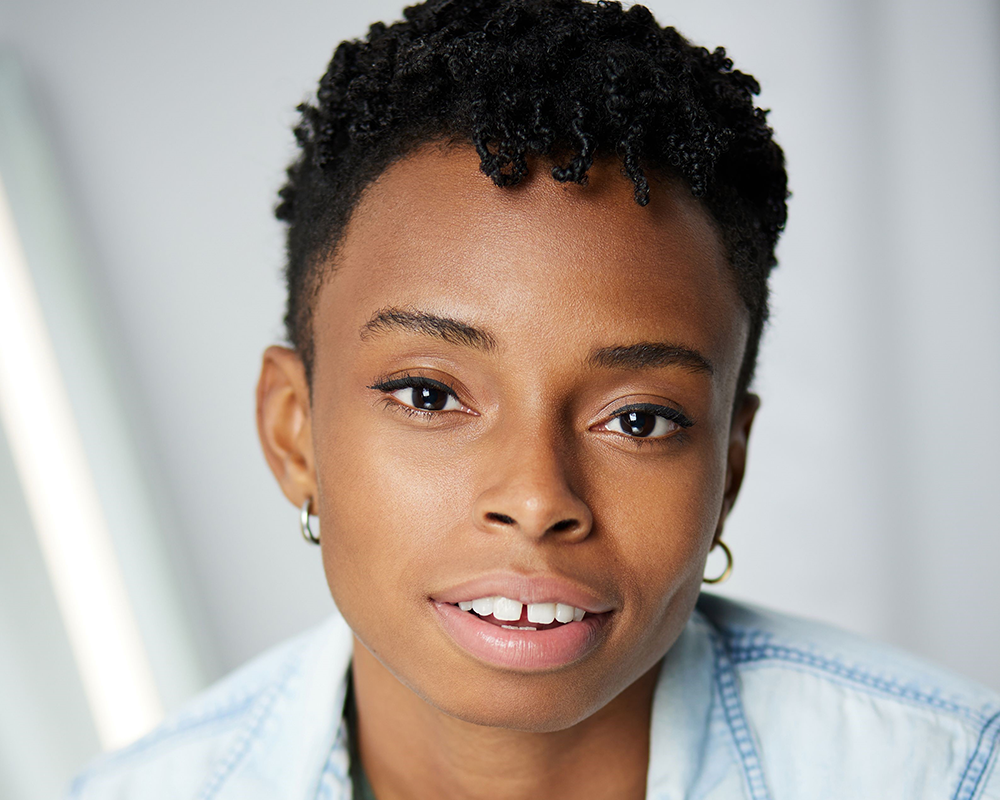 "At Arrupe, I learned to see myself as someone with many gifts and talents. More importantly, I learned to not be afraid to show that to others."
The only thing missing was their tassel. Loyola University Chicago senior Asya Meadows (AA '17, BA '19) was at the Baumhart bookstore collecting their cap and gown ahead of their graduation from the School of Communication. Asya hugged the plastic-wrapped robe tight against their leather jacket. Downstairs, Asya laid it on a table, beaming. Their braids were piled high on their head, their eyes wide with excitement. "I've been waiting for this to come in," Asya said. "It's unreal right now. It's not going to hit me until I walk the stage. And maybe not even then! Maybe like two days after, I'll just start bawling."
Graduating with a bachelor's degree would have felt like a pipe dream four years ago, when Asya —a Maywood, Illinois, native—was kicking around at St. Joseph's High School, in suburban Westchester. Active in theater and on the track team, Asya found themselves "cruising" in the classroom. ("I was like, 'whatever man.'") At an assembly towards the end of their final year, an admissions counselor clued Asya into a new program Loyola was launching, one built to support "average students" like her—the child of a single mom, a person of color from a working-class suburb, and a kid who just needed to fine-tune their academic skills. "They described the ideal Arrupe recruit," Asya said, "It was me."
It was nerve-racking enough to start college, much less at a school that itself was brand new. Asya remembers a community that was collaborative yet tentative, searching for its footing. A summer retreat helped establish a social foundation. "I was surrounded by people that were very ambitious. They wanted more for themselves," Asya said. "It infected me, wanting to do more." When classes started, Asya commuted 45 minutes each way, balancing coursework with a part-time gig at Old Navy. Asya's readings at Arrupe were more complicated, the essays longer, the rigor ratcheted up. Still, Asya felt supported by Arrupe professors; they were, to a person, approachable and sensitive. "It's a lot of work to meet everybody where they're at and then bring everybody to the same level," Asya said. "Everybody has their own learning curve…They understand that life hits us in different ways."
There were long nights at Maguire Hall, banging away until the building closed and then moving to a cafe down the block. Asya flourished: Dean's List; student body president; commencement speaker; one of a select number of Continuum Scholarship recipients, which provided funding for tuition, housing, meals, and books to Loyola, the only four-year college to which Asya applied. Life in Rogers Park, though, required another degree of acclimation. "Transferring into a predominantly-white institution was very overwhelming," Asya said, "and a little bit isolating."
Once Asya found the Student Diversity and Multicultural Affairs office, in the Damen Student Center, things clicked into place: "That's where I got my foot in the door, and where I felt comfortable adopting a new Loyola identity, while still holding onto my Arrupe identity."
In spring 2019, Asya graduated with a degree in advertising and public relations, fields that are people-oriented and tap into their creativity. For a person literally born at the Loyola University Medical Center, donning a maroon mortarboard holds special significance. "Tickets for graduation were unlimited, so I invited everybody," Asya said. "I brought the whole gang."
Wanting to experience something entirely new, while giving back to the community, Asya moved to a small town in southern Colorado to serve as an AmeriCorps member following graduation.
Asya served as an Art Program Coordinator for the Boys and Girls Club and experienced a part of the country very different from Chicago. "My perspective changed in Colorado," Asya shared, "and it fueled my passion for uplifting marginalized communities." The mission of helping people reach their full potential mirrored the Jesuit's care for the whole person Asya had experienced firsthand at Loyola.
After Colorado, Asya returned to Chicago for another year with AmeriCorps, this time as a communication and development associate with 826CHI, a non-profit creative writing center in Wicker Park dedicated to amplifying the voices of Chicago youth. Looking back, Asya says Arrupe helped them find their own voice: "At Arrupe, I learned to see myself as someone with many gifts and talents. More importantly, I learned to not be afraid to show that to others."
Today, Asya works as a communications manager for the Come To Believe (CTB) Network. CTB was launched by Arrupe's founding dean, Fr. Steve Katsouros, to offer consulting and support to other universities desiring to implement Arrupe's model on their campuses. Asya hopes her work will help start other Arrupe model colleges for students who want more and are willing to work for it. "It was a huge honor to be asked by Fr. K to join CTB. I'm so grateful to be a part of the expansion of the Arrupe model," Asya remarked.