archive
The Urgency of Climate Action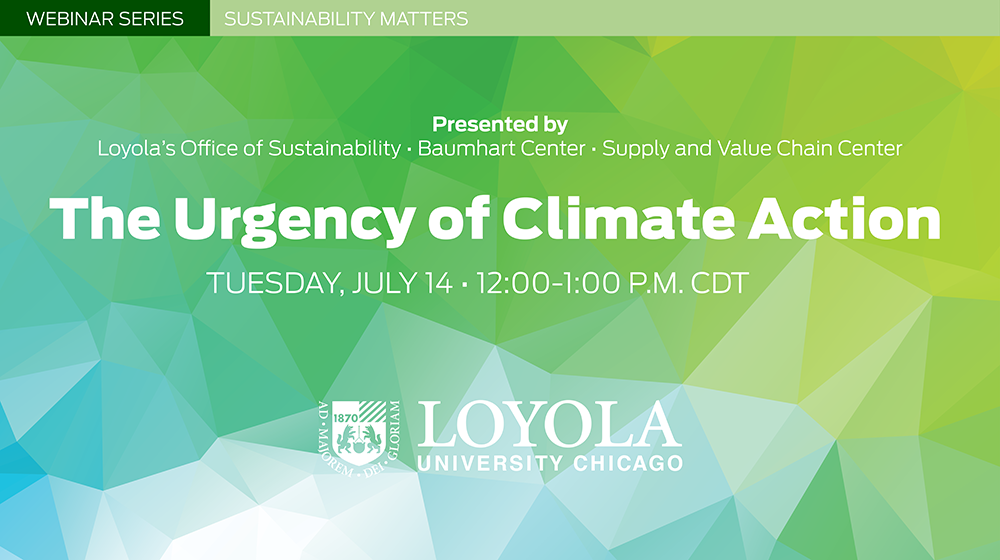 Join us on July 14th from noon to 1 p.m. CDT for our virtual conversation on the Urgency of Climate Action. We are in an important moment where a public health pandemic has demonstrated the value of science-based policy and the interconnectedness of our world. The fragility of our social infrastructure, visible in this moment, is also a challenge in building resilient and equitable progress on environmental issues. How can this inform our understanding of climate action and how cities and organizations might respond going forward?
Featured speakers
Joyce Coffee
President
Climate Resilience Consulting
Aaron Durnbaugh
Director of Sustainability
Loyola University Chicago
Kumar Jensen
Chief Sustainability and Resilience Officer
City of Evanston
Chris Wheat
Director, Strategy & City Engagement
Natural Resources Defense Council
Sustainability Matters webinar series
Sustainability Matters is an interdisciplinary webinar series that explores the urgency and opportunity to advance sustainability efforts in the Chicago region. The four-part, weekly series is a partnership of the Loyola's Office of Sustainability, the Supply & Value Chain Center, and the Baumhart Center.