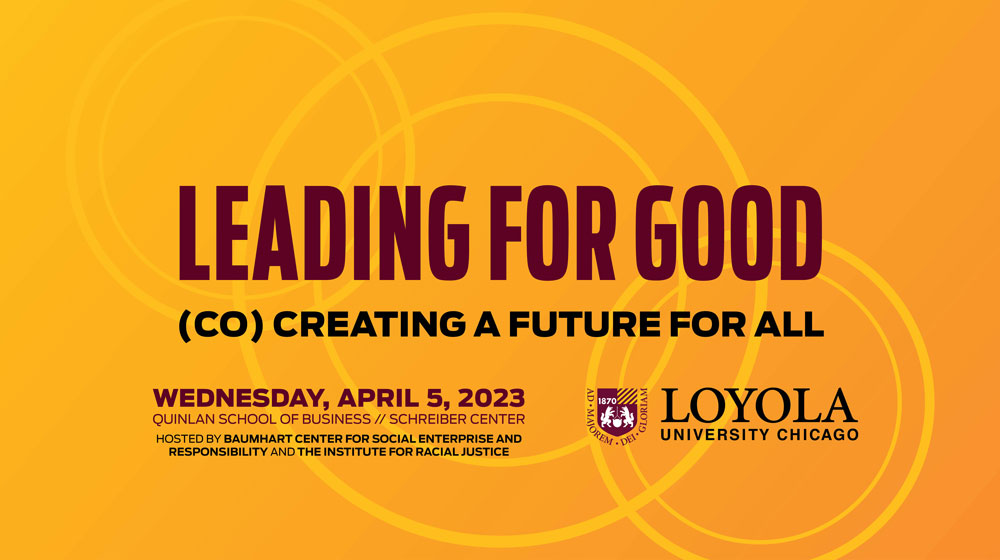 Join us on April 5 at Leading for Good for an incredible day focused on "(Co) Creating a Future for All." Engage with transformational leaders across sectors as they share real examples and deep conversations on working together in new ways as we strive to create a better future.
Heather McGhee, the best-selling author of The Sum of Us, will anchor to a day focused on inspirational and specific ways to create thriving communities, in an inclusive economy, on a healthy planet. Supported in partnership with the Institute for Racial Justice.
Speakers
This year's conference will feature an exciting lineup of leaders who are at the forefront of business strategy and social purpose. Below is just a sample of who will be speaking with more to be announced in the coming weeks. Click the drop-down to view our current roster.
Andrea Saenz
Chicago Community Trust
Stephanie Morimoto
Asutra
Tuan Huynh
VietFive
Joey Mak
Chicago:Blend
See more speakers
Heather McGhee
Best-selling Author
Andrea Saenz
President and CEO
The Chicago Community Trust
Stephanie Morimoto
Owner and CEO
Asutra
Tuan Huynh
Founder
VietFive
Joey Mak
Executive Director
Chicago:Blend
Wendy DuBoe
Chair
Institute for Nonviolence Chicago
Joanne Rodriguez
Founder and CEO
Mycocycle
Nancy Tuchman
Founding Dean
School of Environmental Sustainability
Daniel Cervantes
SVP, National Expansion
Skills for America's Future
Tonika Lewis Johnson
Photographer and Social Justice Artist
Folded Map Project
Karen Freeman-Wilson
President and CEO
Chicago Urban League
Liam Donnelly
CEO
WasteNot
Brandis Friedman
Anchor/Correspondent
WTTW
Kim Evans
EVP, Head of Corporate Sustainability, Inclusion, and Social Impact
Northern Trust
Dr. Mark C. Reed
President
Loyola University Chicago
Cherita Ellens
President & CEO
Women Employed
Erin Amico
President & CEO
Chicago Academy of Sciences / Peggy Notebaert Nature Museum

Paige Graham
SVP, Social Impact & Sustainability
Edelman

Carl Jones Jr.
VP of Government and External Affairs
Comcast


Agenda
Our agenda features a variety of timely and relevant topics that are sure to inspire deep conversations.
View the Agenda
9:00 a.m.
Welcome Remarks

Dr. Mark C. Reed, President, Loyola University Chicago

Wendy DuBoe, Advisory Board Member, Baumhart Center

Daniel Cervantes, SVP, National Expansion, Skill's for America's Future
9:30 a.m.
Panel: Sustainability Leaps: Taking Action Together
At long last, it seems that everyone is talking about sustainability but how are organizations actually making the internal decisions and cultural shifts to deliver? How are we building bridges and opening more pathways to concrete climate action by and for all? Hear from leading practitioners on how and why things are getting done and the work still ahead.

Paige Graham, SVP, Social Impact & Sustainability, Edelman

Joanne Rodriguez, Founder & CEO, Mycocycle

Tonika Lewis Johnson, Photographer and Social Justice Artist, Folded Map Project

Erin Amico, President & CEO,

Chicago Academy of Sciences / Peggy Notebaert Nature Museum

Moderator: Karen Weigert, Director, Baumhart Center
10:30 a.m.
Innovation Pop-up: VietFive Coffee
Hear from the founder, Tuan Huynh, an award-winning creative director and community organizer based out of Chicago, Illinois, about the story behind VietFive Coffee. VietFive Coffee serves authentic Vietnamese coffee, grown and harvested in the place of his birth and roasted in Chicago, Illinois. In addition to serving coffee, VietFive provides access to marginalized communities and ex-felons by providing career opportunities through industry networking, creative workshops, community-centered events, and employment opportunities.

10:45 a.m. - Break
11:00 a.m.
Impact in Action: Innovator Awards
The Innovator Awards is a nationally significant award series that recognizes companies who are at the forefront of social innovation in business. The awards celebrate companies across three categories of innovation: Purpose and Profit, Environmental Stewardship, and Social Impact.
Social Impact Award recipient: Kathleen Caliento, President and CEO, Cara Collective
Environmental Stewardship Award Recipient: Jimmy Samartzis, CEO, LanzaJet
Parkinson Award Recipient: Jeff Hogue, Chief Sustainability Officer, Levi Strauss & Co.

Moderator: Megan Christenson, Sr. Portfolio Manager, REDF Impact Investing Fund
11:50 a.m.
Innovation Pop-up: WasteNot
WasteNot Compost is the nation's only zero-emissions compost collection service for homes, businesses, and events. Liam Donnelly began WasteNot in 2015 out of a desire to do better. While lugging his sixth bag of trash to a cafe's dumpster, he knew there was a simple solution: composting. Out of necessity, WasteNot started as a zero-emissions company, utilizing a bike and trailer to service members across the city. WasteNot went from operating on a bike to a 100% electric fleet, allowing all WasteNot members to Compost Without Compromise™. Liam is also an alum of Loyola University Chicago's School of Environmental Sustainability.
12:15 p.m.
Keynote: The Sum of Us, featuring Heather McGhee
12:45 p.m.
Post Keynote Panel: An Economy for All
Moderator: Brandis Friedman, Anchor/Correspondent, WTTW

Andrea

Sáenz, President & CEO, Chicago Community Trust

Karen Freeman Wilson, President & CEO, Urban League

Carl Jones, Jr., VP, Government and External Affairs, Comcast
1:45 p.m. - Break
2:00 p.m.
Panel: Entrepreneurs and Intra-preneurs Needed: New Ways to Impact
Change is accelerating across the economy, both inside organizations and through new entities. Hear from impact leaders in multiple different roles – some they applied for and some they created – about the skills and approaches they use on the path to greater impact. Leave inspired to accelerate your path to impact.

Stephanie Morimoto, Owner & CEO, Asutra

Kimberly Evans, EVP, Head of Corporate Sustainability, Inclusion and Social Impact, Northern Trust

Joey Mak, Executive Director, Chicago:Blend

Moderator: Cherita Ellens, President & CEO, Women Employed
2:45 p.m.
Closing Remarks
3:00 p.m.
Reception