Executives explore the intersection of business and purpose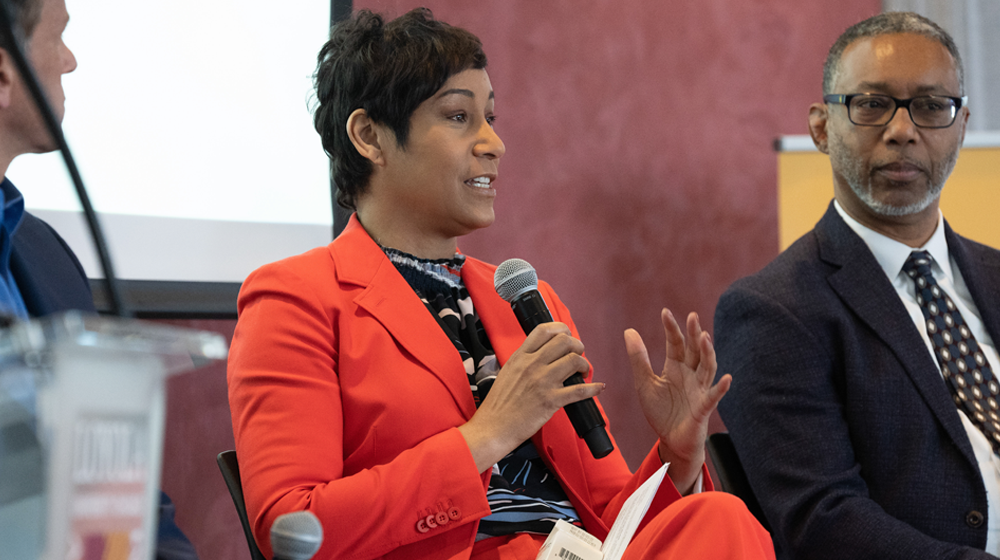 By Erin Lippert | Student Reporter
Changemakers and innovators from Chicago and beyond joined the Baumhart Center's third annual Leading for Good conference in February 2020.
The conference revolved around the importance of using business to drive social impact and included breakout sessions on topics such as working across sectors, embracing diversity and inclusion, and scaling social enterprises.
Key takeaways
1. Employees care about social impact.
More and more employees are expecting their employers to work to bring about positive social change. Joe Higgins of Comcast states that employees' desire to be more active in the neighborhoods they serve has led to a "tremendous shift from me being the external affairs department to the entire company being a part of external affairs."

Comcast makes their community involvement a priority because they believe, first and foremost, that it's the right thing to do. It's also what the new workforce wants. "It's a tool for recruitment. It's a tool for retention…If we're not doing these things, we're not going to be a company of choice," said Higgins.
2. Everyone can make a difference.
CEO of Black Opal Beauty Desiree Rogers shared words of wisdom for those looking to have a career that marries profit and purpose: "Keep looking for ways to improve. Keep looking for ways to make a difference."

Rosemary Matzl and ITW are continually looking for new ways to make a difference. As a decentralized company driven by its values, ITW has the opportunity to create change in the multitude of segments they are a part of.

"Our segments can do what they feel is appropriate for their core competency," said Matzl. "Food equipment can focus on hunger, welding can focus on STEM education and put welders into the industry, construction can focus on housing, and so forth."
3. Take action.
Chicago Deputy Mayor Samir Mayekar joined the conference to speak on the progress being made in the city and the work that still needs to be done. "You're going to be hard-pressed to find a single major company that doesn't talk about how it prioritizes social impact or community engagement," said Mayekar. "But now we need to turn that kind of talk into action."

Mayekar highlighted Invest Southwest, which is one of Chicago Mayor Lori Lightfoot's programs focusing on inclusive growth in Chicago. Invest Southwest combines the efforts of the government, businesses, and the philanthropic sector to "mobilize investment in ten targeted community areas on the South and West Side. We are committing over $750 million over the next three years," said Mayekar.
Conference highlights
Experience Leading for Good highlights through video, photography, and social media.
Watch key insights:
See the event photos:
Follow the conversation on social media: