Impact investing blurs boundaries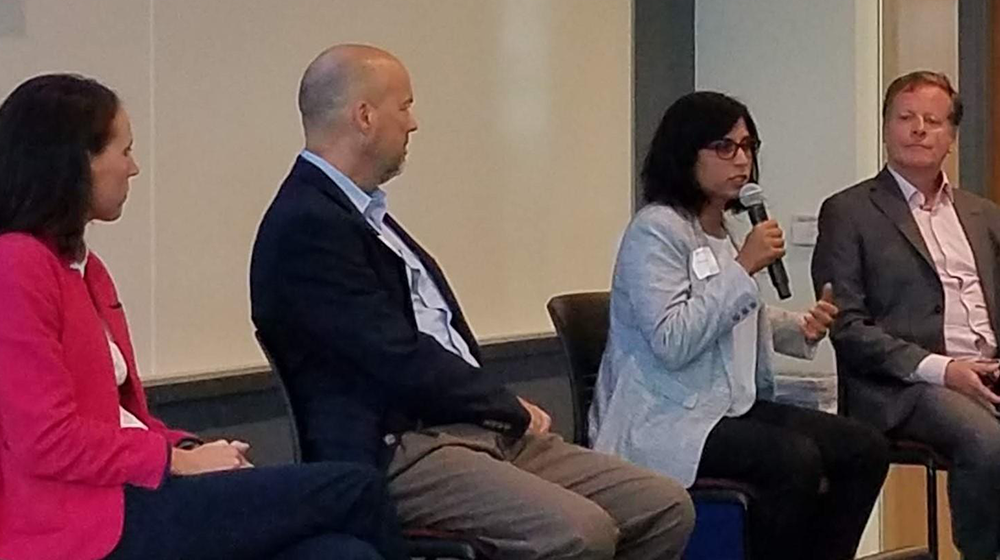 By Brittany Grosser-Basile | Student reporter
Leaders discussed the latest trends in the impact investment field at Investing for Global Impact, a standing-room-only breakfast on September 6 hosted by the Baumhart Center for Social Enterprise and Responsibility.
The breakfast event featured four panelists:
Kate McAdams, Managing Director, Arabella Advisors
John O'Shaughnessy, CEO, Franciscan Sisters of Mary
Priya Parrish, CIO, Impact Engine
John Weakliam, CEO, Vita
Seth Green, founding director of the Baumhart Center, moderated the panel.
Three trends in impact investing
Three themes emerged during the event:
1. Sectors are converging to accelerate impact
Impact investing brings together people from various professional backgrounds and sectors to accomplish more with their money. Impact investors are making intentional investments focused on outcome. "Impact investing calls for cross-sector collaboration and partnership," Parrish said. "I think in the financial and investment industries, some of the best minds gravitate to the impact investing world because we operate in a different way and there is something deeper there."
2. Impact investing is not black and white
There is no "one size fits all" strategy in impact investing. The motivations for investing are multifold, and funders have varying risk tolerances and degrees to which they desire to align their impact investing strategy with their philanthropic mission. O'Shaughnessy emphasized that investors should "never compromise on the process you go through to determine how you might actually integrate something [into a portfolio] that produces positive returns. Understand it, be informed, make really good informed decisions."
3. Everyone can participate in impact investing
Impact investing isn't limited to professional investors. People of all ages and backgrounds can engage in impact investing. As O'Shaughnessy pointed out, the average person can invest through platforms such as Swell Investing or through ESG funds managed by financial services companies.
Role model for impact investing
At the end of the panel, Weakliam discussed the Vita Green Impact Fund. An example of all three event themes, the fund combines climate action with delivery on the UN Sustainable Development Goals and has a vision to leave no one behind. The fund provides sustainable and affordable water and energy to rural people in Eritrea and Ethiopia and generates carbon emission savings that are sold on voluntary carbon markets with the income used to repay investors.
"Impact investment offers the potential for scale," Weakliam said. "It's sustainable. Grants are utterly unsustainable, and sustainable finance is what we have to generate."