Sustainability in Buildings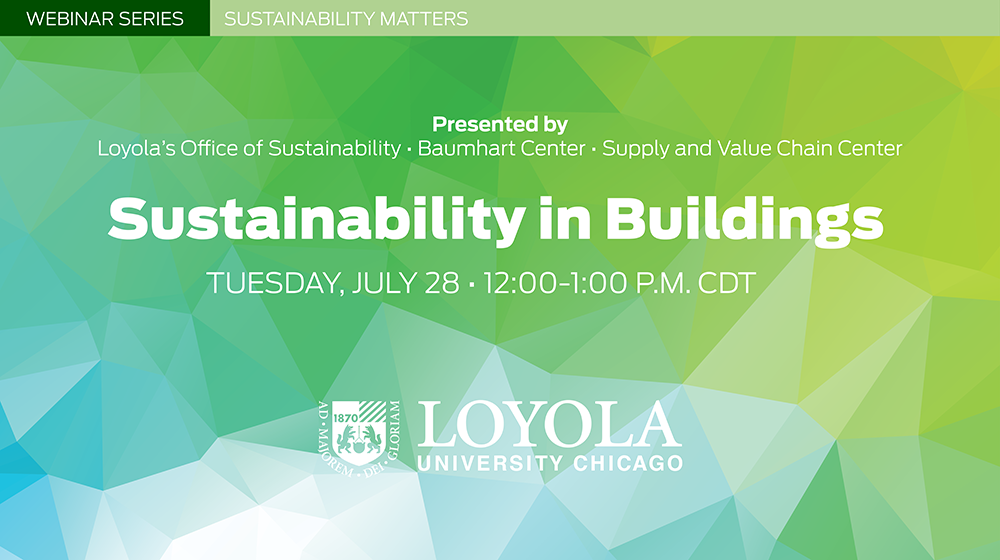 On July 28, 2020, eighty leaders joined us for our virtual conversation on Sustainability in Buildings. The majority of our carbon emissions come from energy use in our buildings.
With help from a team of experts, we explored how we can speed up the transformation of our built environment and move toward a future where every building addresses climate change, contributes to its neighborhood, and provides a safe environment for its occupants.
Watch webinar
Featured Speakers
Anne Evens
Chief Executive Officer
Elevate Energy
Arathi Gowda
Associate Director
Skidmore, Owings, and Merrill
Brian Imus
Executive Director
Illinois Green Alliance
Aaron Durnbaugh (moderator)
Director of Sustainability
Loyola University Chicago
Sustainability Matters Webinar Series
Sustainability Matters is an interdisciplinary webinar series that explores the urgency and opportunity to advance sustainability efforts in the Chicago region. The four-part, weekly series is a partnership of the Loyola's Office of Sustainability, the Supply & Value Chain Center, and the Baumhart Center.