archive
Bioethics Bowl Team Wins Second National Title at 2016 Competition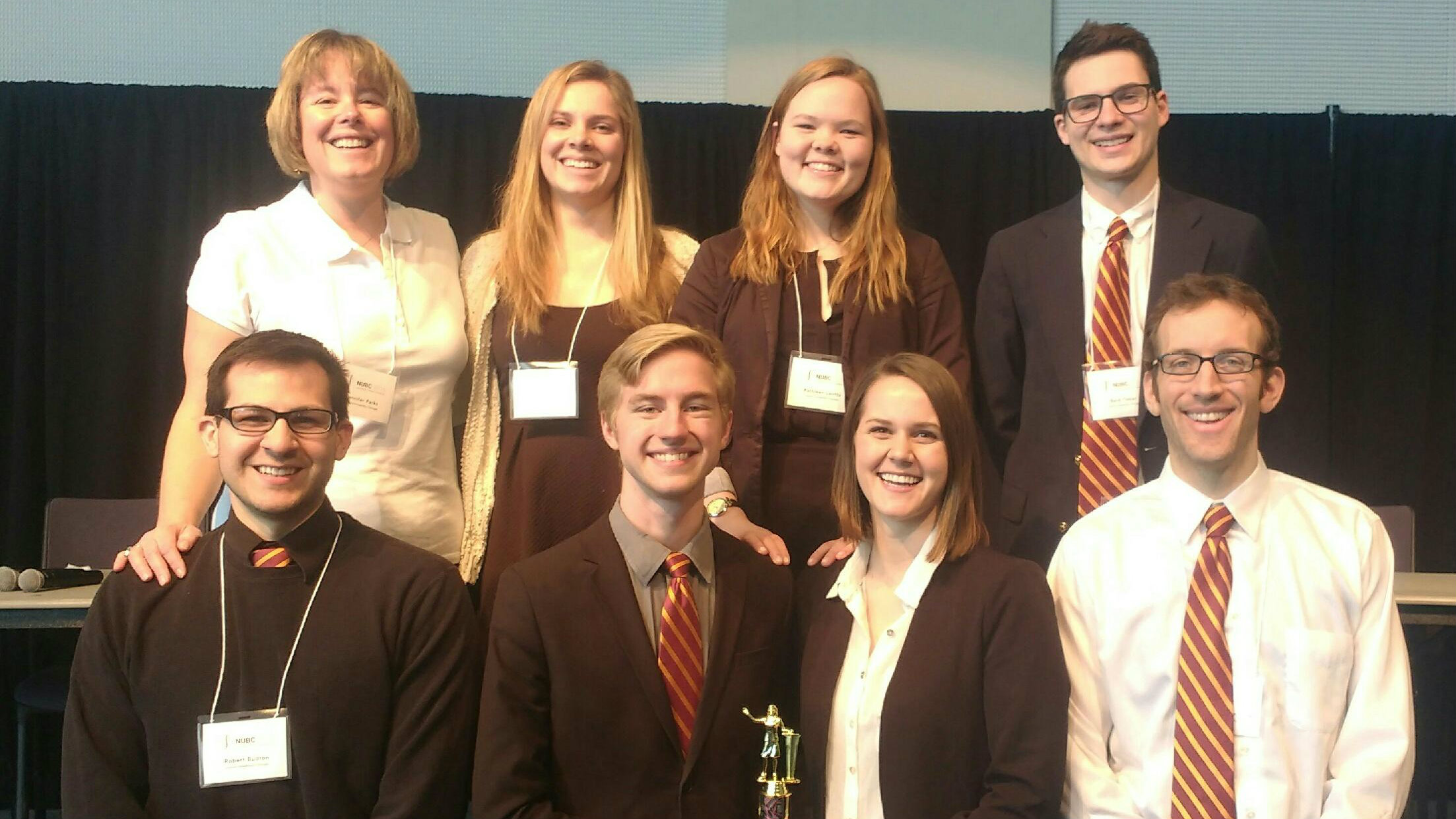 Loyola's Bioethics Bowl team secured the University's second national win in the past three years at the National Bioethics Bowl competition in April. The team also won the national competition in 2013, where they also beat Georgetown University by a single point.
This year's competition was held at Case Western University in Cleveland, Ohio the weekend of April 8 to 10, and drew 14 teams from around the country to offer competitive presentations on a variety of healthcare-related ethics cases ranging from complex end of life situations, to uterine transplants, to human germ line editing. Loyola went 2-1 in the preliminary rounds to secure a spot in the single elimination rounds on Sunday, April 10.
In the quarterfinal match Loyola defeated the University of Denver, the only team to which they lost in the preliminary rounds. The case presentation by freshman Paul Burghard and sophomore Kathleen Lantto allowed the team to move on to the semifinal match. There, they proceeded to defeat Macalester College with a presentation led by junior Reid Tinker and team captain, Mary Kate Brueck.
The final round pitted LUC against Georgetown University, with sophomores Kathleen Lantto and Annalise Norling 's presentation on Japanese stem cell trials edging out Georgetown's presentation on CRISPR-CAS 9, an accessible gene editing tool.
Announcing the 2017 John F. Grant, MD Awards Competition
Two awards of $3000 each will be given for Spring semester 2017. Eligibility: Junior or Senior Undergraduate students who have a special, demonstrated interest in studying health care ethics.
Conditions: The recipients of the awards are expected to enroll for spring 2017 in either Philosophy 398:001 (The Grant Symposium in Health Care Ethics), BIET 395 (The Bioethics Minor Capstone), or Philosophy 369 (Philosophy of Medicine). For application forms, please contact the secretarial office in the Philosophy Department, 366 Crown Center, Lake Shore Campus. Telephone 773-508-2291. Contact person: Lucas Abramson(Administrative Assistant).

***Deadline for Applications: Friday, November 18th, 2016***
***Please click the title above to access the award flyer and application form***

These awards are supported by the John F. Grant, MD Endowment for Health Care Ethics.
Congratulations to the winners of the Philosophy Department's Undergraduate Essay Contests!
Congratulations to the winners of the Philosophy Department's recent undergraduate essay contests!
John F. Grant, MD Essay Contest:
1st Place: David Masolak, "Informed Consent Among Ethnic Minorities"
2nd Place: Elizabeth Modde, "Stuck in a Debate on the Ethics of Mandating Quarantine"
Philosophy Department Undergraduate Essay Contest:
1st Place: Anna Ulyanenkova, "The Value of Bio-Parenting: Homosexuals' Right to State-Mandated Infertility Services"
2nd Place: Steven Yandell, "How to Know (Whether Knowledge-as-Ability is Plausible)"
Thank you very much to everyone who participated.
Dr. Eric Chwang gives spring 2015 grant lecture
Spring 2015 John F. Grant Lecture
Funded by the John F. Grant, MD Endowment for the Study of Health Care Ethics
Dr. Eric Chwang, MD, PhD
Assistant Professor
University of Colorado, Boulder
"Autonomy as Purely Mental"
March 25, 2015
2:30–4:30 p.m.
Information Commons, 4th Floor
Refreshments will be provided.
John F. Grant MD Endowment funds lively healthcare ethics seminar
By Molly Clasen
Should patients have the right to refuse life-saving treatment? When can a doctor breach a patient's confidentiality? Should a parent always have the final say in her child's medical care? Today's expanding medical field grapples increasingly with complex issues like these, making health care ethics one of the fastest growing fields in philosophy. The John F. Grant Seminar (PHIL 398/BIET 398) allows students to engage with critical topics pertaining to health care ethics, including gender and medicine, feminist bioethics, goals of medicine, and autonomy and consent. "The seminar combines philosophical concerns with a specific practical bent," says Philosophy Department Chair Dr. Mark Waymack. "And because the class is capped at 15 students, we can have lively back-and-forth discussions."
This course is funded by the John F. Grant, MD, Endowment for the Study of Health Care Ethics. Dr. Grant attended Loyola University Chicago and enrolled in various philosophy classes as an undergraduate. After serving as a medic in World War II, he returned to Loyola to earn his medical degree and went on to become a prominent cardiothoracic surgeon. He spoke often of how the lessons he learned in his philosophy courses influenced his medical career. His passion for medicine and philosophy compelled him to establish an endowment in 1999 to foster the study of health care ethics for future Loyola students. This endowment now funds an annual public lecture in Health Care Ethics, various awards for essay competitions in bioethics, as well as the guest speakers for the John F. Grant Seminar.
Faculty members invite three to five guest speakers each semester to expand on specific course topics. Discussions with visiting experts lead to fruitful discoveries for both students and lecturers. "I remember having a guest speaker once," recalls Dr. Waymack, "who was a practicing, teaching, and publishing professional. At the close of the evening, he told me that he had never before encountered such challenging questions during a presentation—even when presenting for medical students. The experience had actually made the guest rethink some of his positions!"
"Informed Consent in Medicine," this semester's John F. Grant Seminar taught by Dr. Pamela Lomelino, provides students with a general overview of informed consent. A diverse selection of guest speakers will participate, including Dr. Emily Anderson (assistant professor at the Loyola's Neiswanger Institute for Bioethics), Dr. Timothy Buckley (physician at the Heartland Clinic), Dr. Katie Watson (assistant professor at the Feinberg School of Medicine at Northwestern), and Dr. Eric Chwang (assistant professor of Philosophy at the University of Colorado). Dr. Lomelino hopes that the dynamic format will encourage students to contemplate medical and ethical issues long after the semester ends. "I would like the students to take away fond memories of an inspiring course filled with insights about the complexities of informed consent in the medical context."
The John F. Grant seminar combines rigorous class discussions with in-depth lectures from leading experts across disciplines. Whether listening to a doctor discuss treatment of vulnerable populations or writing an essay that debates using human specimens for medical research, students will ask difficult questions with no simple answers. After experiencing such an enriching learning environment, students just might discover an enduring passion for philosophy just as Dr. John F. Grant did over 70 years ago.
Ethics and Bioethics Bowls: Giving students lasting skills and happy memories
By Molly Clasen
Loyola's Ethics and Bioethics Bowl teams offer unique opportunities to gain lifelong skills while having fun and competing across the country. Many students report that the experience improves their reasoning and oral presentation abilities more than any other class or extra-curricular activity at Loyola. From making stronger arguments to thinking more critically about social justice issues, there is no limit to how team members grow as academics and young professionals.
What are Bioethics Bowl and Ethics Bowl?
Combining intellectual rigor with the thrill of competition, Ethics and Bioethics Bowl teams participate in discussions about pressing social issues. Over twenty teams compete at regional competitions,, and thirty-two teams compete at the national level. Each team presents a case that poses an ethical dilemma. Bioethics Bowl cases focus specifically on health care related topics, while Ethics Bowl cases cover a broader scope of topics, including medical, journalism, public policy, military, and environmental issues. Teams respond to questions about arguments presented and comment on other teams' cases, fostering a lively atmosphere for thoughtful exchanges. "I expected something very formal, like debate, when I joined," says undergraduate Bioethics Bowl team captain Monica Finke. "But the presentations are much more conversational, because you don't know in advance what questions others will ask. This is one of my favorite elements of the competition."
Loyola's teams have a successful history of competing. Faculty advisor and co-coach Dr. Jennifer Parks thinks our students make especially sophisticated arguments. "Our teams have excelled because instead of developing arguments that they think will be popular with judges, they develop nuanced approaches that reflect their actual viewpoints." Earlier this year, the Bioethics Bowl team placed first against Georgetown at the 2014 National Undergraduate Bioethics Conference, which Loyola hosted. Mary Kate Brueck, a member of the Bioethics Bowl team since 2013, says it was a very proud moment for everyone involved. "We worked so hard, and it was exciting to see it pay off."
Gaining Lifelong Skills, Values, and Community
Bioethics and Ethics Bowl teams cultivate skills such as the ability to make strong arguments and perform in high-pressure situations. "These skills have served many of our team members who have moved on to careers in law, medicine, and academia," says Dr. Parks. "One student has even become an Ethics Officer for Chicago Public Schools!" Mary Kate Brueck, who plans to become a Bioethicist, knows that she will apply what she has learned after graduation. "I am now able to determine the best method for approaching complicated issues."
The cooperation essential to succeeding at Bioethics Bowls and Ethics Bowls creates a strong sense of community. "Students can only succeed when they all work together," says Dr. Parks. "As a result of that collaboration, they make long lasting friendships. These friendships extend to other teams as well. Our teams have made friends with other team members from across the country." Ethics Bowl and Bioethics Bowl teams have travelled all over the United States—from San Antonio, Texas to Tallahassee, Florida, to Washington D.C.—with all expenses paid by the university. "Those trips are great bonding experiences," says Dr. Parks.
Bioethics Bowl and Ethics Bowl help students situate their opinions about social justice issues within an existing academic framework. "I always tell people that they don't need to come in with a strong background in ethics," says Monica Finke. "When I first joined Ethics Bowl, I knew hardly anything about the major ethical theories, but my participation on the team gave me so much knowledge." Many team members find that their fascination with a topic deepens as they immerse themselves in research. "I am surprised by how much the cases draw me in," Mary Kate reflects. "I never expected it to be my favorite activity on campus, but it is."
Bioethics and Ethics Bowl teams offer students an exciting way to participate in the Loyola community. They cultivate lasting skills that translate to the classroom, the workplace, and beyond. If you are interested in joining the Bioethics or Ethics Bowl Teams, please contact Dr. Jennifer Parks at jparks1@luc.edu or Sarah Babbitt, sbabbitt@Luc.edu. You may be surprised by how quickly you want to be involved. According to Dr. Parks, "Once students come to practices or experience a competition, they're usually hooked!"