Spotlight On: Reinhard Andress
Reinhard Andress, Director of the interdisciplinary German Studies Program in the College of Arts and Sciences, is the editor of a book, Vorstufen des Exiles/Early Stages of Exile (2020), that emerged from a conference he organized at Loyola.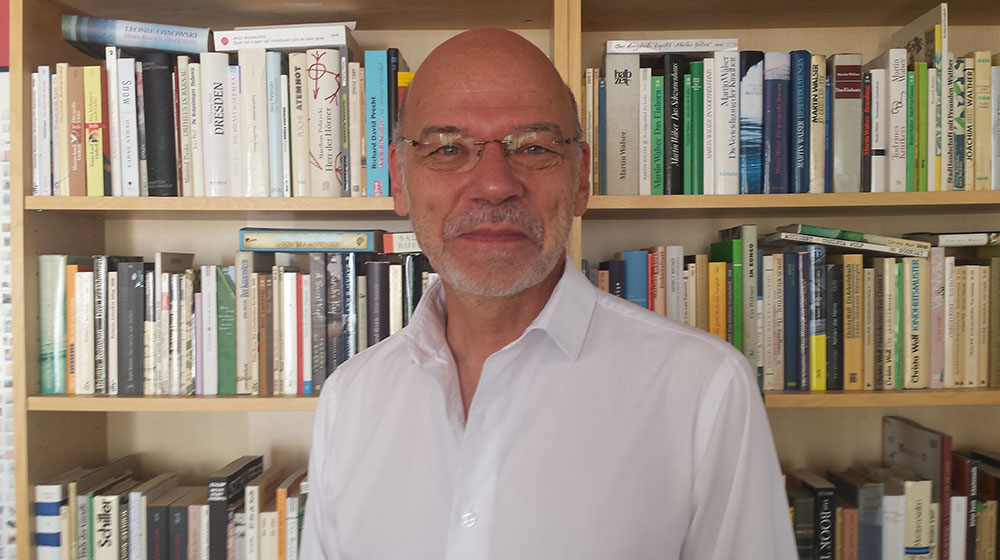 This week we spotlight Reinhard Andress, PhD, director of the interdsciplinary German Studies Program in the College of Arts and Sciences at Loyola University Chicago, who is editor of Vorstufen des Exiles/Early Stages of Exile (Brill, 2020). This volume of essays evolved from a conference Andress organized at Loyola, subsequently seeking additional contributions from leading scholars around the world.
Exile is usually defined as the time one lives elsewhere, involuntarily separated from home. However, exile can also be conceptualized more broadly as a process already starting at home, while traveling into exile and/or before arriving in the place of exile. It includes the sense of alienation that begins at home for a variety of reasons, most notably persecution based on one's political views, race, ethnicity, religion, language, or sexual orientation. Vorstufen des Exiles/Early Stages of Exile opens up the strict definition of exile in a multifaceted way and offers avenues for further discussion. It poses the questions: How do we recognize the early stages of exile? How do we prevent them?
"The interdisciplinary scholarship of Reinhard Andress demonstrates the way that our faculty have impact and influence on their disciplines internationally as they also serve communities locally with their expertise," says Peter J. Schraeder, Dean of the College of Arts and Sciences at Loyola University Chicago. "Professor Andress's book in particular helps us to reconceptualize what it means to live as an exile, a process that begins in one's country of origin and then carries over to their new home."
Andress has published widely on German literature, film, and exile, as well as on German-Americana. He joined the faculty of Loyola University Chicago in 2012, having previously served on the faculty at St. Louis University, Middlebury College, Colby College, and Alfred University.
One of his most important current projects is the Glory of Germany Restoration Project, which is central to his work in German-American Studies. The Glory of Germania is a huge porcelain wall mural created by the Royal Prussian Porcelain Factory in Berlin that stands roughly 25 feet high, 30 feet wide, composed of 1,057 tiles. The goddess Germania reigns in the center of the scene as a symbolic, personifying manifestation of the common heritage of the German people.
The mural was produced just ahead of the 1893 World's Fair in Chicago, where it was displayed as a high point of Germany's artistic and manufacturing prowess. After the fair, the Germania Club, an elite club of German-Americans in Chicago, bought it and displayed it in their ballroom wall until the club's demise around 1985. The Glory of Germania was taken down, boxed up and disappeared from people's consciousness, until Andress discovered it in the attic of a senior residency in Forest Park.
Andress and a group from the German-American Heritage Institute have worked out an agreement with the Royal Prussian Porcelain Factory to restore the mural, and display it in Germany before it finds a final new display home in Chicago or Germany. In June 2019, Andress received the German-American Friendship Award from the German Ambassador to the United States for his efforts in the restoration.