Training mentors, changing lives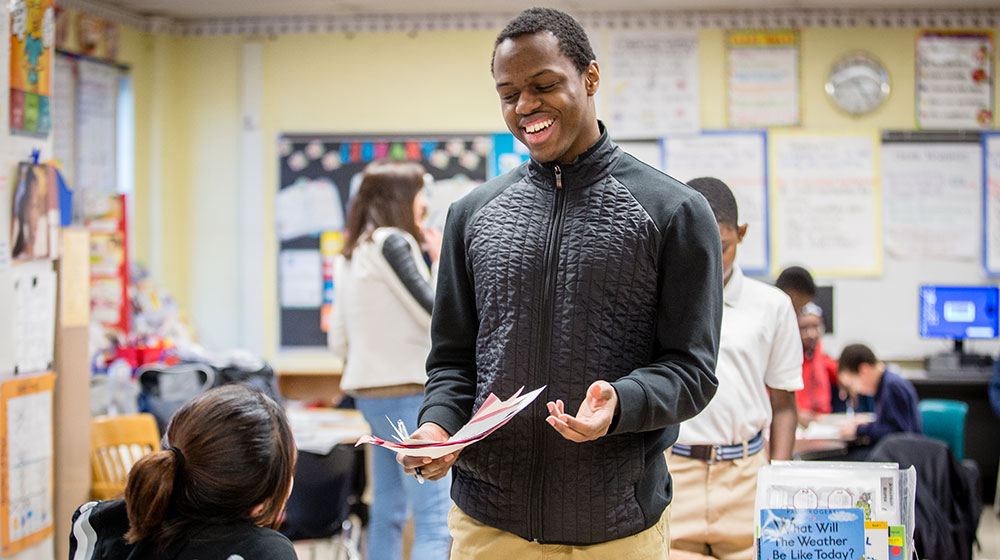 By Tasha Neumeister
In a brightly colored classroom on the South Side of Chicago, several laminated signs hang on the walls: Be A Champ. Collaboration. Meeting Place. This is a befitting backdrop for the cluster of students in the room. On one side, a handful of high school students sits looking on. On the other side, three times as many middle school students are getting restless as they are handed puzzle pieces with names written on them.
Under the Meeting Place sign in the center of the room, Loyola senior Mike Anjorin directs the group: "Mentees, go find your match." The pre-teens run across the room in a flurry looking for a mentor holding a matching piece.
This is just one of several activities that Anjorin and other Loyola students will lead to connect high school mentors with middle school students in the Saving Lives, Inspiring Youth (SLIY) program at Jackie Robinson Elementary School, where participants are mainly African-American and Latino.
Anjorin said the once-a-week mentoring sessions have an influence on all the students involved.
"It's having a positive impact on the kids themselves—both the mentors and mentees. A lot of the mentees are listening to their mentors better than at the beginning of the program," said Anjorin, who serves as the intervention coordinator and leads the group activities at Robinson. "Things the mentees wouldn't share before, they're now sharing with their mentors."
A positive approach
Loyola faculty members Maryse Richards, PhD, professor of clinical psychology, and Katherine Tyson McCrea, PhD, professor of social work, developed SLIY after Richards obtained a grant from the U.S. Department of Justice's Office of Juvenile Justice and Delinquency Prevention program. The four-year $1 million grant allows the researchers to work with students in the Chicago neighborhoods of Bronzeville, Englewood, South Lawndale, and North Lawndale.
Richards created Loyola's Risk and Resilience Lab, and Tyson McCrea leads the University's Empowering Counseling Program. Together they run the SLIY program to counter the negativity often associated with marginalized communities. Richards said their approach—positive psychology aimed on building resilience—is relatively new.
"So much of the face of [these neighborhoods] is about the violence. We need to understand better that kids are more than that," she said. "We have spent so much time focused in the field on the emotional distress, anxiety, etc., that kids experience. My interest is in continuing to understand that better. But in the face of these enormous chronic stressors, they [youth] show impressive resilience."
The goal is to see how community-based, cross-age mentoring can reduce negative outcomes in youth exposed to violence while also giving back to these communities through positive identity development and economic support.
Training the mentors
The SLIY program is made up of a team of Loyola faculty, staff, and students from various disciplines. The team is divided into various sites where the members have created a curriculum in concert with community and anti-violence groups. They work with many organizations including I Grow Chicago, Imagine Englewood If, Sue Duncan Children's Center, Telpochcalli Community Education Project (Tcep), Chicago Public Schools, and City Incite Inc.
The Loyola team then recruits mentors at high schools and through word-of-mouth. Once the mentors are hired, they receive a modest stipend and training in a bevy of topics, and they must sign a contract signifying their commitment to the program, said Darrick Scott, the site director at Robinson.
"We talk about how they could really emphasize bonding with another human being, with someone who's in that same circumstance, that same neighborhood, same community, same struggles, and how to develop their relationship through empathic listening," he said.
At the core of the mentor training is the idea of helping others through a trauma-informed lens. Essentially, how to spot trauma and support those who have it.
At Robinson, mentor Robin Brown, 17, was recently recognized as volunteer of the week by the Illinois Commission on Volunteerism and Community Service, and you can see the zeal she has for her mentees in her eyes. She talks about how she spotted something in one of her three mentees, who noticeably hadn't talked about his father.
"They were always trying to run around and be around with friends. But once I started to talk to them, they started to open up about their home life," said Brown, who has her own mentor that she meets with in another program. "I started suggesting different ways they could handle things. I gave them a chance to share their feelings with people about their past. I ended up giving them a journal to write down what they were feeling."
Brown said her actions helped her mentee open up and talk about his father.
Her mentees have had a significant effect on Brown as well. She previously wanted to become a neonatal nurse; now she wants to be a social worker at an adoption agency.
Encouraging signs
Although Richards and Tyson McCrea developed the SLIY program together, the two have different roles. Richards supervises the quantitative data, while Tyson McCrea oversees the qualitative aspects of the project. This allows for a multifaceted evaluation of the program as it enters its third year—with many of the participants facing extreme adversity.
More than 77 percent of the students in the program are fearful of witnessing violence in their community, and more than 50 percent fear being a victim of violence, according to a report by the research team.
But there are encouraging numbers too.
After nine to 12 months in the program, the team has noted a change in male mentors: They showed fewer instances of being withdrawn or anxious/depressed and were less likely to behave recklessly, according to preliminary findings. For female mentors, regular attendance seems to increase their sense of belonging to a strong support network.
Overall, there are 142 mentors in the program, with a mean age of 17. They support 159 mentees, who have a mean age of 12.
Dakari Quimby, a graduate student in Loyola's clinical psychology program, said this peer mentoring approach where mentors are just a few years older than mentees is effective because it is based upon a community-participatory model. Traditional approaches, on the other hand, use adult mentors from outside a community.
"Taking a youth [mentor] from the same community circumvents some of those issues so there won't be a cultural gap between the two, and it establishes some credibility there," said Quimby, who oversees all four program sites. "It's more sustainable because it's a student that they [a mentee] may see later in the week just walking around the neighborhood."
The program aims to capitalize on that peer influence to build long-term relationships—and to potentially address cultural and generational limitations that weren't successful in other mentoring styles. The program builds a positive social network to offer alternatives to the negative social networks the youth otherwise encounter.
Empowerment is key
Because crime and poverty are real issues for the students involved in this program, SLIY offers all participants trauma focused counseling and access to social workers. Quimby said the majority of students need some kind of mental health support—but aren't able to receive it because of the lack of facilities in their neighborhood.
That's why empowerment counseling—an approach developed by Tyson McCrea and carried out by social work interns—is a key component to the program.
"Nothing about us, without us, is for us," is a popular slogan used in the disability rights movement that Quimby said illustrates why Loyola's program goes beyond research and intervention and "gives the mentors these roles to be agents of change in their community." The teens also serve as co-researchers, collecting data from each other and co-authoring papers for publication. That added support helps them build the skills they'll need to improve their lives.
Brown, the mentor at Robinson, is well on the road to changing the world around her.
She walks her mentees to the program from their school each week to provide them—and their parents—peace of mind. In that way, she has taken on a defined role in her neighborhood and wants the world know about the happiness she brings to her mentees. She also wants others to know that community and positivity flourish on the South Side of Chicago.
"So many people think kids from this area are bad, are 'hood.' They're not," Brown said. "Most of them have a lot of manners. So give these kids a chance. Get a chance to know them and you will really learn a lot."
MORE INFORMATION
With the program grant running out in a year, Dakari Quimby and others on the research team are "task shifting" the cross-age peer mentoring approach to stable community organizations such as I Grow Chicago in Englewood.
The team is training staff, inviting other mentors in the surrounding communities to get training, and having community collaborators shadow the program at various sites. But I Grow Chicago and other organizations still need funding to support the mentoring program.
For ways to help sustain the program model, contact Quimby at dquimby@luc.edu. For more information on the program and research team, go to http://riskandresiliencelab.weebly.com/.
---