Loyola alumna Kelly LaFramboise shares her journey from cancer survivor to fighting child hunger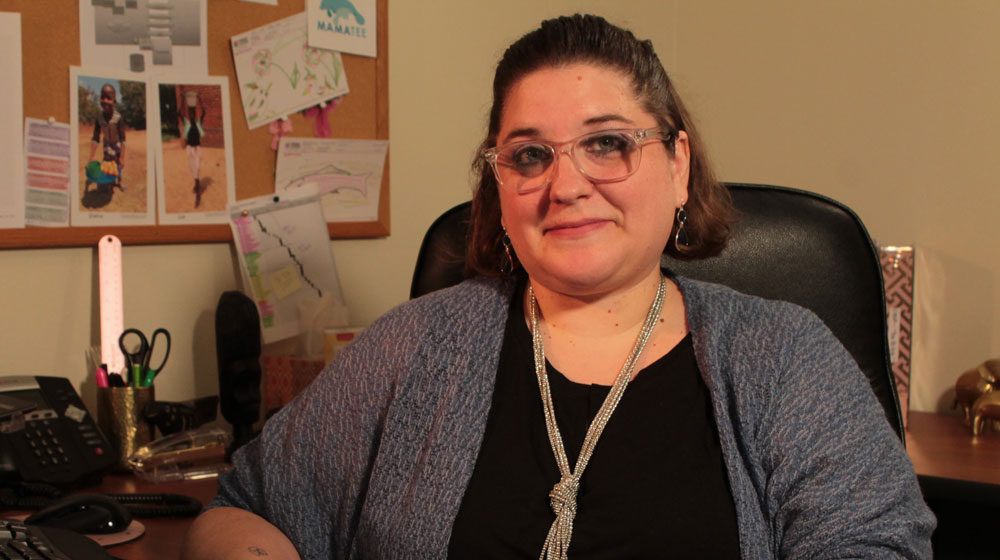 By Jenny Kustra-Quinn
By the time Kelly LaFramboise (BA '11, BS '11) was almost 30 years old, she was married, taking care of her three young kids, and attending a community college in a small Michigan town. She had barely made it through high school, graduating with a 1.7 GPA, and this was her second attempt at college. Up to this point, school had not been a priority nor an expectation for her.
But a teacher saw something special in LaFramboise's writings about social justice issues and suggested she'd be a perfect fit for the Jesuit education model of Loyola University Chicago. Getting accepted to a prestigious university and moving to a large city seemed like unattainable goals for LaFramboise. But her teacher pushed her to at least apply.
She was accepted, and at that point, she knew she couldn't turn down the opportunity. Her newfound passion for social justice had sparked a love of learning and desire to make a difference, and Loyola seemed like just the place to pursue her dreams.
So in 2007, LaFramboise and her husband, Jamie, packed up their lives and kids— then ages 10, 7 and 4—and made the move, setting their family "on a whole different course," LaFramboise says. At the time, she had no idea that her educational journey would take her to faraway destinations, include a cancer battle, result in multiple advanced degrees, and land her a dream job with an international nonprofit working to end childhood hunger.
LaFramboise ended up graduating from Loyola with not one degree, but two; she earned a BS in anthropology and BA in history. She and her family then relocated to Norman, Oklahoma, where she had been accepted into a University of Oklahoma anthropology graduate program. LaFramboise received her master's in 2013 and got started on her PhD, recently graduating with a doctorate in sociocultural anthropology.
Finding a passion, discovering a vocation
Now LaFramboise is delving into her new passion—working as development specialist on the International Operations team of Feed the Children, which provides 263,000 meals around the world every day. She works in the Oklahoma City headquarters but will occasionally travel to areas she manages, including Africa and Central America in December. She's a liaison between U.S. and field staff and oversees an IT project to improve the platform for child sponsorship enrollment.
After years in academia, LaFramboise had initially planned to become a professor. "But as the world changed, I found myself wanting to help people who needed my skills, not just researching and writing about it," she says.
She hopes that as a cultural anthropologist, she can bring a unique skill set to Feed the Children, for example by focusing on "cultural apathy" and preserving the dignity of families served.
These themes have been prevalent throughout LaFramboise's education, including an Auschwitz Memorial fellowship in Poland, where she analyzed "dark tourism" and race issues. She found that people behave in "strange ways" at Auschwitz, many even taking selfies. She has much to say about this and plans to publish a book or paper about it.
Her dissertation, titled "The Wish to be a Red Indian: National Identity, Racial Ideologies, and 'Indianthusiasm' in Germany," also examined issues of race and social justice. While at Loyola, LaFramboise led service projects at South Dakota's Pine Ridge Reservation, "the poorest place in America." This inspired her to write her dissertation about the German fascination with the Lakota people, and she spent several months doing research in Germany.
LaFramboise looks forward to her new journey, especially the opportunity "to hug and meet some of the precious children" who Feed the Children serves.
She says empathy is one of the most important virtues a person can possess, a belief that grew while she was at Loyola. "Everyone seemed mindful about making a positive impact, which changed who I was as a person," she says. "It wasn't just about getting a degree, it was about developing a vocation."
Roadblocks set the foundation for empathy and perseverance
Her Loyola experience also was life changing because of her two-year battle with Non-Hodgkin lymphoma. She found it difficult to be there for her family and stick with her studies, but she persevered thanks to tremendous support from friends and even faculty. "They helped take care of my kids and would sit next to my bed and read text while I was in chemo and so tired," she says.
LaFramboise beat the cancer in 2010, but it returned in 2012 while she was working on her master's. She's now been in remission for four years.
LaFramboise says she couldn't have made it through the challenges of school, raising a family, cancer, and life in general without her husband's support. "He's made sacrifices and has been there to pick up the slack and be a parent when I couldn't be there." Today their kids are 20, 17, and 14, and they also have a 21-year-old foster child whom they welcomed into their family four years ago.
LaFramboise developed many enduring connections at Loyola, including professor of anthropology Kathleen Adams, her advisor and "inspiration."
"Kelly embodies incredible perseverance in terms of her health challenges and in moving toward her goal of using cultural anthropology to make the world a better place," Adams says. "Since I first met her, she's been a champion for social justice and has found a way to weave Jesuit values into her career and everyday life. She is phenomenal in that way."
LaFramboise says she might have taken her Loyola experience for granted at the time. But she now knows it is the "backbone and foundation" for everything she's done since then. "From the friendships I made to the opportunities I've had to everything I am as a person, it's all because of Loyola," she says.
She adds that her journey has filled her with gratitude for her life and amplified her desire to make a difference. "I have a calling, and I've survived because I have work to do," she says.
"Now I actually get to touch the world. That's a dream come true."