Breaking the code: Loyola students give back and teach school children robotics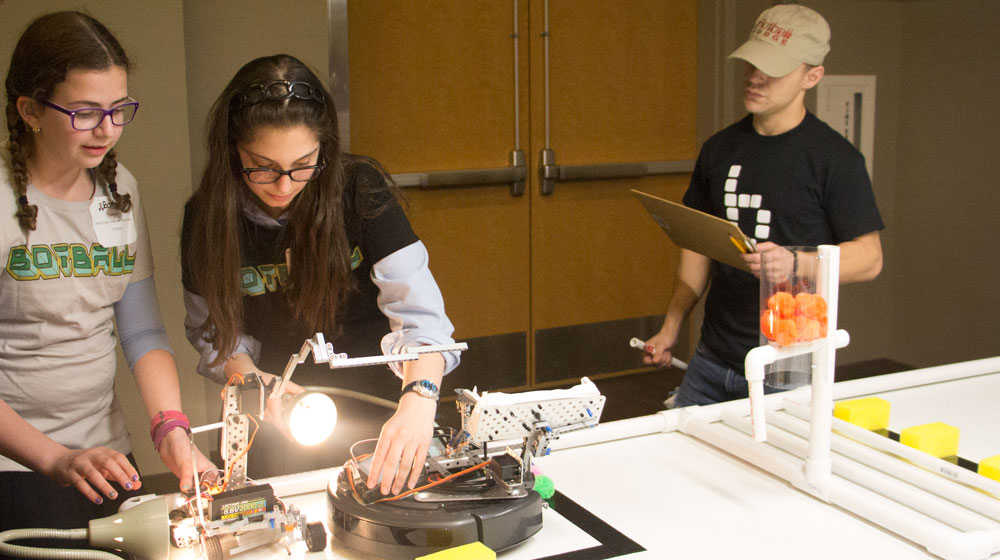 Cheering fans. Flashing lights. Teams huddled in a corner, reviewing game strategy. These are the elements of a Botball robotics tournament.
Last week, 11 Loyola students attended the tournament at Damen Student Center, where they served as judges and mentors for participants from 13 elementary, middle, and high schools from Chicago, Skokie, and Deerfield. Several Ramblers had been meeting with the younger students after school since January, working to perfect the art of coding and programming robots.
The name of the game
The robots competing in Botball, some of which were reminiscent of hyper-advanced Roombas, were programmed to complete various tasks, each with a different point value. A blue pom-pom called the "cow", for example, would be picked up and moved into a "barn" space on the board for 25 points. A foam piece called "BotGuy" would be moved into the center of the board for an additional 25 points. The robots would respond to a series of lights and sensors, all completely autonomously.
The competition worked in two rounds: the first was a timed event where teams worked one-by-one to gain as many points as possible within an allotted time. The second round allowed the teams to go head-to-head while picking up objects and moving them into designated spots; the team with the most items won the round. Participants constructed the robots out of materials that ranged from Lego-type pieces to metal. All of the pre-approved Botball robot kits came with motors, cameras, and tools so that each team was able to construct their robots without the use of power tools.
Bridging the gaps
Botball is a supportive computer science and programming environment. One that Senior Jace Sheu said gives underrepresented students a chance to explore a career that they otherwise may not have had the resources or the confidence to pursue. She said the competitors were a diverse group of people, and included a large representation of women and individuals of color. Still, she said, racial and gender disparities still exist in STEM fields.
"A lot of students here – particularly the women, when you ask why they're in that field, they say the only reason is because they had a mentor at a young age who they happened to cross paths with," said Sheu, who photographed the event.
Sheu is participating in the competition as part of a service learning course run by Ron Greenberg, PhD, associate professor of computer science, who also serves as an advisor and facilitator.
Leveling the playing field
Senior Brad Dabdoub served as a judge for the tournament. He said participating schools come into the competition with varying levels of resources, but all were able to compete on an equal playing field - both literally and figuratively. Dabdoub, who plans on returning next year to mentor the teams for the 2018 tournament said this both surprised and impressed him.
"It's really inspiring for me," he said. "Some of these kids have been coding for longer than I have. Seeing them all being given the opportunity to participate with cutting-edge subject matter made me feel good inside. We're leveling the playing field here, and we're doing that via education."