The future is now: Girls Who Code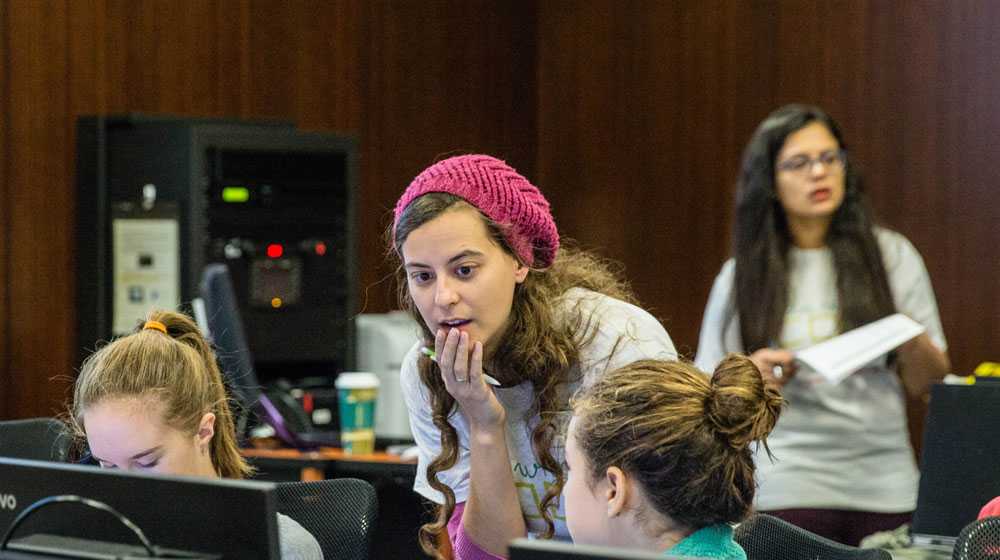 By Amanda Friedlander ('18)
On a Saturday afternoon, a small group of girls, ages 11 to 16, huddle together in a classroom in Loyola's Information Commons, typing a sort of hieroglyphic language into neat rows on their computers. The room is peppered with volunteers—all graduate and undergraduate students, many of whom have no idea what the language means. But once the project is complete, it will become a fully-functioning website, designed to educate and inspire other young women like themselves.
This website is a semester-long project for Girls Who Code, a coding and tech club for young girls and women. Loyola's first chapter started this semester and is the brainchild of Neha Goel, a graduate student fellow in the Center for Textual Studies and Digital Humanities (CTSDH). Goel, who has experienced gender bias in coding classes and elsewhere, is deeply aware of the discrepancy between men and women in STEM-related fields.
"My first job after graduation was eliminated because the company only wanted to hire men," says Goel, a computer science major. "Now, at my current company, it can be really awkward going to team meetings and outings because it's so male-dominated. There are 10 of us, and I'm the only woman."
That's why Loyola's Girls Who Code chapter aims to provide a space for young women to learn, teach, and explore coding in an inclusive and supportive environment. And the best part? There's no experience required.
Finding our own code
Girls Who Code began in 2012 as a tiny club of 20 young women in New York City with a goal of closing the gender gap in technology. Within five years, schools around the country have started their own chapters, amounting to over 40,000 girls learning how to code their own sites and games. At Loyola, Goel approached Elizabeth Hopwood, the CTSDH project manager and instructor in digital humanities, about the possibility of starting a chapter. Then international studies and economics major Ezgi Ilhan, a student fellow in the CTSDH and Maria Palacio, recent alumna in digital humanities who has since graduated, worked with Goel and Hopwood to create a budget proposal. Goel and Ilhan, also a research fellow in the CTSDH, agreed the club should nourish students while building up their self-esteem and computer science skill set.
"One of my biggest concerns was making sure the girls got fed," says Ilhan. "We wanted to tap into the Jesuit values when writing the proposal. We wanted this to be completely free, to provide service for others."
With the promise of giving back and gaining coding and programming skills, Goel says she received so many requests from Loyola students to participate that she eventually had to turn down inquiries. Fifteen undergraduate and graduate students were chosen along with 11 participants from Chicago-area schools. The goal of the semester: Pick an issue to build a website around. The group landed on "beauty sickness," a term for the societal pressure on women to look a certain way.
Lucas Coyne, a graduate student in the American History program, is one of two young men who volunteer in the club. Coyne says he hopes to show participants how creativity factors into coding, and that it's not a purely mathematical, logic-based activity.
"We want to be helpful and provide a space for women to learn," he says.
Goel envisions an even larger chapter in the near future. She also hopes that over time, they will reach an advanced level that will allow them to participate in international coding competitions.
"Women should not feel alone in the STEM industry," she says. "They should never feel like they should quit because they're the only woman in the room. I used to feel that way, but now I'm proud of it. Women should be proud of themselves."
Loyola's chapter of Girls Who Code is generously supported by a grant from the Plan2020 Student Innovation Fund and the Center for Textual Studies and Digital Humanities. For more information, go to: https://luc.edu/ctsdh/girlswhocode/