archive
Thomas Merton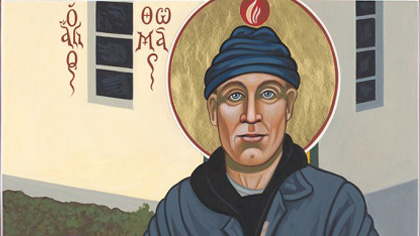 Thomas Merton, O.C.S.O. was born in France and baptized in the Church of England. After a rambunctious youth and adolescence, Merton converted to Roman Catholicism while a student at Columbia University. He entered the Abbey of Gethsemani, a community of monks belonging to the Order of Cistercians of the Strict Observance (Trappists), the most ascetic Roman Catholic monastic order, in 1941.
The twenty-seven years he spent in Gethsemani brought about profound changes in his self-understanding. This ongoing conversion impelled him into the political arena, where he became, according to Daniel Berrigan, the conscience of the peace movement of the 1960's. Referring to race and peace as the two most urgent issues of our time, Merton was a strong supporter of the nonviolent civil rights movement, which he called "certainly the greatest example of Christian faith in action in the social history of the United States." For his social activism Merton endured severe criticism, from Catholics and non-Catholics alike, who assailed his political writings as unbecoming of a monk.
In any case, while living and praying in Kentucky, Merton bloomed as a poet, essayist, social activist, and student of comparative religion. He wrote more than 70 books, mostly on spirituality and social justice, as well as scores of essays and reviews, including his best-selling autobiography, The Seven Storey Mountain. Some of his other books include New Seeds of Contemplation and Zen and the Birds of Appetite. Merton, while deeply in tune with Trinitarian theology, was also a proponent of interfaith understanding. He pioneered dialogue with prominent Asian spiritual figures, including the Dalai Lama, the Japanese writer D.T. Suzuki, and the Vietnamese monk Thich Nhat Hanh. After several meetings with Merton during the American monk's trip to the Far East in 1968, the Dalai Lama praised him as having a more profound understanding of Buddhism than any other Christian he had known. Merton is revered by both the Catholic Church and much of the world as one of the greatest theologians of the twentieth century.
An excerpt from Thomas Merton's Advent (1948)—Chosen in the light that the light of the Advent season upon us.
Charm with your stainlessness these nights in Advent,
holy spheres,
While minds, as meek as beasts,
Stay close at home in the sweet hay;
And intellects are quieter than the flocks that feed by starlight.
Oh pour your darkness and your brightness over all our
solemn valleys,
You skies: and travel like the gentle Virgin,
Toward the planets' stately setting,
Oh white full moon as quiet as Bethlehem!