archive
Catholicism and the Arts: Performance of Flannery O'Connor's Everything That Rises Must Converge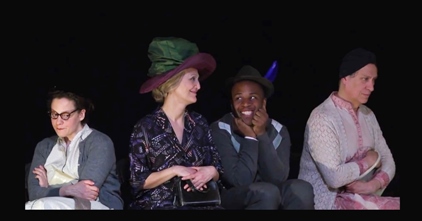 Thursday, 19 March 2015
7:00p.m.
Kathleen Mullady Theatre
Centennial Forum Student Union
Lake Shore Campus, LUC
This event was open to the public.
New York City based Compagnia De' Colombari was pleased to announce the four city national tour of Flannery O'Connor's Everything That Rises Must Converge, created for the stage and directed by Karin Coonrod.
Everything That Rises Must Converge is a tragic-comic interracial seat shifting dance by whites and blacks on a moving bus in America's deep south. Playing and speaking out the story verbatim, eight Colombari actors with razor sharp precision create all the characters and all the narration. Georgia's red earth is slammed up against the eternal. O'Connor's voice spread out across the company of actors carries the power of the apocalyptic comedy right into the audience.
Excerpt from Time Out New York's review of the play:
The ensemble is terrific, smoothly slipping in and out of character. It's also gratifying to see so many body types-stout, skinny, short and tall—onstage together, like a tiny village bustling about...dark unsettling magic of O'Connor's art—coming through full force in this exceptionally sensitive translation.