archive
Video Available| Election Round-Up: Results, Reflection, Renewal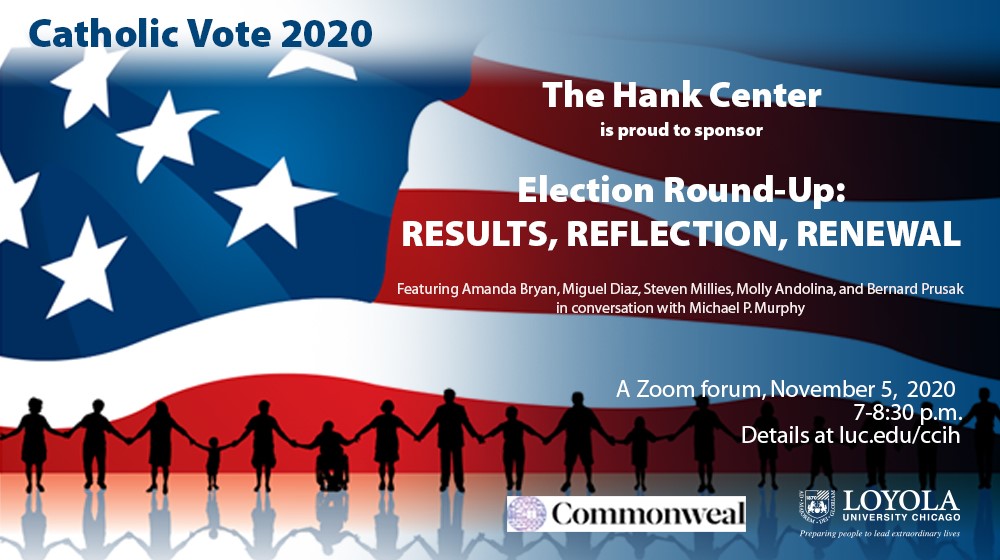 While it is not certain that we will know the results of the election on 11/5, we do know how important Catholic thought is to citizenship and the common good-- especially during times of intense disagreement and polarization. Please join this excellent, interdisciplinary panel as we assess our current political context, reflect on the moral dynamics of leadership, and explore the possibilities for renewal and community in the wake of "the most important election of our lifetimes."
November 5, 2020
7:00 - 8:30 PM CST
This Zoom event is free and open to the public. Registration required.
Molly Andolina is an associate professor of Political Science at DePaul University. Her field of expertise includes public opinion and youth political engagement. She has published work on a host of topics, including the political activism of Millennials, the relationship between faith and civic engagement among college students, how issues impact college student activism, Americans' attitudes toward gay rights, the challenges of survey research measurement, and public opinion on the Monica Lewinsky scandal. Most recently, her research has focused on the democratic skills engendered by a high school action civics program.

Dr. Andolina graduated from Emory University with a B.A. in History and received both her M.P.P. (1992) and her Ph.D. (1997) from Georgetown University. While a research director at the Pew Research Center, she received training in quantitative and qualitative public opinion research, including surveys, elite interviewing and focus groups. As an expert in the field, she has worked with The National Academy of Sciences Committee on National Statistics and NBC News.

Amanda Bryan is an Associate Professor of Political Science at Loyola University Chicago where she teaches Constitutional Law and Judicial Politics. Her research focuses on the U.S. Supreme Court, public opinion, and the separation of powers. She received her PhD from the University of Minnesota in 2014.

Miguel H. Díaz, Ph.D.

is the John Courtney Murray University Chair in Public Service at Loyola University Chicago. Dr. Díaz was selected by President Barack Obama as the 9th U.S. Ambassador to the Holy See. He is a member of the Catholic Theological Society of America (CTSA), the American Academy of Religion (AAR), and member and former President of the Academy of Catholic Hispanic Theologians of the United States (ACHTUS). In 2013, Prof. Diaz was the recipient of the prestigious Virgilio Elizondo Award from ACHTUS, given in recognition for distinguished achievement in Theology. He has been awarded honorary doctorates from a number of universities. Among his scholarly interests include, the Christian doctrine of God, Latinx theologies, liberation theologies, and the study of gender and human sexuality.

He is co-editing an upcoming Orbis Series titled Disruptive Cartographers: Doing Theology Latinamente. The Series opens with his edited book titled The Word Became Culture. Prof. Díaz regularly contributes to efforts that bridge faith and public life. He has been cited in prominent newspapers and featured nationally and internationally in radio and TV interviews and programs. He regularly contributes to a column for the National Catholic Reporter that explores Theology en la Plaza. As part of his ongoing commitment to advance human rights globally, he participates on a number of diplomatic initiatives in Washington, D.C., including being a member of the Atlantic Council and a member of the Ambassadors Circle at the National Democratic Institute (NDI) chaired by Secretary Madeleine K. Albright.

Steve Millies's scholarship explores the Catholic church's relationship to politics in a perspective that embraces history, theology, law, ethics, sociology, philosophy, and political theory. As Pope Francis has called for a "politics which is farsighted and capable of a new, integral, and interdisciplinary approach," Millies's work resists seeing politics only as a conflict over individual interests. Instead, in Pope Francis's words, politics expresses our "conviction that we need one another, that we have a shared responsibility for each other and the world."

Millies studied political theory at The Catholic University of America, completing his degree with a study of religion in British statesman Edmund Burke's political ideas. Before coming to CTU, he was associate professor of political science at the University of South Carolina Aiken where he held the Strom Thurmond Endowed Chair in Political Science.

Millies is a member of several learned societies, including the Association for Political Theory, the Catholic Theological Society of America, and the Society of Christian Ethics. As well, he participates in the International Thomas Merton Society, the Eric Voegelin Society, and he is the secretary for the Edmund Burke Society of America. His book, Joseph Bernardin: Seeking Common Ground (Liturgical Press, 2016), won first place in the biography category for the Catholic Press Association's 2017 Book Awards, and he has contributed to several periodicals and journals that include America, Commonweal, the National Catholic Reporter, and U.S. Catholic. During the fall 2020 semester, he is the Pierre Teilhard de Chardin, SJ Visiting Fellow in Catholic Studies at Loyola University Chicago's Joan and Bill Hank Center for the Catholic Intellectual Heritage.

Dr. Bernard Prusak is Professor of Philosophy and Director of the McGowan Center for Ethics and Social Responsibility at King's College in Wilkes-Barre, PA. He was educated at Williams College; Exeter College, Oxford University; and Boston University, where he took his Ph.D. in philosophy. He then taught humanities and social sciences for three years in the Core Curriculum at Boston University and for seven years in the Center for Liberal Education at Villanova University, from which he moved to King's in fall of 2012 in order to found the McGowan Center.

Dr. Prusak's scholarship focuses in moral and social philosophy. He has published widely in scholarly journals and books on such topics as parental obligations and children's rights, conscience, just war, religious liberty, the moral limits of markets, and the principles of cooperation and double effect; he also

writes for Commonweal magazine

, where he worked as an editorial assistant before graduate school, and

America magazine

. He serves as a senior editor for the journal

Expositions: Interdisciplinary Studies in the Humanities

, for which he edits the forum

"Ethics in Focus."

He is a member of the steering committee of the

Catholic Social Teaching Learning and Research Initiative

, a collaboration of faculty and administrators from Catholic colleges and universities across the United States, and he has been guest editor of three issues of the

Journal of Catholic Higher Education

. He also serves on the Wilkes-Barre General Hospital Ethics Committee, the Geisinger Wyoming Valley Hospital Ethics Committee, and the Ethics Advisory Council for Geisinger's

MyCode Community Health Initiative

.