archive
Fratelli Tutti: A Conversation Addressing Pope Francis's New Encyclical on Human Solidarity and its Socio-Political Implications for the United States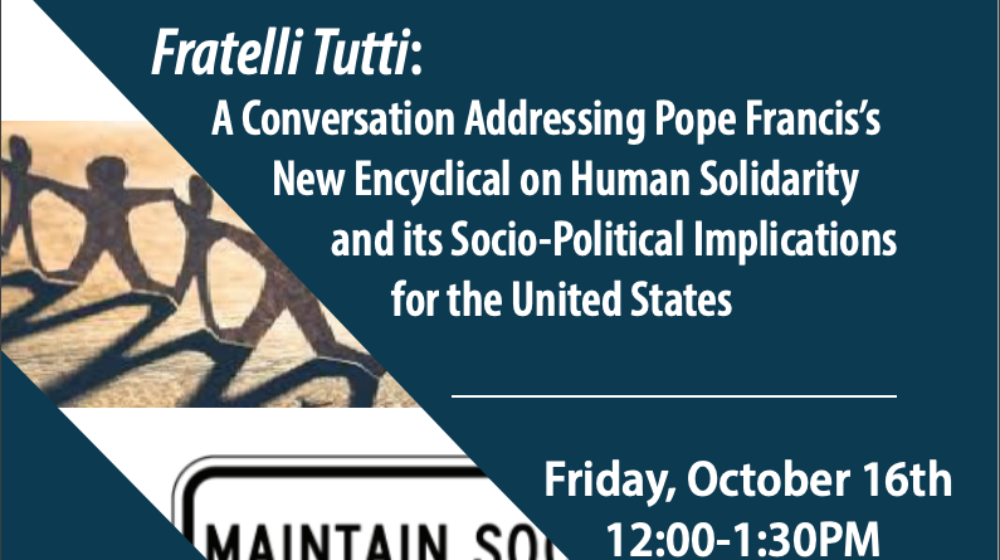 October 16, 2020
12:00 - 1:30 PM CDT
The series titled "Controversial Conversations: Faith and Public Life" was launched at Loyola University Chicago as a way to engage the university community and the wider public in conversations that address the salient and often controversial questions of our time. Since launching the Series in 2017, the university community has participated on a wide range of public discussions on topics such as racism, gun control, immigration, climate change, human rights, gender and sexual orientation, incarceration, fascism, religious freedom, and the Catholic vote. Scholars, political leaders, and civic servants from local, regional, and national circles have enriched these conversations. Moreover, Loyola's undergraduate and graduate students, as well as our faculty from various departments and programs in the university, have played a central role in the success of these conversations.
On October 16th, 2020 from 12:00-1:30 P.M. the John Courtney Murray University Chair in Public Service in conjunction with the Hank Center for the Catholic Intellectual Heritage at Loyola University Chicago and Commonweal will sponsor a conversation around Pope Francis' latest social encyclical titled Fratelli Tutti. During this time when our nation experiences an unprecedented health and socio-political crisis, a nationally recognized panel of voices will explore the teaching of this encyclical on human solidarity and draw some concrete implications for this pivotal moment in our nation's history.
Moderator
The John Courtney Murray University Chair in Public Service
Ambassador to the Holy See, Ret.
Panelists
M. Shawn Copeland, Professor of Systematic Theology Emerita, at Boston College, is an internationally recognized and award-winning writer and scholar. She is the author and/or editor of six books including Knowing Christ Crucified: The Witness of African American Religious Experience (2018) and Enfleshing Freedom: Body, Race, and Being (2010) as well as 130 articles, book chapters, and essays on spirituality, theological anthropology, political theology, social suffering, gender, and race. During this current 2020-2021 academic year, Professor Copeland serves (virtually) as distinguished visiting professor in the Alonzo L. McDonald Chair on the Life and Teachings of Jesus and Their Impact on Culture, at Candler Theological School of Emory University, Atlanta, Georgia.
John Gehring is the Catholic program director at Faith in Public Life and author of The Francis Effect: A Radical Pope's Challenge to the American Catholic Church. A writer, journalist and advocate, John has been published in the New York Times, the Washington Post, Religion News Service and the National Catholic Reporter. He won a 2019 Religion News Association award for his commentary writing in Commonweal magazine. John is the proud father of a six-year-old son, Leo, and a nine-year-old daughter, Sophie. He lives in Washington, DC.
Carmen Nanko-Fernández is Professor of Hispanic Theology and Ministry and Director of the Hispanic Theology and Ministry Program at Catholic Theological Union. Carmen is a Latin@ theologian whose scholarship focuses on areas of Latin@ theologies, Catholic social teaching, interreligious, ecumenical and intercultural relations, im/migration, sport and theology, and the intersections between faith and popular culture with particular attention to béisbol/ baseball. She has presented in a variety of academic and pastoral venues including the National Baseball Hall of Fame in Cooperstown, NY. She is currently completing her book ¡El Santo! Baseball and the Canonization of Roberto Clemente, which is under contract with the Sport and Religion series of Mercer University Press. Carmen is co-editor of the forthcoming Orbis Press book series Disruptive Cartographers:Doing Theology Latinamente.

A past president of the Academy of Catholic Hispanic Theologians of the United States (ACHTUS), she received their Virgilio Elizondo Award for "distinguished achievement in theology" in 2012.

­

Bishop John Stowe, OFM Conv.

, was born 15 April 1966 to John R and Lucy Satelli Stowe of Lorain, Ohio. He attended grade school at Saint Anthony of Padua Parish staffed by the Conventual Franciscans and Lorain Catholic High School. After a year of community college, Fr John joined the formation program for the Conventual Franciscan Province of Our Lady of Consolation at Saint Bonaventure Friary in St. Louis, Missouri. During the time of his candidacy he began studies in Philosophy and History at Saint Louis University and completed B.A.s in each in 1990 after an interruption for novitiate. In 1992 he professed solemn vows in the Order of Friars Minor Conventual.

Bishop John earned a Masters of Divinity and a Licentiate in Sacred Theology in the field of Church History from the Jesuit School of Theology at Berkeley (now affiliated with Santa Clara University). He served as a transitional deacon at Saint David of Wales Parish in Richmond, California and completed his diaconate at Our Lady of Mount Carmel Church in El Paso, Texas. In 1995 he was ordained to the priesthood by Bishop A. James Quinn at his home parish of Saint Anthony in Lorian. He was assigned to continue at Our Lady of Mount Carmel Church as associate pastor. The parish is at the site of the Ysleta Mission, founded in 1682, and the oldest parish in Texas. It is on the U.S.- Mexico border and includes the Ysleta del Sur Pueblo of the Tigua tribe of Native Americans. Bishop John would continue as pastor of that parish.

In December of 2002, Bishop John was invited by the Most Reverend Armando X. Ochoa, Bishop of El Paso, to serve the Diocese of El Paso as Moderator of the Curia and Vicar General. He later also served as Chancellor of the diocese. With a lack of priests in the diocese, Bishop John also assumed the role of Administrator of Our Lady of the Valley Parish there while serving in the Chancery. At the Province Chapter of 2010, Bishop John was elected Vicar Provincial of the Province of Our Lady of Consolation; he resigned from the Chancery in El Paso and became Pastor and Rector of the Basilica and National Shrine of Our Lady of Consolation in Carey, Ohio (Toledo Diocese). He was re-elected vicar at the Chapter of 2014.

During his time in El Paso, Bishop John taught in the Tepeyac Institute for lay ministry, in the permanent diaconate formation programs for the Diocese of Las Cruces and El Paso, and was active in community organizing in an organization called EPISO. He was active in ecumenical and interfaith dialogue and frequently taught jointly with Rabbi Larry Bach of the Reformed Temple Mount Sinai. In the Franciscan Province Bishop John chaired the Peace and Justice Commission and the Finance Commission at different times and served a term as a definitor (provincial counselor) even prior to his election as vicar provincial.

The Basilica and National Shrine of Our Lady of Consolation was founded in 1875 and features a statue of Our Lady from that time brought from the mother shrine in Luxembourg. The Conventual Franciscans were given guardianship of the Shrine in 1912. Tens of thousands of pilgrims visit the shrine each year from a variety of ethnic backgrounds, especially on the Feast of Mary's Assumption in August.

Bishop John was consecrated and installed as the third Bishop of Lexington on May 5, 2015.