archive
Sanctuary and Sustenance: Syria and the Plight of Refugees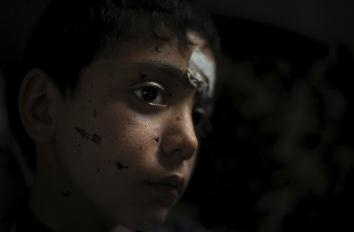 Monday, 7 April 2014
9:00AM - 6:00PM
Kasbeer Hall, Corboy Law Center
25 E Pearson Street
Water Tower Campus
Loyola Univeristy Chicago
All are welcome to attend!
Throughout Spring 2014, a team of Chicago based partners will be hosting a series of events across the city looking at the current political situation and humanitarian crisis in Syria through the eyes of displaced and refugee civilians. Loyola's Hank Center for the Catholic Intellectual Heritage is taking part in this series with a symposium.

This day-long symposium will look at the current crisis in Syria from the perspectives of policymakers, academics, humanitarian workers, journalists, and students. The symposium will conclude with an outdoor installation of photographic work titled Sanctuary & Sustenance: The Story of Many Journeys, an accompanying reading by Syrian playwright Riad Ismat, and an installation of ART WORKS Projects' new exhibition The Children of Syria.

Hosted by Loyola University Chicago, ART WORKS Projects for Human Rights, and Northwestern University.
Schedule of Events for Sanctuary and Sustenance: Syria and the Plight of Refugees
Welcome
Mark Bosco SJ (Loyola University)
Introduction
Mandy Terc (Northwestern University)
Keynote: 9:00 – 9:30
A Brief History of Syria
Zouhair Ghazzal (Loyola University)
Morning I: 9:45 – 11:00
The Politics of Refugees and the Need for Intervention
Nabeel Khoury (Chicago Council on Global Affairs)
Gunes Murat Tezcur (Loyola University)
Sam Attar (Northwestern Memorial Hospital)
Moderator: Galya B. Ruffer (Northwestern University)
Morning II: 11:15 – 12:30
The Ethical and Religious Foundations for Intervention
Zaher Sahloul (Syrian American Medical Society)
William French (Loyola University)
Angela Wells (Jesuit Refugee Services, Rome)
Moderator: Mandy Terc
Lunch/Free time: 12:30 – 1:30
Afternoon I: 1:30 – 2:45
The Issues of Refugee Children
Katherine Kaufka Watts (Director, Center for the Human Rights of Children,
Loyola University)
Diane Geraghty (Director, Civitas ChildLaw Center, Loyola University)
James Garbarino (Loyola University)
Lina Sergie Attar (President of the Karam Foundation)
Moderator: Leslie Thomas (Executive of ART WORKS Projects)
Afternoon II: 3:00 – 4:45
The Lived Experience: Moving Forward in Refugee Support
Dan Amick (Loyola University Chicago)
Patrick Costanzo (Catholic Charities of the Archdiocese of Chicago)
Scott Portman (Heartland Alliance)
Recent refugees from Iraq & Africa
Grace Swanson (Loyola Student, interviews with Syrian refugee women)
Moderator: Mark Bosco, S.J.
Final Event: 5:00 – 6:00
Imagining Hope
Welcome: Mark Bosco SJ
The Children of Syria, Leslie Thomas (Art Works Project)
Sanctuary & Sustenance, Angela Wells (Jesuit Refugee Services)
Riad Ismat (Northwestern) introduced by Mandy Terc