home_news
That We May All Be One: Reformation and the Spirit of Christian Unity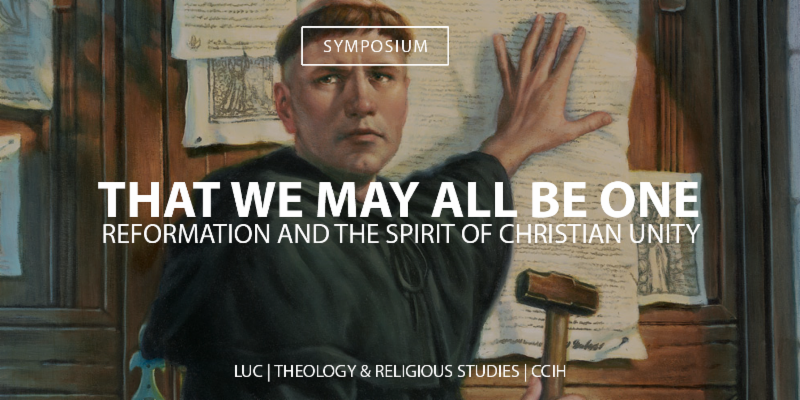 October 18th, 2017
4th floor, Information Commons
Loyola University Chicago, Lake Shore Campus
6501 N Kenmore Ave, Chicago, IL 60660

This Event is Free and Open to the Public
On October 18th, the Joan and Bill Hank Center for the Catholic Intellectual Heritage will mark the 500th anniversary of Martin Luther's 95 Theses with a day-long symposium that looks at ecumenical dialogue through the years and the legacy of the Reformation.
Christian thinkers and leaders will discuss historic divisions emerging from Reformation controversies as well as points of shared theological, cultural, and pastoral concerns among Christian churches.
Among the many scholars and religious leaders speaking and presenting are Martin Marty, Jon Sweeney, Susan Ross, Robin Lovin, Aana Marie Vigen, Jon Nilson, Fr. Thomas Hickey, John Armstrong, Craig Mueller, Ellen Wondra, John Paul Salay, and more. The full schedule for the day is listed below:
Event Details
8:15: Hospitality
9:00: Welcome
9:10-10:15: Keynote: Martin Marty, October 31, 1517: Martin Luther and the Day that Changed the World
Interviewed by Jon Sweeney
Break
10:30-11:45: Susan Ross and Robin Lovin, In Conversation: Martin Luther's On Christian Liberty
Moderator: Hille Haker
11:45-12:45: Lunch on your own. A list of recommended restaurants can be found here.
12:45-1:30: Aana Marie Vigen, "A Lutheran Love Letter to Pope Francis"
1:45-3:00: Craig Mueller, John Paul Salay, and Fr. Thomas Hickey, "Ecumenical Chicago: Lutheran-Catholic Pastoral Dynamics"
Moderator: Lauren Schwer
Break
3:30-4:45: Jon Nilson, Ellen Wondra, and John Armstrong, "Longing for Unity: Three Stories"
Moderator: Shane Gormley
5:00-5:30: Vespers (located at Madonna Della Strada Chapel, one building south of the Information Commons)
Golf Cart Shuttle Available
8:00am-9:00am: Shuttle from Parking Garage to Information Commons
12:00pm-1:00pm: Shuttle Available
5:00pm-6:00pm: Shuttle from Information Commons to Parking Garage
More Featured Stories
Women in STEM

Loyola's Girls Who Code chapter aims to provide a space for young women to learn, teach, and explore coding in an inclusive and supportive environment.


Archdiocese of Chicago

In honor of his elevation to the College of Cardinals, Cardinal Blase Cupich received a hand-carved processional cross from Loyola President Jo Ann Rooney, JD, LLM, EdD, on behalf of the University community.


Quinlan School of Business

Students from across the Quinlan School of Business engaged in a lively and interactive dialogue with leading social entrepreneur Mark Hanis as part of a leadership conversation series hosted by the Baumhart Center for Social Enterprise and Responsibility.