home_news
Reformation Symposium Speakers Featured on NPR: How the Protestant Reformation Still Drives Western Civilization 500 Years Later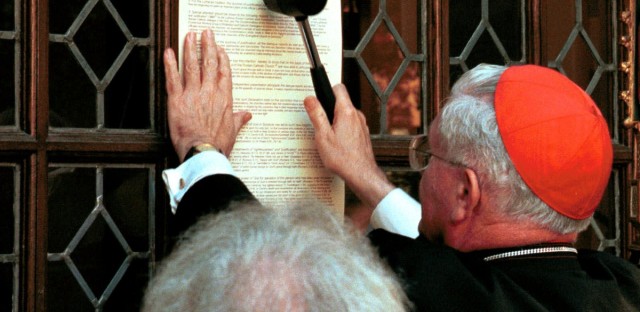 The Hank Center's Featured Speakers, Aana Marie Vigen, Susan Ross, and Craig Muller, with Fr. Don Senior and David Goa, recently spoke on NPR about the Protestant Reformation's 500th anniversary and the Hank Center's upcoming Symposium.
A podcast of this discussion can be found on WBEZ's website.
Around the globe, the Protestant Reformation's 500th anniversary will be commemorated this month. The Hank Center will lead a day-long Symposium on Wednesday, October 18.

On October 31, 1517, Catholic priest Martin Luther nailed his 95 Theses to the door of the Castle Church in Wittenburg, Germany. His revolutionary ideas challenged the Roman Catholic Church and touched off religious and social changes still apparent today.
Many historians credit the Protestant Reformation with providing the undergirding for capitalism, Western democracy, and accelerating the growth of the modern secular state.
NPR discussed the past 500 years with a number of religious experts who will be featured at the Hank Center's upcoming Symposium:
More Featured Stories
Women in STEM

Loyola's Girls Who Code chapter aims to provide a space for young women to learn, teach, and explore coding in an inclusive and supportive environment.


Archdiocese of Chicago

In honor of his elevation to the College of Cardinals, Cardinal Blase Cupich received a hand-carved processional cross from Loyola President Jo Ann Rooney, JD, LLM, EdD, on behalf of the University community.


Quinlan School of Business

Students from across the Quinlan School of Business engaged in a lively and interactive dialogue with leading social entrepreneur Mark Hanis as part of a leadership conversation series hosted by the Baumhart Center for Social Enterprise and Responsibility.