home_news
Videos Available| Signs of the Times: Context, Contingency, Crisis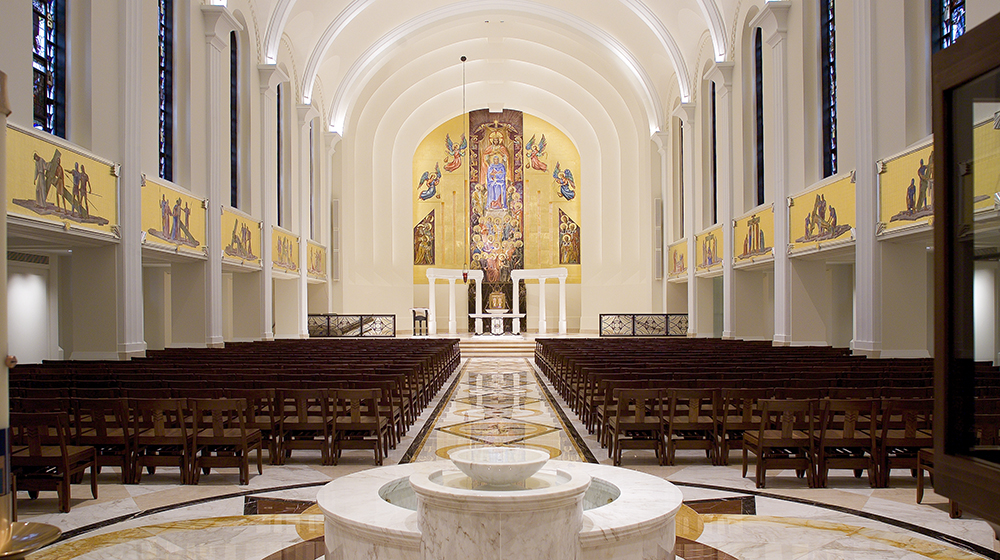 This day-long symposium offers reflections on major events and current affairs impacting Catholics, the Church, and the study of theology and ethics today. Featuring current LUC doctoral students and recent graduates.
April 23, 2021

9:00 AM - 5:00 PM
Zoom Forum
9:00 - 10:30 AM
Many challenges have faced the church in the United States in the last century. This panel will discuss a few of the most salient of these: racism, sexual violence, gender discrimination within Catholic education, the integration of liberationist movements, and war. The panelists will discuss key figures in the tradition and in literature, as well as draw from ethnographic studies in seeking to offer potential responses to the context in which the US Church finds itself in 2021.
Moderator: Martin Tomszak
Pope Francis's Great American Bash: Lincoln, King, Day, Merton, and Us

Dan Cosacchi earned his doctorate in Christian ethics from Loyola Chicago in 2016 with a dissertation entitled "Earthly Destruction: Catholic Social Teaching, War and the Environment." He is currently assistant professor of religious studies and director of the justice and peace studies program at Marywood University in Scranton, Pennsylvania. He is co-editor of The Berrigan Letters: Personal Correspondence between Daniel and Philip Berrigan (Orbis, 2016). In progress is a book with Paulist Press entitled Pope Francis's Great Americans, which will be the basis for his remarks at this event.

Catholic Sexuality Education in Light of #MeToo and #ChurchToo: Learning from Survivors of Sexual Assault

Dr. Karen Ross is a Visiting Assistant Professor of Theology and Director of the M.A. in Christian Doctrine Program at Marquette University. She teaches courses in feminist theology, sexual ethics, Catholic Social Teaching, and social ethics. She received her PhD in Integrative Studies in Ethics and Theology in 2018 from Loyola University Chicago, with a concentration in Catholic Feminist Theology and Sexual Ethics. Her current research uses ethnography in order to provide a feminist ethical analysis of the sexual education of Catholic young women and girls.

Liberating the Religious and Literary Imaginations: The Cross in Morrison's Paradise

Brent Little is a Lecturer in the Department of Catholic Studies at Sacred Heart University in Fairfield, CT, and holds a Ph.D. from Loyola University Chicago. He is the co-editor (along with Mark Bosco, S.J.) of Revelation and Convergence: Flannery O'Connor and the Catholic Intellectual Tradition (Catholic University of America Press, 2017). His most recent articles have appeared in Religion and Literature, Philosophy and Theology, and Horizons.

Marty Tomszak is currently a PhD candidate at Loyola University of Chicago in the process of defending his dissertation, A Radically Weak (I)ncounter: Dorothy Day, the Catholic Worker, and Overcoming Otherness, an Anatheistic Argument for a Political Theology Based in Radical Community. As part of the Integrative Studies in Ethics and Theology program, with a concentration in theology, he focuses on the potential practical implications the radical Catholic lay apostolate of Dorothy Day and Peter Maurin might have on the realm of postmodern and post-structuralist political theology and their impact on the institutional Church in the twenty-first century. The intersection between theology, continental philosophy, and radical community not only influence his research interests but shape the way in which he intertwines theory and praxis in his day-to-day life as he serves as director of the Fire for Food Drive, an initiative aimed at overcoming food insecurity in Chicago; engages with Chicagoland's Catholic Worker communities via experiential learning models in his courses; and spearheads Metropolitan Brewing's community engagement initiatives as a manger at their taproom.
10:45 AM - 12:00 PM
Moderator: Sara Wilhelm Garbers
| | |
| --- | --- |
| | Nathan Pederson is a Ph.D. candidate in Theology at Loyola University Chicago. His work pursues topics such as aesthetic pedagogy, language and the symbolic, and the notion of race within religion and politics. He recently contributed a chapter, "The Symbol Gives Rise to Race," in the volume A Companion to Paul Ricoeur's The Symbolism of Evil. His work is often set within the milieu of phenomenology, contemporary issues in continental philosophy of religion, and trinitarian theology. Often he seeks particularly to explore the intersection between evangelical theology and liberative theologies. Nathan is currently working on writing his dissertation with the preliminary title: "White Enigma: Opacity, Perspective, and the Theological Formation of White Subjectivity." |
| | Molly Greening is an educator, activist, facilitator and musician that is too Catholic for queers and too queer for Catholics, drawn to the Divine residing within the body but newly rebirthed from dependence on those who may claim to hold her truth. Too non-binary to be bisexual yet married to a straight man, she is a dissenter of the whitest richest suburbs of Chicago though still calling such places home. Her work blurs disciplinary boundaries, bringing theology, ethics, religious studies, queer theory, and U.S. women of color feminisms together in search of healing and transforming the wounds of interlocking systems of oppression. |
| | Evan Marsolek is a third year PhD student in the Integrative Study of Ethics and Theology at Loyola University Chicago. His research interests include queer theology, queer theory, psychoanalysis, sexology, and cultural studies. Evan comes from the frosty north of Fargo, ND, by way of Minneapolis-St. Paul, MN. This geographical socialization has surrounded Evan with a particular collective of queer identities where theological imaginations run deep, and he is interested in exploring the contours of these queer believers. When not reading and writing, Evan enjoys cooking and spending quality time with his partner and dog. |
| | Sara Wilhelm Garbers (M.Div, Ph.D Candidate) is completing her doctorate at Loyola University-Chicago in Integrative Studies in Ethics and Theology. Her dissertation is entitled: "A Feminist Political Theological Ethics of Formation." In addition to her academic work, she also serves as a full-time congregational minister in Minneapolis, Minnesota. |
1:00 - 2:30 PM
Moderator: Cathy Buescher
Dannis Matteson is a Ph.D. candidate in the Integrative Studies in Theology and Ethics program at Loyola University Chicago. She is currently writing her dissertation, which deconstructs moral identity defined by coloniality and envisions a decolonial character ethics approach for white Christians seeking to delink from structures of domination. Dannis is also a founding member of EncounterPoint, a faith community in Chicago's Edgewater neighborhood that provides liturgy experiences as well as hospitality for individuals and groups seeking to deepen their spiritual journeys and further their social justice projects. Dannis' past experiences as a health care justice advocate, campus minister, and intentional community member, and other outreach ministry roles inspire her scholarly pursuits and shape her interest in bridging ethical reflection with concrete solidarity and justice work.
Meghan Toomey is a doctoral candidate in the Integrated Studies in Ethics and Theology program at Loyola University Chicago. Her dissertation, titled "

The Meaning of Life's Broken Fragments:

Bonhoeffer's Ethics of Resistance" catalogues Catholic engagement with the works of Dietrich Bonhoeffer and [resents a charism of resistance grounded on Bonhoeffer's incarnational Christology. Meghan's additional areas of interest include Catholic ecclesiology, liberation theologies, and political theologians. Prior to LUC, Meghan earned a master's degree in Systematic Theology from Union Theological Seminary, as well as a master's degree in Applied Developmental Psychology from Fordham University.
Dominic F. Tomuseni, S.J. is a Zimbabwean Jesuit priest working as a dean of the Jesuit School of Theology at Hekima University College in Nairobi, Kenya. He also teaches Fundamental Theology and Ecclesiology in the same school. His research interests include Theology and Urbanization, African Christian Theology, Theological Hermeneutics, Theology and Literature and Auto/Biography as Theology.
Andy Blosser received his Ph.D. in Integrated Studies in Ethics and Theology from Loyola University Chicago, where his research focused on the ecological aspects of religious rituals. He teaches world religions and New Testament courses at Carthage College in Kenosha, WI, as well as ethics courses at Loyola. Prior to his teaching work, he worked for several years as a local church clergyperson. Currently he is writing a book on how religion and science can work together in fostering better human moral development.

Cathy Buescher, originally from Nebraska but who arrived in Chicago via New York City, is a PhD candidate in Loyola's Integrative Studies in Ethics and Theology program. Her dissertation - titled Dialogical Hermeneutics, Silence, and Forgiveness at the Limits in Shūsaku Endō's Silence - argues for the naming of silent forgiveness as a phenomenon that operates at the limits of dialogical hermeneutics, allowing discourse partners a bridge over the chasm of incomplete or mis-understanding that exists in interreligious dialogue. Shūsaku Endō's novel Silence provides a literary case study for her argument.
2:45 - 4:00 PM
Moderator: Keunwoo Kwon
| | |
| --- | --- |
| | Kathleen McNutt is a Ph.D. candidate in Theology at Loyola University Chicago and current Graduate Assistant at the Hank Center for the Catholic Intellectual Heritage. Her research currently examines the relationship between ecofeminism and soteriology. She is co-editor of The Challenge of God: Continental Philosophy and the Catholic Intellectual Heritage. |
| | LaShaunda Reese is a 3rd year PhD in Ethics and Theology. She has a BA in Theology from Xavier University of Louisiana, an MA in Ethics from Loyola University Chicago, and a MTS from Candler School of Theology. Her interests include the intersectionality of Narrative Ethics and the African American experience. LaShaunda has been a case manager for persons with severe mental illnesses, and is currently an Ethics Fellow with Advocate Aurora Health. In addition to being President and Co-Founder of the Black Graduate Student Alliance at Loyola, LaShaunda is on a host of other boards and organizations, including the Anti-Racism Initiative at Loyola, Graduate Student government positions, and community ethics boards. She belongs to Theta Alpha Kappa, Kappa Gamma Pi, and Alpha Lambda Delta academic societies. |
| | John Crowley-Buck, Ph.D., is Special Assistant to the Vice President for Mission & Ministry, and Adjunct Lecturer in the Department of Theology & Religious Studies, at Georgetown University. In the Office of Mission & Ministry, he works with the Vice President to advance the Catholic identity, Ignatian heritage, and Jesuit mission of the university. In the Department of Theology & Religious Studies, he teaches a course on Jesuit mission and values, as well as a section of the department's signature course, The Problem of God. He is the co-editor of Democracy, Culture, and Catholicism: Voices from Four Continents (Fordham University Press, 2015). |
| | Wendy Crosby is an Assistant Professor of Religious Studies and Program Coordinator for the Religious Studies Department at Siena Heights University. She received her PhD in Integrative Studies in Ethics and Theology from Loyola University Chicago in 2017 with a focus on systematic theology. Crosby's research interests include Catholic theology, contemporary systematic theology, feminist theology, and theology and pop culture. Her recent work includes "The Good Theology in 'Good Omens'" published by America in 2019 and a forthcoming chapter for the edited volume, The Theological World of Harry Potter. |