archive
Conversations on the Catholic Intellectual Tradition: Catholic Higher Education in the 21st Century
Nexus Journal Launch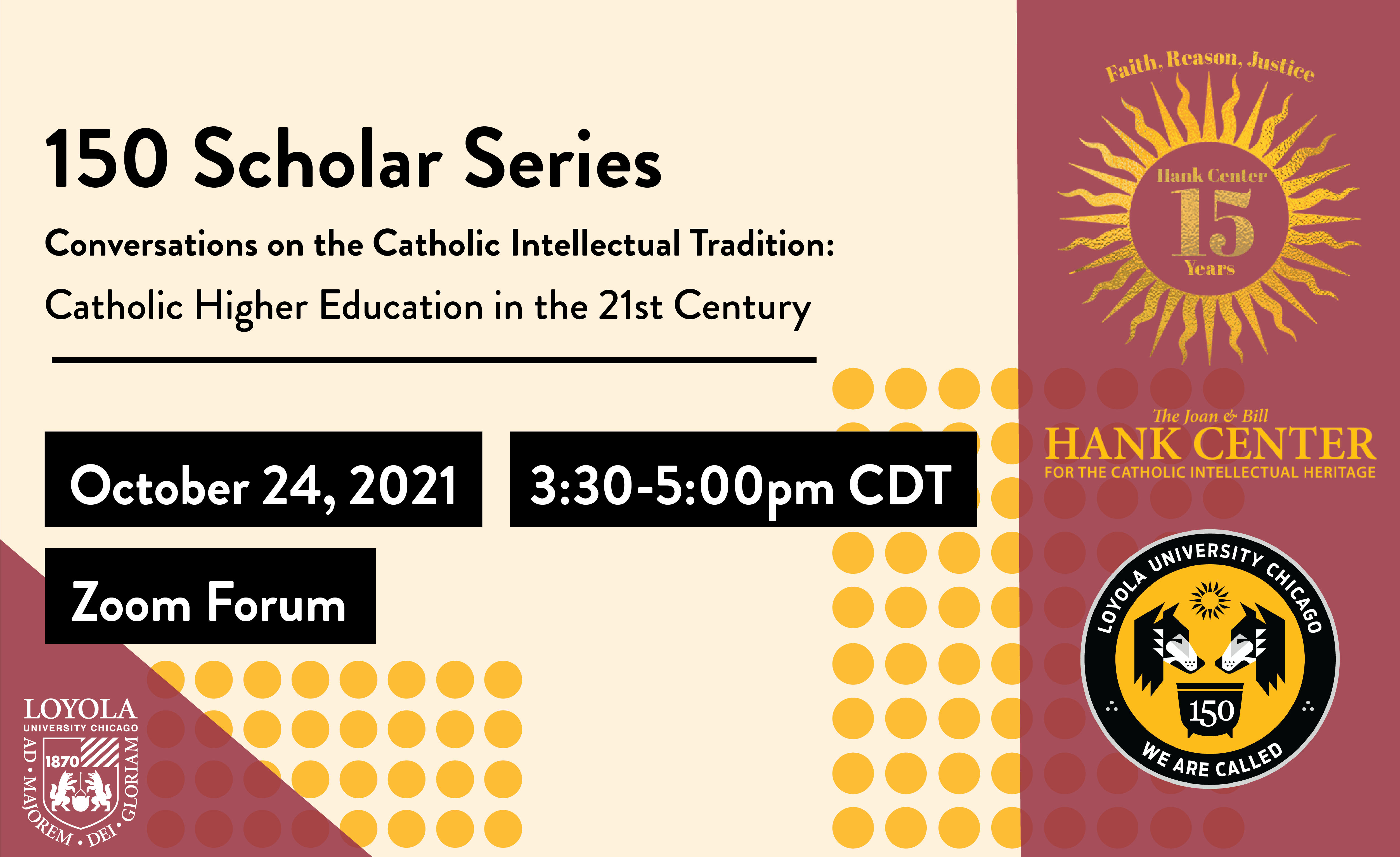 October 14, 2021, 3:30-5:00 PM CDT
Zoom Forum, Registration Required.
St. John Paul II proposed in in the landmark Ex Corde Ecclesiae "that a Catholic university unites "the search for the truth with the certainty of already knowing the fount of truth." Thirty years later, what are the implications and challenges of this "constitution for Catholic higher education" for teachers, researchers, thinkers, and students in Catholic universities? Four Loyola professors and a doctoral student discuss education as the pursuit of truth, the philosophical and pedagogical balance between reason and faith, and challenges encountered in the multicultural landscape of the 21st Century. This event marks the launch of the Hank Center's journal, Nexus: Conversations on the Catholic Intellectual Tradition. Presented in partnership with Mission Integration.
Featuring:
| | |
| --- | --- |
| | Naomi Fisher is Director of Catholic Studies and Assistant Professor of Philosophy at Loyola University Chicago. She has broad interests in the history of philosophy and the interplay between that history and the history of Christianity. Her scholarly research examines the philosophy of Immanuel Kant and his immediate successors, with a focus on personhood, freedom, and nature. She also has a graduate degree in Physics from UC Davis and has teaching interests in the relationship between science and religion. She is on the executive board of Philosophers in Jesuit Education and runs a working group in the Catholic Intellectual Tradition for the Hank Center for Catholic Intellectual Heritage. |
| | Marcella Linn is a lecturer in the philosophy department at Loyola University Chicago. Her research uses interpretative work on Aristotle to address contemporary topics in ethics and social psychology such as the nature of character, moral luck, the empirical adequacy of character, and moral responsibility. She regularly teaches courses in the core curriculum, most notably Judgment and Decision Making, which introduces students to cognitive biases, situational determinants of behavior, and the implications for human agency and moral responsibility. |
| | Joe Vukov is an Assistant Professor and Graduate Program Director in the Philosophy Department at Loyola. His research explores question as the intersection of ethics, neuroscience, and philosophy of mind, and at the intersection of science and religion. In 2022, he will publish his first book, on science, religion, and intellectual humility, with Eerdmans. |
| | Andrew Krema is a third year PhD student in philosophy at Loyola University Chicago. Prior to enrolling at Loyola, he earned a Masters in philosophy at the University of Cologne (Germany) and a BA in philosophy and German at The Catholic University of America. His research interests lie in phenomenology, especially Husserl. |
This event is free and open to the public.