archive
The Hank Center's 2015 Living Tradition Award Honors Dr. Adriaan Peperzak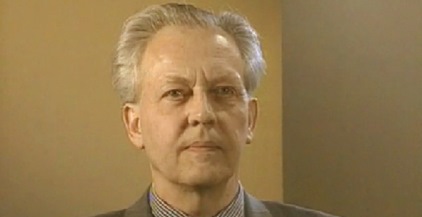 Every year the Hank Center presents the Living Tradition Award to a Loyola University Chicago emeritus faculty member who has exemplified the integration of Catholic thought into their work, research, and teaching.
The 2015 Living Tradition Award honors Dr. Adriaan Peperzak.
About Adriaan Peperzak
Adriaan Theodoor Peperzak was born in Java (Indonesia) as a Dutch citizen. He studied philosophy in Venraai and theology in Alverna and Weert (The Netherlands). He obtained a licentiate in philosophy at the Higher Institute of Philosophy of Louvain University (Belgium) and a PhD in the Humanities at the University of Paris (Sorbonne). His doctoral dissertation, Le jeune Hegel et la vision morale du monde (director: Paul Ricoeur), was published in 1960 and again in 1969.
Peperzak taught at various universities of The Netherlands (including those of Amsterdam, Utrecht, and Nijmegen) and, as visiting professor, at the universities of Bandung (Indonesia), Mallorca (Spain), the Scuola Normale of Pisa (Italia), the Istituto degli Studi Filosofici of Naples (Italia), the University of Nice (France), Duquesne University (Pittsburgh), Pennsylvania State University (State College), Boston College, Loyola University Chicago, Villanova University, and Stanford University, and he lectured at many others. Dr. Peperzak was until recently the Arthur J. Schmitt Professor of Philosophy in the Department of Philosophy here at Loyola University Chicago.
His research in the history of philosophy has focused on Hegel (six books and numerous articles) and Emmanuel Levinas (two books and three others edited). He also published on Plato, Aristotle, Bonaventura, Descartes, Heidegger, and Ricoeur, and on thematic questions in ethics, social and political philosophy, metaphilosophy, and philosophy of religion.
"Professor Peperzak's scholarship is breath-taking in its quantity, its quality, and its audacity. In Professor Peperzak's judgment, philosophy cannot really be separated from one's convictions, especially one's convictions of faith ... It is only proper, then, that we recognize Professor Peperzak for his extraordinary career and his powerful presence in our Loyola community of faith and philosophy."
~Dr. Mark H. Waymack (Chair, Department of Philosophy, Loyola University Chicago)