archive
I Was a Stranger: Student Stories of Religious Hospitality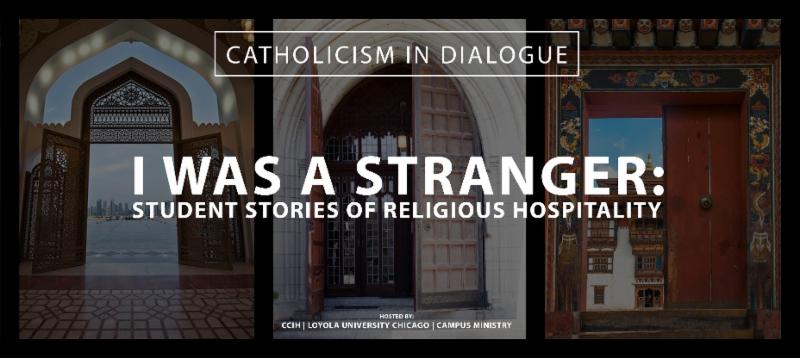 Thursday, 28 September 2017
3:00PM - 5:00PM
McCormick Lounge, Coffey Hall
Lake Shore Campus, LUC
In fall 2017 CCIH shifted the focus of its Catholicism in Dialogue event toward the contemporary challenge of living together in a multicultural and interfaith setting, and combines forces with Campus Ministry and the Department of Theology & Religious Studies to offer students a yearlong experience of hospitality through many events.
I Was a Stranger: Student Stories of Religious Hospitality, taking place on Wednesday, September 28th, kicks off this week of hospitality events. At this event, student representatives from Loyola's major faith communities will share experiences in which they were welcomed into their own faith communities through initiation rites, conversion experiences, and times of support in the midst of the everyday trials and challenges that are part of an authentic religious life. After the presentations, students will be available to discuss their respective traditions in more detail during a time of casual conversation and refreshments.
Emphasizing the point that practice is the bedrock of religious reflection and experience, the rest of this week will be filled with opportunities to participate in enacted religious welcome practices. Opening their doors to all members of our campus community, various faith communities will sponsor actual religious practices that are central to their traditions in order to share lived ritual experiences that shape faith communities and the unique ways that each religious tradition understands the nature of embracing of others. The week will hopefully reveal not only the diversity of religious experience and thought at Loyola, but also the value in acknowledging, preserving, and enriching this religious diversity for our whole community, nation, and world.