archive
Recommended Reading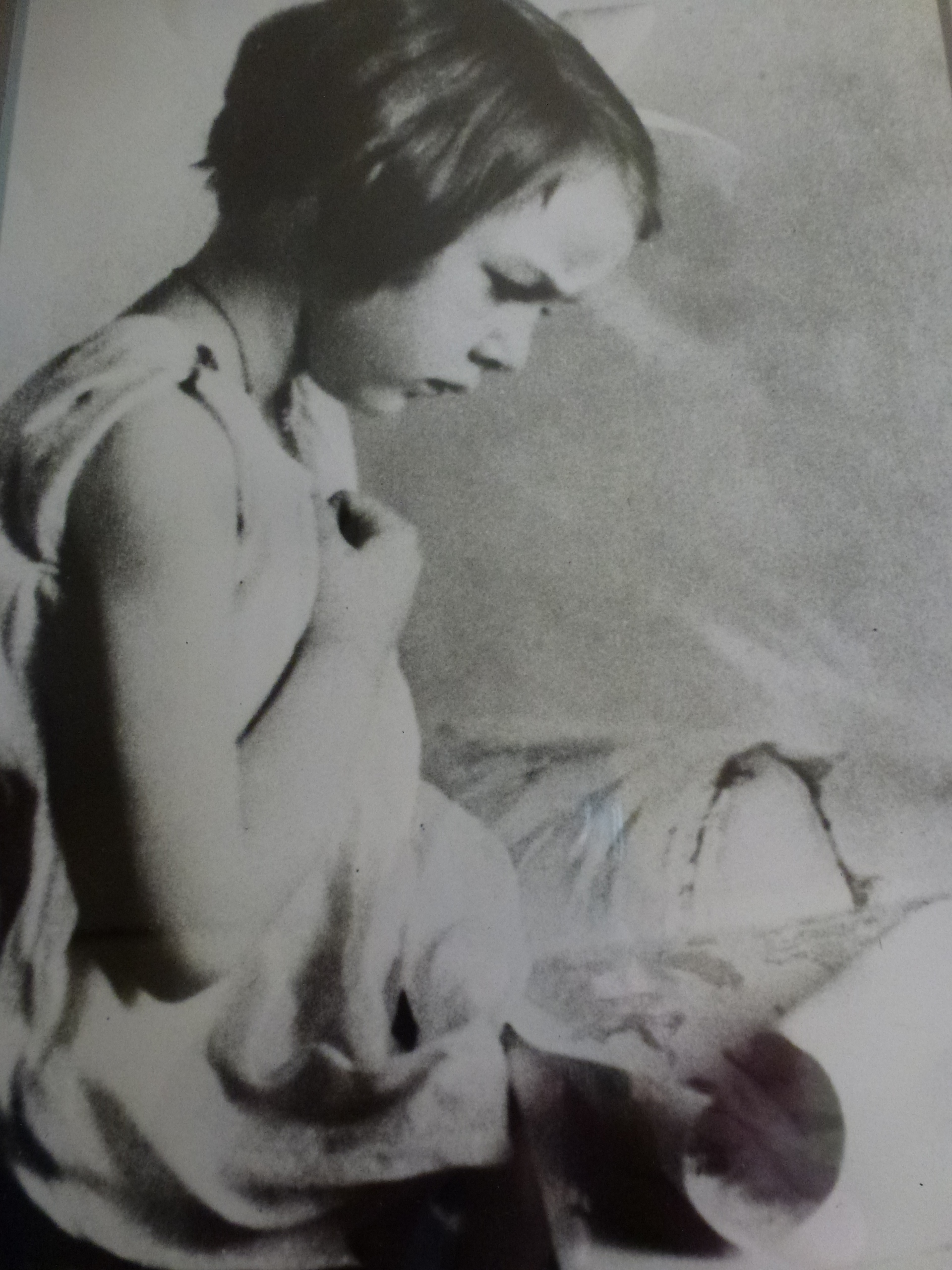 The image above depicts young Flannery O'Connor reading. In the spirit of cultivating the Catholic intellectual and artistic tradition, CCIH will recommend new and notable books each month that integrate, interrogate, and celebrate Catholicism in dialogue with the world.
February 2018 Recommended Reads
Thérèse (2016)
By Dorothy Day with a foreword by Robert Ellsberg
Dorothy Day struggled to write this short biography of St. Thérèse of Lisieux, which has been put back in print only recently. Originally designed for non-believers or those unfamiliar with the "Little Flower", and emphasizing why Thérèse's simplicity and humility are so vital for modern life, this unpretentious account of St. Thérèse's life illustrates how Day herself came to deeply appreciate and embrace the simple, yet profound "Little Way", inviting readers down a similar path of spiritual conversion.
Why Liberalism Failed (2018)
By Patrick J. Deneen
In this provocative book, Patrick Deneen poses the challenging question of whether liberalism, the champion ideology of the twentieth century (having conquered both fascism and communism) has, in fact, failed because it has succeeded. Deneen develops his thesis by revealing the inherent contradictions in which liberalism is grounded (such as trumpeting equal rights while also fostering incomparable material inequality) and warns that the centripetal forces now at work on our political culture are not superficial flaws but inherent features of a system whose success is generating its own failure.
Beyond Apathy: A Theology for Bystanders (2015)
By Elisabeth T. Vasko
In this important and timely book, Elisabeth Vasko seeks to expand theological conversations about violence, which typically focus narrowly on victim-perpetrator dichotomies. Arguing that this focus, while important, only addresses part of the problem, Vasko advocates for a more comprehensive theological and pastoral response to violence that directly addresses the complex issue of collective passivity in the face of human denigration. Giving special attention to the social issues of bullying, white racism, and sexual violence, Vasko utilizes resources within the Christian tradition to offer both a critical examination of, and a theology of redeeming grace for bystanders to violence.
Love Alone is Credible (2005)
By Hans Urs von Balthasar (translated by D.C. Schindler)
In his master work, The Glory of the Lord, Hans Urs von Balthasar used the term "theological aesthetic" to describe what he believed to be the most accurate method of interpreting the concept of divine love (in contrast to approaches grounded in historical or scientific methodology, which had become increasingly popular in the early twentieth century). In this book, newly translated from its original German edition (1963), von Balthasar delves deeper into explorations of what love means, how the divine love of God is distinct, and how we must all become lovers of God in the footsteps of saints like Francis de Sales, John of the Cross, and Thérèse of Lisieux. Bringing a fresh perspective on an oft-explored subject, Love Alone is Credible, offers a profound theological meditation that serves to both deepen and inform the faith of the believer.
December 2017 Recommended Reads
Incarnadine: Poems (2013)
By Mary Szybist
Leading her readers through an array of richly imagined encounters, Szybist creatively expresses poetic sentiment through diverse mediums, including a diagrammed sentence, an abeccedarium, Annunciations, and lines of dialogue. Blending conventional and innovative aesthetics, Szybist's poems boldly recasts the Blessed Mary, offering alternative visions through lyrical yearning. This restless and inventive collection of poems is perfect Christmas reading. Incarnadine was named to Best Book of the Year lists by NPR, Slate, Oregonian, Kansas City Star, Willamette Week, and Publishers Weekly, and named Amazon's Best Book of the Year in Poetry 2013.
Mr. Ives' Christmas (2003)
By Oscar Hijuelos
Another solid read for the Christmas season is this gem from 2003. In no way a sentimental work, Hijuelos' novel presents the perennial issue of faith in the face of tragedy. Weaved into the narrative of Mr. Ives, whose life and faith in God and humanity is thrown into question when a terrible tragedy befalls him at Christmas. Part love story and part meditation on how a person can find spiritual peace in the midst of crisis, Mr. Ives' Christmas is a compelling story of one man struggling to put his life in perspective. In the expert hands of Oscar Hijuelos, the novel speaks eloquently to the most basic and fulfilling aspects of human existence-- a Christmas story if there ever was one.
Building the Human City: William F. Lynch's Ignatian Spirituality for Public Life (2016)
By John F. Kane with a Foreword by Kevin F. Burke
Kane's text provides a first rate overview of the work of Jesuit philosopher William F. Lynch. Writing from the 1950s to the mid-1980s, Lynch was not only a literary theorist, but a pioneering "social critic," and one of the first to warn against the fierce cultural and political polarizations that are prevalent in our society today. In his diverse works, Lynch calls for transformation and encourages healing discernment through imagination, while also addressing critical ironies of an Ignatian (and Socratic) spirituality. Kane's presentation in this collection brings to the forefront, perhaps for the first time, Lynch's unified vision of transformation, which is arguably more necessary now than when it was first written. A masterly study of a great Jesuit and scholar who more readers should know.
The Intellectual Life: It's Spirit, Conditions, Methods (1946, 1992)
By A. G. Sertillanges, OP (translated by Mary Ryan) with a Foreword by James V. Schall, SJ
A perfect stocking stuffer, A.G. Sertillanges's book is equal parts romantic evocation of the spiritual dignity of the life of scholarship and practical advice to the aspiring young intellectual. Do you want to do intellectual work? This is the central question to which Fr. Sertillanges, orients this book of timeless teachings. First published in 1920, The Intellectual Life has been acclaimed for both its scholarly and practical approaches to both scholarly habits of mind and vocation discernment. Providing generations of scholars with robust foundation in intellectual practices and sensibilities, this book is a must read for any young (or even not so young) scholar.
October/November 2017 Recommended Reads
To Overcome Oneself: The Jesuit Ethic and Spirit of Global Expansion, 1520-1767 (2013)
By J. Michelle Molina
This study examines practices of Catholic missionaries in Europe and New Spain from the 1520s through the 1760s in order to demonstrate how the emergence of the Western concept of the "modern self" was enmeshed in the process of early modern Catholic missionary expansion. Emphasizing the centrality of embodied Catholic spiritual practices--such as Jesuit practices meditation, narrative self-reflection, confession, and the spiritual exercises in the development of the idea of "self"-- Molina also investigates the importance of the relationship between spiritual directors and their subjects. Throughout this original retelling of the emergence of the concept of modern "selfhood," Molina poses two important questions: Why does the effort to know and transcend self require so many others? And what can we learn about the inherent intersubjectivity of missionary colonialism?
We Are Not Ourselves: A Novel (2015)
By Matthew Thomas
Named to New York Times 100 Notable Books of 2014, Washington Post Top 50 Fiction List for 2014, and Entertainment Weekly Ten Best Fiction Books of 2014, among many other accolades, this novel traces one family's pursuit of the American Dream in New York in the 1940s & 50s. Through the lives of his characters, Thomas charts the movements of an American century, in the process exposing our greatest desires, as well as our greatest failures. The Washington Post praises Thomas for his superb ability to capture "both an individual's life and the universality of that's person experience"-- with a solid eye fixed on Catholic spirituality-- in this stunning piece of literature.
A Course in Christian Mysticism: Thomas Merton (2017)
Edited by Jon M. Sweeney with a Foreword by Michael N. McGregor
This collection of Merton's lectures to young monastics at the Abbey of Gethsemani provides a valuable look at Merton the scholar. Covering sixteen centuries of central Christian mystical thinkers, this book is complete with a helpful introduction, which provides background historical and thematic information, as well as study materials at the back of the book, which offer additional reading sources and reflection questions. This compact volume displays the relevance of Merton's thought for any student of Christian mysticism and other spiritual seekers today.
Do Guns Make Us Free?: Democracy and the Armed Society (2015)
By Firmin DeBrabander
A crucial examination of the political and philosophical arguments undergirding possibly the most emotionally charged debate taking place in the United States today. In this insightful and eye-opening analysis, DeBrabander interrogates the major claim made by guns rights supporters, led by the National Rifle Association, that the right to unchecked gun ownership safeguards all other citizen rights. As the title indicates, this book offers an alternative viewpoint, demonstrating several reasons why an armed society is, in fact, not a free society-- but one locked in a kind of servility that harms the safety of the citizens and the health of the common good.
September 2017 Recommended Reads
Age of Anger: A History of the Present (2017)
By Pankaj Mishra
Mishra takes a long look at the origins of the great wave of paranoid hatreds that bewilder and terrify us in today's world. Exposing how the promises of modernity-freedom, prosperity, stability-represent broken promises for all but global elites, Mishra explores how those excluded have become increasingly susceptible to demagogues. While not a text in the Catholic intellectual tradition, Mishra takes the religious dimension seriously and questions secularism with insight and alacrity.
Faith and Resistance in the Age of Trump (2017)
Edited by Miguel A. De La Torre
Featuring an essay by LUC's own Miguel Diaz, John Courtney Murray University Chair in Public Service, this book offers reflections from notable religious leaders and scholars about the political and confessional crises that currently threaten not only our republic, but also our most deeply held religious claims and values.
The Jesuits and Globalization: Historical Legacies and Contemporary Challenges (2016)
Edited by Thomas Banchoff & José Casanova
What do the Jesuits tell us about globalization, and what can globalization tell us about the Jesuits? Banchoff and Casanova present a multidisciplinary exploration into what we can learn from the historical and contemporary experience of the Society of Jesus.
The Ninth Hour: A Novel (2017)
By Alice McDermott
Set in 1940s/50s Catholic Brooklyn, this novel weaves the story of one Irish immigrant family through three generations. Revealing along the way a wholly individual and universal understanding of the human condition, the story tests the limits of love and sacrifice, of forgiveness and forgetfulness. Alice McDermott is not only a gifted novelist, but a leading practitioner of the Catholic Imagination.
Rebel in the Ranks: Martin Luther, the Reformation, and the Conflicts That Continue to Shape Our World (2017)
By Brad S. Gregory
Just in time for the 500th Anniversary of the Reformation, Notre Dame Historian Brad Gregory examines the complicated legacy of Martin Luther and how his unintended yet epochal movement continues to shape the world today.