archive
Recommended Reading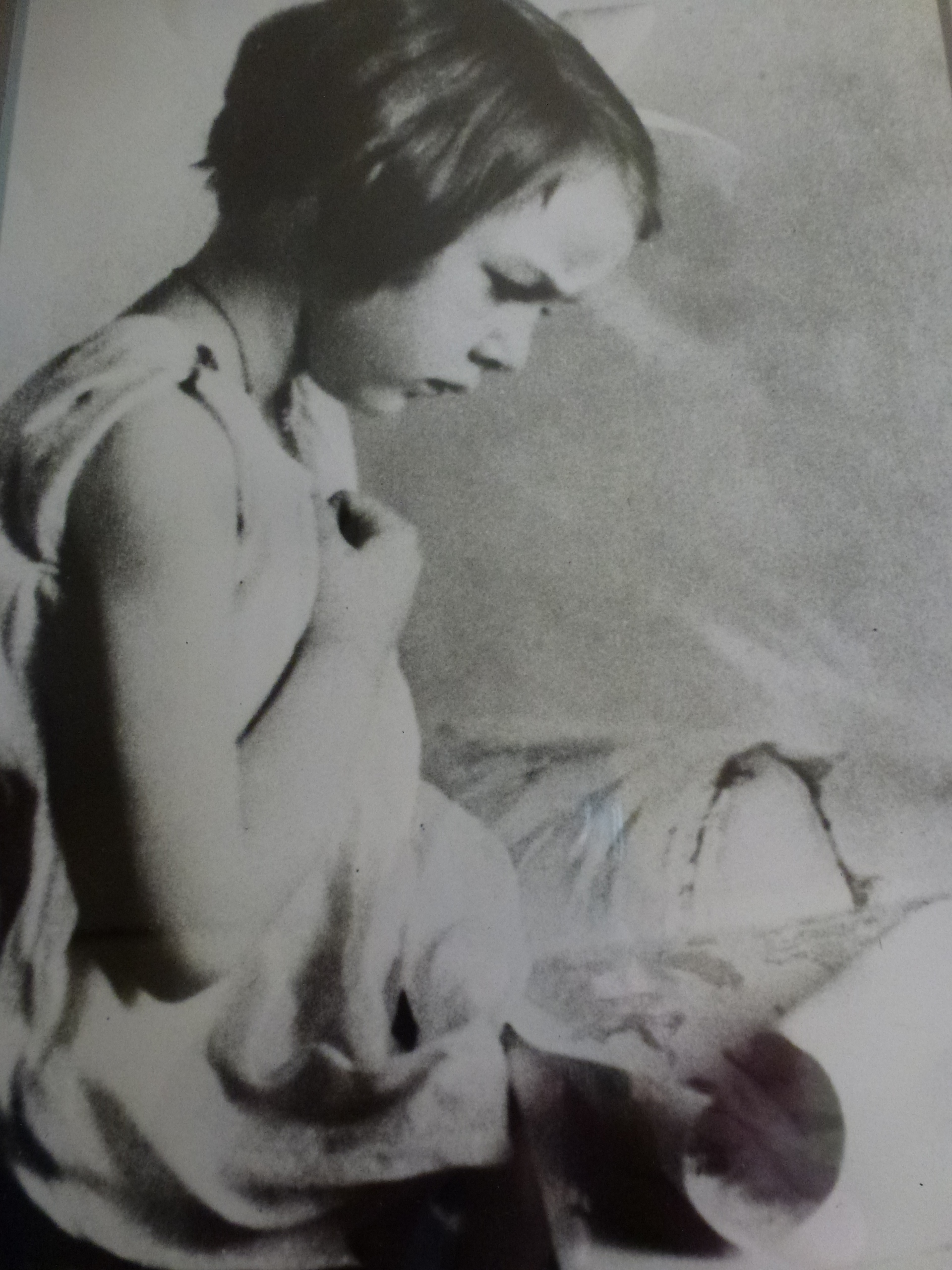 The image above depicts American Catholic writer Flannery O'Connor reading as a child. In the spirit of cultivating the Catholic intellectual and artistic tradition, CCIH will recommend new and notable books several times a year that integrate, interrogate, and celebrate Catholicism in dialogue with the world.
February 2019 Recommended Reads
Evolution of Desire: A Life of René Girard (2018)
By Cynthia L. Haven
René Girard (1923-2015) was one of the leading thinkers of our era-a provocative sage who bypassed prevailing orthodoxies to offer a bold, sweeping vision of human nature, human history, and human destiny. His oeuvre, offering a "mimetic theory" of cultural origins and human behavior, inspired such writers as Milan Kundera and J. M. Coetzee, and earned him a place among the forty "immortals" of the Académie Française. In this first-ever biographical study, Cynthia L. Haven traces the evolution of Girard's thought in parallel with his life and times. She recounts his formative years in France and his arrival in a country torn by racial division, and reveals his insights into the collective delusions of our technological world and the changing nature of warfare. Drawing on interviews with Girard and his colleagues, Evolution of Desire: A Life of René Girard provides an essential introduction to one of the twentieth century's most controversial and original minds. Haven will be speaking at the 2019 Catholic Imagination Conference hosted by the Hank Center.
Christian Flesh (2018)
By Paul J. Griffiths
A sustained and systematic theological reflection on the idea that being a Christian is, first and last, a matter of the flesh, Christian Flesh shows us what being a Christian means for fleshly existence. Depicting and analyzing what the Christian tradition has to say about the flesh of Christians in relation to that of Christ, the book shows that some kinds of fleshly activity conform well to being a Christian, while others are in tension with it. But to lead a Christian life is to be unconstrained by ordinary ethical norms. Arguing that no particular case of fleshly activity is forbidden, Paul J. Griffiths illustrates his message through extended case studies of what it is for Christians to eat, to clothe themselves, and to engage in physical intimacy.
Postsecular Catholicism: Relevance and Renewal (2018)
By Michele Dillon
The Catholic Church faces the challenge of maintaining its relevance in an increasingly secularized society. On issues ranging from sexuality and gender equality to economic policy and social welfare, the church hierarchy is frequently out-of-step with Catholics and non-Catholics alike. In Postsecular Catholicism, Michele Dillon argues that the Church's relevance is increasingly contingent on its ability to incorporate secular experiences and expectations into the articulation of the Church's teachings.
Informed by the postsecular notion that religious and secular actors should recognize their mutual relevance in contemporary society, Dillon examines how secular realities and church doctrine intersect in American Catholicism. She shows that the Church's 21st-century commitment to institutional renewal has been amplified by Pope Francis's vision of public Catholicism and his accessible language and intellectual humility. Combining wide-ranging survey data with a rigorous examination of Francis's statements on economic inequality, climate change, LGBT rights, and women's ordination, the highly consequential Vatican Synod on the Family, and the US Bishops' religious freedom campaign, Postsecular Catholicism assesses the initiatives and strategies impacting the Church's relevance in the contemporary world.
The Year of Our Lord 1943: Christian Humanism in an Age of Crisis (2018)
By Alan Jacobs
By early 1943, it had become increasingly clear that the Allies would win the Second World War. Around the same time, it also became increasingly clear to many Christian intellectuals on both sides of the Atlantic that the soon-to-be-victorious nations were not culturally or morally prepared for their success. A war won by technological superiority merely laid the groundwork for a post-war society governed by technocrats. These Christian intellectuals-Jacques Maritain, T. S. Eliot, C. S. Lewis, W. H. Auden, and Simone Weil, among others-sought both to articulate a sober and reflective critique of their own culture and to outline a plan for the moral and spiritual regeneration of their countries in the post-war world.
In this book, Alan Jacobs explores the poems, novels, essays, reviews, and lectures of these five central figures, in which they presented, with great imaginative energy and force, pictures of the very different paths now set before the Western democracies. Working mostly separately and in ignorance of one another's ideas, the five developed a strikingly consistent argument that the only means by which democratic societies could be prepared for their world-wide economic and political dominance was through a renewal of education that was grounded in a Christian understanding of the power and limitations of human beings. The Year of Our Lord 1943 is the first book to weave together the ideas of these five intellectuals and shows why, in a time of unprecedented total war, they all thought it vital to restore Christianity to a leading role in the renewal of the Western democracies.


November/ December 2018 Recommended Reads
Conjectures of a Guilty Bystander (1968)
By Thomas Merton
December 10, 2018 marked the 50th anniversary of Thomas Merton's death. In this series of notes, opinions, experiences, and reflections, Merton examines some of the most urgent questions of our age. With his characteristic forcefulness and candor, he brings the reader face-to-face with such provocative and controversial issues as the "death of God," politics, modern life and values, and racial strife--issues that are as relevant today as they were fifty years ago.
One in Christ: Chicago Catholics and the Quest for Interracial Justice (2018)
By Karen J. Johnson
Karen J. Johnson tells the story of Catholic interracial activism from the bottom up through the lives of a group of women and men in Chicago who struggled with one another, their Church, and their city to try to live their Catholic faith in a new, and what they thought was more complete and true, way. Black activists found a handful of white laypeople, some of whom later became priests, who believed in their vision of a universal church in a segregated city. Together, they began to fight for interracial justice, all while knitted together in sometimes-contentious friendship as members of the Mystical Body of Christ. In the end, not only had Catholic activists lived out their faith as active participants in the long civil rights movement and learned how to cooperate, and indeed lvoe, across racial lines, but they had changed the practice of Catholicism. They broke down the hierarchy that placed priests above the laity and crossed the parish boundaries that defined urban Catholicism.
Theologies of Guadalupe: From the Era of Conquest to Pope Francis (2018)
By Timothy Matovina

Our Lady of Guadalupe, whose feast day is December 12th, is the only Marian apparition tradition in the Americas- and indeed in all of Roman Catholicism- that has since inspired a sustained series of published theological analyses. In Theologies of Guadalupe, Timothy Matovina explores the way theologians have understood Our Lady of Guadalupe and sought to assess and foster her impact on the lives of her devotees since the seventeenth century. He examines core theological topics in the Guadalupe tradition, developed in response to major events in Mexican history: conquest, attempts to Christianize native peoples, society-building, independence, and the demands for justice of marginalized groups. This book tells how, amidst the plentiful miraculous images of Christ, Mary, and the saints that dotted the sacred landscape of colonial New Spain, the Guadalupe cult rose above all others and was transformed from a local devotion into a regional, national, and then international phenomenon. Matovina traces the development of the theologies of Guadalupe from the colonial era to our own time, revealing how Christian ideas imported from Europe developed in dynamic interaction with the new contexts in which they took root.

99 Poems: New & Selected (2017)
By Dana Gioia

Gioia, who will be part of the 2019 Catholic Imagination Conference at Loyola in the fall, has long been celebrated as a poet of sharp intelligence and brooding emotion with an ingenious command of his craft. 99 Poems: New & Selected gathers for the first time work from across his career, including many remarkable new poems. Gioia has not arranged this selection chronologically but instead has organized it by theme in seven sections: Mystery, Place, Remembrance, Imagination, Stories, Songs, and Love. The result is a book that reveals and renews the pleasures, consolations, and sense of wonder that poetry bestows.
October 2018 Recommended Reads

The Art of the Wasted Day (2018)
By Patricia Hampl
The Art of the Wasted Day is a compelling celebration of the purpose and appeal of letting go. Hampl's own life winds through these pilgrimages, from childhood days lazing under a neighbor's beechnut tree, to a fascination with monastic life, and then to love--and the loss of that love which forms this book's silver thread of inquiry. Finally, a remembered journey down the Mississippi near home in an old cabin cruiser with her husband turns out, after all her international quests, to be the great adventure of her life. As Maureen Corrigan notes, "It's impossible to do justice to the cumulative power of Hampl's dream-weaver writing style by just quoting a few lines. You have to go on the whole voyage with her . . . by wasting some of your time with Hampl, you'll understand more of what makes life worth living."
And-- in the Spirit of our Global '68 Symposium...
Introduction to Christianity (1968)
by Joseph Cardinal Ratzinger
One of Cardinal Ratzinger's most important and widely read books, Introduction to Christianity was born out of the days immediately following Vatican II and becomes a touchstone for the subsequent development of his ecclesiology of continuity. The future Pope Benedict XVI arrived in Tubingen in 1966 at the request of his friend, Hans Kung; he left this prestigious position in late in 1968. So many changes and significant events occurred in the world as he gave his lectures and the students at Tubingen, fully engaged in the signs of the times, often tested their professors on serious questions. In many ways, Ratzinger's text is a reaction to this. His approach puts the question of God and the question about Christ in the very center, which leads to a "narrative Christology" that both insists on eschatological care and demonstrates that the place for faith is in the Church-even in the context of radical social change. His approach is not without controversy. On the one hand, supportive readings applaud his treatment of Christianity's basic truths, combining a spiritual outlook with a deep knowledge of Scripture and the history of theology; critical readings lament the absence of pastorally meaningful engagement with the many injuries to justice that characterize the age.
The Unbearable Lightness of Being (1984)
by Milan Kundera
The Unbearable Lightness of Beinggrows out of the dramatic political, spiritual, and cultural convulsions of the Prague Spring of 1968 and is a major achievement from one of the world's truly great writers. Milan Kundera's magnificent novel of passion and politics, infidelity and ideas, encompasses the extremes of comedy and tragedy, illuminating all aspects of human existence. The story at its root is of a young woman in love with a man torn between his love for her and his incorrigible womanizing and one of his mistresses and her humbly faithful lover. But the novel is so much more-juxtaposing geographically distant places (including theological and philosophical places), brilliant and playful reflections about art and life, and a variety of styles to take its place to form a late modern masterpiece.
From Revolution to Ethics (2008)
By Julian Bourg
Our Global '68 Symposium: Days of Past Present keynote speaker, Julian Bourg, argues that during the subsequent decade the revolts led to a remarkable paradigm shift in French thought-the concern for revolution in the 1960s was transformed into a fascination with ethics. Challenging the prevalent view that the 1960s did not have any lasting effect, From Revolution to Ethics shows how intellectuals and activists turned to ethics as the touchstone for understanding interpersonal, institutional, and political dilemmas. In absorbing and scrupulously researched detail Bourg explores the developing ethical fascination as it emerged among student Maoists courting terrorism, anti-psychiatric celebrations of madness, feminists mobilizing against rape, and pundits and philosophers championing humanitarianism. From Revolution to Ethics provides a compelling picture of how May 1968 helped make ethics a compass for navigating contemporary global concerns.
September 2018 Recommended Reads

The Five Quintets (2018)
By Michael O'Siadhail
The Five Quintets is both poetry and cultural history. It offers a sustained reflection on modernity - people and movement - in poetic meter. Just as Dante, in his Divine Comedy, summed up the Middle Ages on the cusp of modernity, The Five Quintets takes stock of a late modern world on the cusp of the first-ever global century. O'Siadhail will be our guest at CCIH on October 17.
Man and the State (1951)
By Jacques Maritain
The lectures that were the basis for Man and the State were delivered at the University of Chicago at a time when Maritain was still in the first enthusiasm of his participation in the 1948 Universal Declaration of Human Rights. Maritain provides an ingenious and profound theory as to how natural law and natural rights can be complementary-- a topic that piques the interest of so many political theologians. For this reason alone it remains a fundamental contribution to political philosophy, but it is filled with other gems as well. Was Maritain too optimistic in his appraisal of modernity? Or have we unjustly lost the optimism that was his? Man and the State is an invitation to rethink the way we pose the basic questions of political philosophy.
The Mystery of Evil: Benedict XVI and the End of Days (2017)
By Giorgio Agamben
In 2013, Benedict XVI became only the second pope in the history of the Catholic Church to resign from office. In this brief but illuminating study, Giorgio Agamben argues that Benedict's gesture, far from being solely a matter of internal ecclesiastical politics, is exemplary in an age when the question of legitimacy has been virtually left aside in favor of a narrow focus on legality. This reflection on the recent history of the Church opens out into an analysis of one of the earliest documents of Christianity: the Second Epistle to the Thessalonians, which stages a dramatic confrontation between the "man of lawlessness" and the enigmatic katechon, the power that holds back the end of days. In Agamben's hands, this infamously obscure passage reveals the theological dynamics of history that continue to inform Western culture to this day.
Summer 2018 Recommended Reads
The House of Broken Angels (2018)
By Luis Alberto Urrea
"All we do, mija, is love. Love is the answer. Nothing stops it. Not borders. Not death."
Pulitzer Prize finalist, Luis Alberto Urrea, presents the quintessential American story in this powerful and poignant novel about the American dream as experienced by the Mexican American de La Cruz family. Urrea artfully crafts a narrative that takes readers on a multigenerational journey spread across two countries and one border, calling forth the dreams, disappointments, and hopes common to all families.
In This House of Brede (2005)
By Rumer Godden (Edited by Amy Welborn, with an Introduction by Phyllis Tickle)
This extraordinarily sensitive and insightful portrait of religious life centers on Philippa Talbot, a highly successful professional woman who leaves her life among the London elite to join a cloistered Benedictine community. This edition of the book includes an introduction by best-selling Christian writer Phyllis Tickle, as well as discussion questions designed to help deepen the reading experience for both individuals and reading groups.
A Confederacy of Dunces (1987)
By John Kennedy Toole (with a Foreword by Walker Percy)
In this comic masterpiece, John Kennedy Toole introduces one of the most memorable characters in American fiction, Ignatius J. Reilly, a "flatulent frustrated scholar deeply learned in Medieval philosophy and American junk food... in violent revolt against the entire modern age." Set in New Orleans, A Confederacy of Duncesis filled with unforgettable characters and zany plot twists bound to dazzle any reader with its originality and true-to-life portrayals.
April 2018 Recommended Reads
Ethics in the Conflicts of Modernity: An Essay on Desire, Practical Reasoning, and Narrative (2016)
By Alasdair McIntyre
In this wide-ranging discussion of ethics and moral philosophy, Alasdair MacIntyre explores central philosophical, political, and moral claims of modernity. Challenging readers to rethink the relationships between philosophical theories and every-day practice, MacIntyre argues that a proper understanding of human good requires a rejection of some of common central claims. Using case studies from the contemporary world and drawing on thinkers as wide-ranging as Thomas Aquinas and David Hume, MacIntyre proposes a contemporary politics and ethics that subvert modernity from within it.

A Political Companion to Flannery O'Connor (2017)
Edited by Henry T. Edmondson III
Although Flannery O'Connor did not pursue political philosophy formally in her writing, her various renowned novels, short stories, and essays frequently addressed important questions about human nature, social change, and ethics. In this collection, leading scholars explore pieces of O'Connor's fiction, prose, and correspondence that reveal her central ideas about political and cultural themes in America. Addressing topics such as O'Connor's attitude toward civil rights and thoughts on the eugenics controversies, these essays highlight the valuable insights to be found in O'Connor's interplay between fiction, faith, and politics.

Night at the Fiestas: Stories (2016)
By Kirstin Valdez Quade
Winner of the 2015 National Book Critics Circle John Leonard Prize, this unforgettable collection of short stories will plunge you into the hearts of characters who are defined by their desire to either escape or uncover significant past events. Writing with emotional intensity and insight, Quade offers her readers stories that plumb the depths of human passions, spirituality, cultures, and family life, exposing the best and worst human inclinations in the process. Betrayal and desire abound in these narrative journeys of self-definition, as do hope and redemption.
February 2018 Recommended Reads
Thérèse (2016)
By Dorothy Day (with a Foreword by Robert Ellsberg)
Dorothy Day struggled to write this short biography of St. Thérèse of Lisieux, which has been put back in print only recently. Originally designed for non-believers or those unfamiliar with the "Little Flower", and emphasizing why Thérèse's simplicity and humility are so vital for modern life, this unpretentious account of St. Thérèse's life illustrates how Day herself came to deeply appreciate and embrace the simple, yet profound "Little Way", inviting readers down a similar path of spiritual conversion.
Why Liberalism Failed (2018)
By Patrick J. Deneen
In this provocative book, Patrick Deneen poses the challenging question of whether liberalism, the champion ideology of the twentieth century (having conquered both fascism and communism) has, in fact, failed. Deneen develops his thesis by revealing the inherent contradictions in which liberalism is grounded (such as trumpeting equal rights while also fostering incomparable material inequality) and warns that the centripetal forces now at work on our political culture are not superficial flaws but inherent features of a system whose success is generating its own failure.
Beyond Apathy: A Theology for Bystanders (2015)
By Elisabeth T. Vasko
In this important and timely book, Elisabeth Vasko seeks to expand theological conversations about violence, which typically focus narrowly on victim-perpetrator dichotomies. Arguing that this focus, while important, only addresses part of the problem, Vasko advocates for a more comprehensive theological and pastoral response to violence that directly addresses the complex issue of collective passivity in the face of human denigration. Giving special attention to the social issues of bullying, white racism, and sexual violence, Vasko utilizes resources within the Christian tradition to offer both a critical examination of, and a theology of redeeming grace for bystanders to violence.
Love Alone is Credible (2005)
By Hans Urs von Balthasar (Translated by D.C. Schindler)
In his master work, The Glory of the Lord, Hans Urs von Balthasar used the term "theological aesthetic" to describe what he believed to be the most accurate method of interpreting the concept of divine love. In this book, newly translated from its original German edition (1963), von Balthasar delves deeper into explorations of what love means, how the divine love of God is distinct, and how we must all become lovers of God in the footsteps of saints like Francis de Sales, John of the Cross, and Thérèse of Lisieux. Bringing a fresh perspective on an oft-explored subject, Love Alone is Credible, offers a profound theological meditation that serves to both inform and deepen one's faith.
December 2017 Recommended Reads
Incarnadine: Poems (2013)
By Mary Szybist
Leading her readers through an array of richly imagined encounters, Szybist creatively expresses poetic sentiment through diverse mediums, including a diagrammed sentence, an abeccedarium, annunciations, and lines of dialogue. Blending conventional and innovative aesthetics, Szybist's poems boldly recast the Blessed Mary, offering alternative visions through lyrical yearning. This restless and inventive collection of poems is perfect Christmas reading. Incarnadine was named to Best Book of the Year lists by NPR, Slate, Oregonian, Kansas City Star, Willamette Week, and Publishers Weekly, and named Amazon's Best Book of the Year in Poetry 2013.
Mr. Ives' Christmas (2003)
By Oscar Hijuelos
Another solid read for the Christmas season is this gem from 2003. In no way a sentimental work, Hijuelos' novel presents the perennial issue of faith in the face of tragedy. Weaved into the narrative of Mr. Ives, whose life and faith in God and humanity is thrown into question when a terrible tragedy befalls him at Christmas. Part love story and part meditation on how a person can find spiritual peace in the midst of crisis, Mr. Ives' Christmas is a compelling story of one man struggling to put his life in perspective. In the expert hands of Oscar Hijuelos, the novel speaks eloquently to the most basic and fulfilling aspects of human existence-- a Christmas story if there ever was one.
Building the Human City: William F. Lynch's Ignatian Spirituality for Public Life (2016)
By John F. Kane (with a Foreword by Kevin F. Burke)
Kane's text provides a first rate overview of the work of Jesuit philosopher William F. Lynch. Writing from the 1950s to the mid-1980s, Lynch was not only a literary theorist, but a pioneering "social critic," and one of the first to warn against the fierce cultural and political polarizations that are prevalent in our society today. In his diverse works, Lynch calls for transformation and encourages healing discernment through imagination, while also addressing critical ironies of an Ignatian (and Socratic) spirituality. Kane's presentation in this collection brings to the forefront, perhaps for the first time, Lynch's unified vision of transformation, which is arguably more necessary now than when it was first written. A masterly study of a great Jesuit and scholar who more readers should know.
The Intellectual Life: It's Spirit, Conditions, Methods (1946, 1992)
By A. G. Sertillanges, OP (Translated by Mary Ryan, with a Foreword by James V. Schall, SJ)
A perfect stocking stuffer, A.G. Sertillanges's book is equal parts romantic evocation of the spiritual dignity of the life of scholarship and practical advice to the aspiring young intellectual. Do you want to do intellectual work? This is the central question to which Fr. Sertillanges orients his book of timeless teachings. First published in 1920, The Intellectual Life has been acclaimed for its practical approach to both scholarly habits of mind and vocation discernment. Providing generations of scholars with robust foundation in intellectual practices and sensibilities, this book is a must read for any young (or even not-so-young) scholar.
October/November 2017 Recommended Reads
To Overcome Oneself: The Jesuit Ethic and Spirit of Global Expansion, 1520-1767 (2013)
By J. Michelle Molina
This study examines practices of Catholic missionaries in Europe and New Spain from the 1520s through the 1760s in order to demonstrate how the emergence of the Western concept of the "modern self" was enmeshed in the process of early modern Catholic missionary expansion. Emphasizing the centrality of embodied Catholic spiritual practices--such as Jesuit practices of meditation, narrative self-reflection, confession, and the spiritual exercises-- in the development of the idea of "self", Molina also investigates the importance of the relationship between spiritual directors and their subjects. Throughout this original retelling of the emergence of the concept of modern "selfhood," Molina poses two important questions: Why does the effort to know and transcend self require so many others? And what can we learn about the inherent intersubjectivity of missionary colonialism?
We Are Not Ourselves: A Novel (2015)
By Matthew Thomas
Named to New York Times 100 Notable Books of 2014, Washington Post Top 50 Fiction List for 2014, and Entertainment Weekly Ten Best Fiction Books of 2014, among many other accolades, this novel traces one family's pursuit of the American Dream in New York in the 1940s & 50s. Through the lives of his characters, Thomas charts the movements of an American century, in the process exposing our greatest desires, as well as our greatest failures. The Washington Post praises Thomas for his superb ability to capture "both an individual's life and the universality of that person's experience"-- with a solid eye fixed on Catholic spirituality-- in this stunning piece of literature.
A Course in Christian Mysticism: Thomas Merton (2017)
Edited by Jon M. Sweeney (with a Foreword by Michael N. McGregor)
This collection of Merton's lectures to young monastics at the Abbey of Gethsemani provides a valuable look at Merton the scholar. Covering sixteen centuries of central Christian mystical thinkers, this book is complete with a helpful introduction, which provides background historical and thematic information, as well as study materials at the back of the book, which offer additional reading sources and reflection questions. This compact volume displays the relevance of Merton's thought for any student of Christian mysticism and other spiritual seekers today.
Do Guns Make Us Free?: Democracy and the Armed Society (2015)
By Firmin DeBrabander
A crucial examination of the political and philosophical arguments undergirding possibly the most emotionally charged debate taking place in the United States today. In this insightful and eye-opening analysis, DeBrabander interrogates the major claim made by guns rights supporters, led by the National Rifle Association, that the right to unchecked gun ownership safeguards all other citizen rights. As the title indicates, this book offers an alternative viewpoint, demonstrating several reasons why an armed society is, in fact, not a free society-- but one locked in a kind of servility that harms the safety of the citizens and the health of the common good.
September 2017 Recommended Reads
Age of Anger: A History of the Present (2017)
By Pankaj Mishra
In this thought-provoking book, Pankaj Mishra takes a long look at the origins of the great wave of paranoid hatreds that bewilder and terrify us in today's world. Exposing how the promises of modernity-- freedom, prosperity, stability-- represent broken promises for all but global elites, Mishra explores how those excluded have become increasingly susceptible to demagogues. While not a text in the Catholic intellectual tradition, Mishra takes the religious dimension seriously and questions secularism with insight and alacrity.
Faith and Resistance in the Age of Trump (2017)
Edited by Miguel A. De La Torre
Featuring an essay by LUC's own Miguel Diaz, John Courtney Murray University Chair in Public Service, this book offers reflections from notable religious leaders and scholars about the political and confessional crises that currently threaten not only our republic, but also our most deeply held religious claims and values.
The Jesuits and Globalization: Historical Legacies and Contemporary Challenges (2016)
Edited by Thomas Banchoff & José Casanova
What do the Jesuits tell us about globalization, and what can globalization tell us about the Jesuits? Banchoff and Casanova present a multidisciplinary exploration into what we can learn from the historical and contemporary experiences of the Society of Jesus.
The Ninth Hour: A Novel (2017)
By Alice McDermott
Set in 1940s/50s Catholic Brooklyn, this novel weaves the story of one Irish immigrant family through three generations. Revealing along the way a wholly individual and universal understanding of the human condition, the story tests the limits of love and sacrifice, of forgiveness and forgetfulness. Alice McDermott is not only a gifted novelist, but a leading practitioner of the Catholic Imagination.
Rebel in the Ranks: Martin Luther, the Reformation, and the Conflicts That Continue to Shape Our World (2017)
By Brad S. Gregory
Just in time for the 500th Anniversary of the Reformation, Notre Dame Historian Brad Gregory examines the complicated legacy of Martin Luther and how his unintended yet epochal movement continues to shape the world today.