archive
Reformation Symposium Speakers Featured on NPR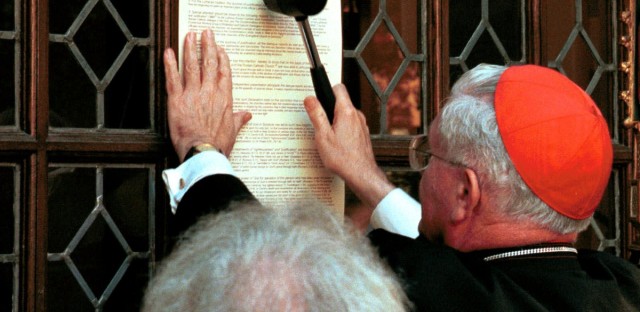 The Hank Center's Featured Speakers, Aana Marie Vigen, Susan Ross, and Craig Muller, with Fr. Don Senior and David Goa, recently spoke on NPR about the Protestant Reformation's 500th anniversary and the Hank Center's upcoming Symposium.
A podcast of this discussion, "How the Protestant Reformation Still Drives Western Civilization 500 Years Later", can be found on WBEZ's website.
Around the globe, the Protestant Reformation's 500th anniversary will be commemorated this month. The Hank Center will lead a day-long Symposium on Wednesday, October 18.

On October 31, 1517, Catholic priest Martin Luther nailed his 95 Theses to the door of the Castle Church in Wittenburg, Germany. His revolutionary ideas challenged the Roman Catholic Church and touched off religious and social changes still apparent today.
Many historians credit the Protestant Reformation with providing the undergirding for capitalism, Western democracy, and accelerating the growth of the modern secular state.
NPR discussed the past 500 years with a number of religious experts who will be featured at the Hank Center's upcoming Symposium:
Fr. Don Senior, president emeritus, chancellor, and professor of New Testament Studies at Catholic Theological Union
Susan Ross, professor of Theology and faculty scholar at Loyola University Chicago
Reverend Craig Mueller, pastor of Trinity Lutheran Church in Chicago and author of the book Any Body There?: Worship and Being Human in a Digital Age
David Goa, a former Lutheran, now Eastern Orthodox Christian, who is a philosopher, ethicist and founding director emeritus of the University of Alberta's Chester Ronning Centre for the Study of Religion and Public Life