archive
Thank You and Farewell, Fr. Bosco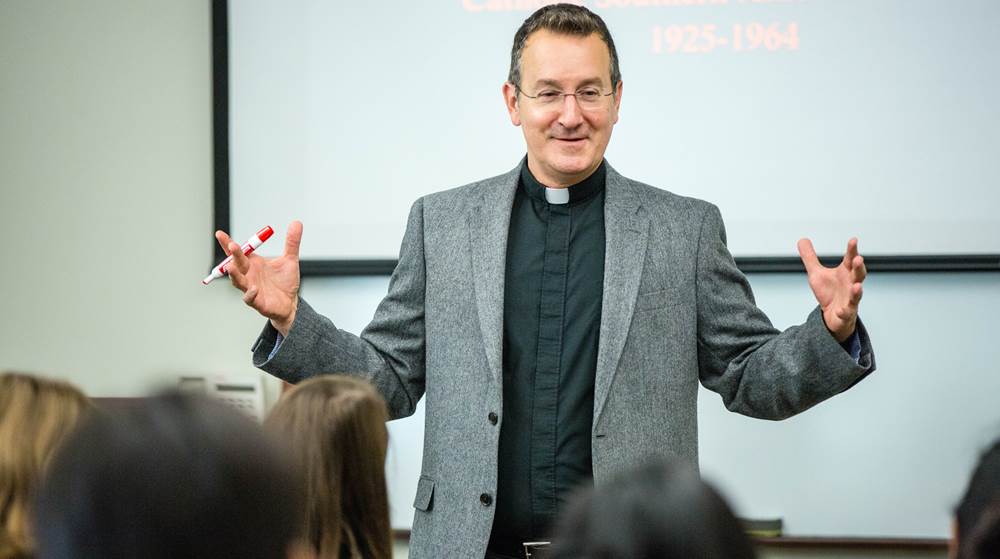 Farewell to Fr. Mark Bosco
The John and Bill Hank Center for the Catholic Intellectual Heritage says farewell to Fr. Mark Bosco, S.J., who has served as director of the center for the last five years. Fr. Bosco is a scholar of 20th-century Catholic theology, culture, and aesthetics, and an expert on Catholic writers Graham Greene and Flannery O'Connor. In his time at the center, he spearheaded numerous conferences and events for students and faculty alike.
In his final year with the Hank Center, Fr. Bosco led an initiative to create LUC's first faculty seminar, All Things Ignatian: Catholic Intellectual Life and the Common Good, a course designed to deepen understanding of the institution's Catholic mission and Jesuit heritage. Most recently, Fr. Bosco produced and co-directed (with Loyola colleague Elizabeth Coffman) the feature-length documentary, Flannery O'Connor: Acts of Redemption. The film is in post-production and is being considered by PBS for its American Masters series.
In commenting on his years at the center, Bosco explains that "The Hank Center was already a presence at the university. What I've done in my term as director is to make it a more integral part of the university, a place where we hold conferences, film and lecture series, symposiums and get students involved with faculty research in the field."
At Loyola, Fr. Bosco also held a joint faculty position in the Theology and English departments, where he taught such courses as The Catholic Literary Tradition, Sacramental Theology/Theological Aesthetics, and Art and Religious Imagination and 20th Century American. Living in a student residence hall at Loyola, he often cooked Italian dishes for students and hosted them for fellowship and conversation.
In pursuing his new position at Georgetown University, Fr. Bosco comments that he was attracted to Georgetown "because of the sense that it not only represents and nurtures its own faith tradition, but engages in interreligious dialogue and reaches out to people of all faiths." Fr. Bosco will also become a full-time lecturer in Georgetown's English department.
Fr. Bosco was (and remains) a superb friend, mentor, colleague, and director to many in his 14 years at Loyola University Chicago. His presence on campus will be greatly missed, but CCIH takes solace in the fact we have excellent future collaborations planned. The Hank family and the center's staff and faculty wish to thank Fr. Bosco for his excellent service and wish him the best in his exciting new leadership role at Georgetown.