archive
George W. Drance, S.J.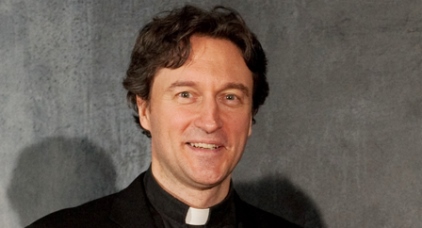 George W. Drance, S.J.
TITLE/S: Pierre Teilhard de Chardin, S.J. Fellow in Catholic Studies (Fall 2014)
SPECIALTY AREA: Theatre; Acting; Clown and Improvisation; Senior Values Seminar; Collaboration
External Webpage: http://magistheatre.org/who_we_are.html
About
George Drance has performed and directed in more than 20 countries on five continents, serving such companies as teatro la fragua in Honduras, and Theatre YETU in Kenya. He is currently the artistic director of the critically acclaimed Magis Theatre Company (magistheatre.org), praised for its skill and daring, and best known for its stage adaptations of C.S. Lewis' The Great Divorce and Kalidasa's Shakuntala and the Ring of Recognition. Other acting credits include La MaMa, E.T.C., The Metropolitan Opera, The Public Theatre/NewYork Shakespeare Festival, American Repertory Theater, and Ralph Lee's Mettawee River Company. As a resident artist in La MaMa's Great Jones Repertory Company, he has toured throughout Europe and Asia with Andrei Serban's Fragments of a Greek Trilogy and as a key collaborator on many of Ellen Stewart's original pieces. He has been on the faculty of the Marist International Center in Nairobi, Kenya, and at Red Cloud High School on the Oglala Sioux Reservation. Film credits include The Light of Eons and Solidarity. He received his M.F.A. in acting from Columbia University.
Courses Taught
The Catholic Theatrical Imagination (THTR395/CATH395)
MW 11:30-12:45 (Fall 2014)
Theatre has been tied to religious experience since ancient times. This course examined the ways in which the Catholic tradition has shaped Western Theatre and how the imagination of theatre artists has been ignited by the evocative symbols and stories of faith, and formative of our religious consciousness. Students will examine representative texts of theatre which embody this relationship, and come up with creative expressions of these texts for a contemporary audience.