archive
ICJIA Announces Inaugural Candice M. Kane Lifetime Service Award
Dr. David Olson is the inaugural recipient of the ICJIA Candice M. Kane Lifetime Service Award. The annual award is given to individuals who embody Candice's legacy of humility, innovation, and dedication to improving ICJIA's work.
A Loyola University Criminal Justice Professor and Co-Director of the University's Center for Criminal Justice Research, Policy and Practice, Dr. Olson has been a tremendous asset to ICJIA and the criminal justice community for nearly 30 years, providing support and expertise in countless research projects and sharing his wealth of knowledge with ICJIA staff, as well as practitioners, lawmakers, and policymakers across the state.
Candice passed away earlier this year. The award was presented to Dr. Olson by ICJIA Executive Director John Maki at a Celebration of Candice's Life on May 24 at Adler University.
Illinois Governor's Commission on Criminal Justice Reform Issues Recommendations, Loyola to Assist in Implementation of Reform Efforts
The Illinois Governor's Commission on Criminal Justice and Sentencing Reform released its final report and set of recommendations on Tuesday, January 10, 2017 (for press release go to http://www3.illinois.gov/PressReleases/ShowPressRelease.cfm?SubjectID=2&RecNum=13976).
For a link to the Final Report go to http://www.icjia.state.il.us/cjreform2015/pdf/CJSR_Final_Report_Dec_2016.pdf. Dr. David Olson, Professor in the Department of Criminal Justice and Criminology and Co-Director of Loyola's Center for Criminal Justice Research, Policy and Practice served as an appointed member of the Commission. Loyola's Center for Criminal Justice Research, Policy and Practice has received support from the John D. and Catherine T. MacArthur Foundation to conduct research and provide technical assistance to implement a number of the reform efforts described in the Commission's Final Report, and over the next two years faculty and students from a variety of academic disciplines at Loyola will be working on these efforts.
The Decriminalizing Race And Poverty Symposium
The Southern Center for Human Rights presents
Tuesday, September 20, 2016 | 1PM to 5PM (Eastern Time)
Georgia State University College of Law, 85 Park Place NE, Atlanta, Georgia 30303
A livestream will be available by following this link or visiting our website, www.schr.org, on 9/20 from 1PM to 5PM (Eastern).
The Decriminalizing Race And Poverty Symposium will explore important current issues facing the justice system, including race and policing, debtors' prison practices, and implicit bias in the criminal justice system. Speakers and participants will examine a range of solutions that seek to address these critical issues and build a better, more fair system.

ICJIA Seeks Research and Data Specialists
The Illinois Criminal Justice Information Authority (ICJIA) is seeking a new Criminal Justice Specialist in the Research and Evaluation Center to conduct research and evaluation through the development of research methodologies, creation of surveys, collection of data and research reports.
ICJIA is also seeking a Criminal Justice Specialist in the Research and Analysis Unit, Criminal Justice Clearinghouse and Analysis Center manager, to perform complex data management and statistical operations on large files of criminal justice data in support of the Unit's research and policy analysis agenda, and the Authority's funding decisions.
For more information, see http://www.icjia.state.il.us/
Emerging Adults and the Criminal Justice System: Charting the Course for Policy and Practice
Nearly 200 criminal justice and community stakeholders convened on February 19th for the inaugural conference of Loyola's new Center for Criminal Justice Research, Policy and Practice. Emerging Adults and the Criminal Justice System: Charting the Course for Policy and Practice featured nationally prominent researchers, policy experts and advocates to provide cutting edge data, analysis and policy recommendations for improving outcomes of young people and communities when "emerging adults" between 18 and 25 years old are in conflict with the law. Current Illinois data indicates that this age group comprises approximately 15% of the population, but approximately 1/3 of those involved in the criminal justice system. Participants included policy makers and practitioners from Illinois and beyond.
Presenters included:
Rolf Loeber, PhD (Distinguished University Professor of Psychiatry, Professor of Psychology and Epidemiology, University of Pittsburgh)
Thomas Grisso, PhD (Professor Emeritus in Psychiatry at the University of Massachusetts Medical School; Professor and Researcher, University of Massachusetts Law and Psychiatry Program)
David Olson, PhD (Professor, Criminal Justice and Criminology Department; Director, Graduate Program in Criminal Justice and Criminology; Co-Director, Center for Criminal Justice Research, Policy and Practice, Loyola University Chicago)
Howard Spivak, MD (Deputy Director and Chief of Staff, National Institute of Justice, Department of Justice, Office of Justice Programs)
Gina M. Vincent, PhD (Associate Professor, Director of Translational Law & Psychiatry Research, Systems & Psychosocial Advances Research Center (SPARC))
Don Stemen, PhD (Associate Professor and Chairperson, Department of Criminal Justice and Criminology and Graduate Faculty, Loyola University, Chicago)
Marc Schindler, JD (Executive Director, Justice Policy Institute)
Marcus Bullock (Chief Executive Officer, Perspectives Premier Contractors and Founder, FlikShop, LLC)
Brent Cohen, MPA (Senior Advisor to the Assistant Attorney General of Justice Programs, Department of Justice)
Marc Levin, JD (Right on Crime Policy Director, Director of the Center for Effective Justice, Texas Public Policy Foundation)
Vincent Schiraldi, MSW (Senior Research Fellow, Program in Criminal Justice Policy and Management, Malcolm Wiener Center for Social Policy, Harvard Kennedy School of Government)
Interim Provost Patrick Boyle presented remarks at the Center's formal launch, on Friday, February 19th and discussed the Center's role in Loyola's Strategic Plan 2020. To support the development of effective policy and practice, the Center will publish a series of conference reports, articles and data analyses over the next 12 months. The Center will also convene a series of workshops and summits to assist policy makers in applying research on "what works" to reduce criminal offending and encourage positive outcomes with young adults at risk of criminal justice system involvement or reoffending.
Reducing Jail Populations, Improving Local Justice Systems
On April 13th, the John D. and Catherine T. MacArthur Foundation announced nearly $25 million in support for ambitious plans to create fairer, more effective local justice systems across the country. The Foundation is awarding grants of up to $3.5 million each to 11 jurisdictions to reduce their jail populations and address racial and ethnic disparities in their justice systems. An additional nine jurisdictions, including Cook County, Illinois, will be given $150,000 grants to continue their reform work and to participate in a growing, collaborative network of cities, counties, and states driving local justice reform. The grants are part of the Safety and Justice Challenge, a national initiative supported by the Foundation with an initial $75 million to reduce over-incarceration by changing the way America thinks about and uses jails. For more information, see http://www.safetyandjusticechallenge.org/
Crime of the Century: Our Tragic Failure to Prevent the Lead Pandemic
Thursday, April 21, 2016
12:00-1:00 PM
Loyola University Chicago School of Law
25 East Pearson Street
Room 1103
Chicago, IL 60611
Lead toxicity in children, which costs the U.S. $50 billion each year, is a major risk factor for IQ deficits, ADHD and violent crimes, yet its contribution to these preventable tragedies is largely ignored. Internationally renowned lead expert, Dr. Bruce Lanphear, will discuss the toxic legacy of lead poisoning, the history of #LeadEpidemic, and how we can address the tragedy.
Over the past century, and despite early warnings about lead toxicity, the use of lead increased sharply; immense wealth was accumulated at the expense of public health. During the peak of the lead pandemic, in the 1960s, hundreds of children in U.S. cities developed overt lead poisoning; 1 in 3 died. The full scope of the lead pandemic is still unfolding.
Dr. Bruce Lanphear, MD, MPH, is a Clinician Scientist at the Child & Family Research Institute, BC Children's Hospital and Professor in the Faculty of Health Sciences at Simon Fraser University in Vancouver, British Columbia. His primary goal is to help quantify and ultimately prevent disease and disability - like asthma, learning problems and ADHD - due to toxic chemicals and pollutants. Over the past decade, Dr. Lanphear has become increasingly vexed by our inability to control the "pandemic of consumption" – the largely preventable, worldwide epidemic of chronic disease and disability due to industrial pollutants, toxic chemicals and excess consumption. He is leading an effort to produce videos to enhance public understanding of how environmental influences impact human health.
This event is free and open to the public.
Please register at https://www.eventbrite.com/d/il--chicago/lead-pandemic/?mode=search
National Criminal Justice Association (NCJA) seeking new Executive Director
The National Criminal Justice Association (NCJA) is seeking a new Executive Director. Based in Washington, D.C., the NCJA represents state, tribal and local governments on crime prevention and crime control issues. Its members represent varied facets of the criminal and juvenile justice community, from law enforcement, corrections, prosecution, defense, courts, victim-witness services and educational institutions to federal, state and local elected officials. Initial screening of resumes will be completed by April 29, 2016. Position is available January 1, 2017 and is located in Washington, D.C. NCJA is an equal opportunity employer. For more information, see http://www.ncja.org/about-ncja/ED-Job-Announcement.
Stopping "Crossover" from Childhood Maltreatment to Delinquency and Criminal Justice Involvement
CCJ Program Manager Lisa Jacobs presented a session at the Illinois Judicial Education Conference on April 4th to provide Illinois judges with research, data and practice models for improving outcomes and public safety when youth become "dually involved" in child welfare and juvenile justice (delinquency) systems. The Education Conference is convened by the Illinois Supreme Court to provide a wide range of judicial education and skill development resources for the state's associate, circuit and appellate judges.
Ms. Jacobs provided a research profile of dually involved youth and the pathways from maltreatment or neglect to delinquency system involvement and future criminal justice involvement. She also presented the system improvement framework developed by the Robert F. Kennedy Children's Action Corp National Resource Center to assist courts in reducing reoffending, improving youth and family outcomes and addressing the complex issues arising when youth are dually involved.
For more information about the RFK National Resource Center and the Dual Status Youth Practice Model, see http://www.rfkchildren.org/our-work/rfknrcjj/
Center takes innovative approach to improving criminal justice system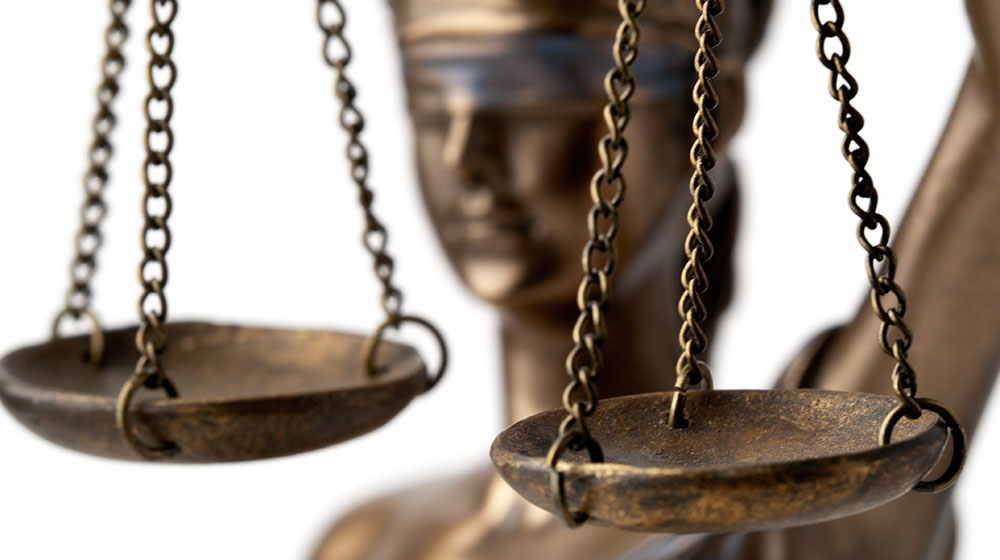 By Drew Sottardi | Senior writer
If you want to tackle the crime problem in Chicago—or any other city, for that matter—you need to think of it as more than just a criminal justice issue. It's an education issue, a socio-economic issue, a mental health issue, and more.
In short, it's a complex problem that requires innovative solutions.
MORE ONLINE
Loyola recently launched Plan 2020, a five-year roadmap that promotes social justice. This story falls into one of the four strategic priorities outlined in the plan. Learn more here.
That's exactly the approach Loyola is taking with its new Center for Criminal Justice Research, Policy, and Practice. The recently launched center brings together experts and students from several fields of study to share resources and insights—with the ultimate goal of creating a criminal justice system that is more fair, effective, and cost efficient.
It's the perfect time to launch such a center because criminal justice agencies have more data now than ever before, and they need help to understand all of that new information, said David Olson, PhD, co-director of the center and professor of criminal justice and criminology in the University's College of Arts and Sciences.
"Agencies and other groups want to have policies that are based on sound policy analysis and research, and a university is the ideal entity to facilitate that goal," Olson said. "We have the skills and expertise to carry out that kind of research, but we're also objective and not here to advocate for a political point of view. We provide policymakers with solid research that they can use to inform their decisions."
Joining Olson as co-director of the new center is the School of Law's Diane Geraghty, JD, who also serves as director of the Civitas ChildLaw Center. Like Olson, she has spent her career working to improve the criminal justice system. And, like her colleague, she believes the center is coming along at the ideal time.
"We know so much more now about what does and doesn't work in the criminal justice system," Geraghty said. "There's a general agreement that what we've been doing, at least on a macro level, isn't working. We need to be smart on crime, as opposed to just tough on crime."
A history of reform
The new center is just one example of how Loyola is working to improve the criminal justice system. Over the years, researchers and students from across the University have teamed up on countless projects—from examining the psychological barriers ex-offenders face when looking for work, to a student-produced magazine devoted to crime and violence in Chicago.
Last year, Loyola launched Plan 2020, a five-year roadmap that promotes social justice and aims to build a more just, humane, and sustainable world. The center, which is supported in part by the John D. and Catherine T. MacArthur Foundation, is a key part of that strategic plan.
By using research to evaluate current policies—and by working closely with government agencies, nonprofit organizations, and other groups—the center hopes to bring sweeping improvements to the criminal justice system. But instead of focusing exclusively on a single element, such as policing strategies or sentencing guidelines, the center plans to take a wide look at the entire system.
"Everything is interconnected," Olson said. "You can't look at one component or element in isolation and truly understand what's going on in the criminal justice system. If you do, it's like having blinders on."
Because criminal justice touches so many fields of study, Olson and Geraghty are reaching out to fellow professors and students across the University to get their input and expertise. Olson, for instance, has been talking with environmental science faculty members and students who are using geo-mapping to see if green spaces have any effect on crime rates. Geraghty, meanwhile, has collaborated with professors from the Department of Psychology and hopes to one day work with faculty members who specialize in predictive analytics.
And that's only scratching the surface of what the center hopes to do. The possibilities, Olson said, are virtually endless. "You name a discipline and I can show how criminal justice relates to it," he said.
Emerging science
As one of its first initiatives, the center is looking at how the criminal justice system handles the so-called emerging adult population—offenders between the ages of 18 and 24. This group represents a disproportionate amount of overall arrests and admissions into jails and prisons. Statistics also show that emerging adults are more likely than other age groups to be arrested for violent offenses and to commit crimes more quickly when they are released.
But new research suggests that these offenders—despite their reckless, impulsive behavior—can be rehabilitated. The key is getting them the proper support and services.
"We need to recognize that maybe this group, despite technically being 'adults,' doesn't respond to the same programs and strategies that we use for older adults," Olson said.
One idea the center is exploring is whether younger offenders might respond better to younger probation officers or those who act more like social workers and less like the police. The theory, Olson said, is that emerging adults might be able to develop a better rapport with them—and in turn, they'd be more likely to follow through on the terms of their probation.
As for Geraghty, she hopes that the center will help transform a criminal justice system that is clearly in disarray. As someone who has been at Loyola for nearly four decades and is well versed in the University's Jesuit mission of helping others, she has a simple message: "I think there's a sense among people that we as a society can do better than this. We can protect victims and make communities safer in a way that preserves dignity."