archive
Life after Loyola: Hansol Lee (Chemistry '15)
One of the possible destinations of graduates from the Department of Chemistry & Biochemistry is continuing studies in Graduate School. After Graduating from Loyola in 2015 with a BA in Chemistry, Hansol Lee entered the Chemistry PhD program at The University of Iowa, where he is currently a 4th year Ph.D. graduate student. Hansol is in the group of Dr. Alexei Tivanski, and his research focus has been methodology development using atomic force microscopy, in order to characterize individual, submicrometer-sized sea spray aerosols particles that affect the climate and the environment. In addition, Hansol is a researcher at the National Science Foundation - Center for Aerosol Impacts on Chemistry of the Environment.
Hansol admits that, "it was not until the middle to late stages of my undergraduate career at Loyola, that I discovered research and science to be fun. When you are able take high-level chemistry courses, it opens you up to many diverse aspects of science. It was refreshing to learn in an environment, that had the complex interplay between physics, biology, and chemistry." During his junior year, an appreciation of how physical chemistry can be used to explain many aspects of life began to develop. This catalyzed him to study purification and crystallization of gabR proteins to understand their mechanistic structures in Prof. Dali Liu's lab along with then-graduate student Dr. Rui Wu.
Hansol explains that, "Loyola is an amazing place for undergraduate science students. The professors are very reachable, because the class size is small. I remember bugging my professors on countless number of questions! I was eager to know, and they were happy to talk to me about them." Also, "the research teams rely much more on undergraduate students, and this results in being able to see, for the very first time for most people, what science really is about. It is not just about sitting down in a class and listening to a lecture. It has a dynamic process of learning, through trial-and-error, pushing the boundary of what is known and what is not. It's much easier to get this glimpse at Loyola." Finally, Hansol mentions that, "I had incredible peers and colleagues during my time. This institution seems to attract great people. It was a great mixture between competition, yet working together. I learned how to be a team-player, but also compete with some of the smartest people that I have seen."
Hansol sees two roads after his Ph.D. career; post-doctoral academic position or law school to practice intellectual property. He admittedly has had multiple different career interests, but thanks to great mentors and peers, he was able to sample and eliminate several in order to get down to merely two choices.
Lee (LUC Chem. BS '15) Presenting his PhD research at the ACS National meeting in Boston, MA, Aug. 2018.
This is an AFM image of a real, sea spray aerosol particle collected from Scripps coast of San Diego. The size was approximately 5 um across, so it's a large particle. Normally, the composition of these particles is a mixture of NaCl + organic compounds, and you can see that prism structure of NaCl with the spread organic species around the particle. It looks splattered because it was impacted onto a surface, for imaging.
The College of Arts & Sciences Welcomes Professor Graham Moran
Professor Graham Moran recently joined Loyola Chemistry and Biochemistry, as the first Carl Moore Research Chair in Chemistry & Biochemistry. The Carl Moore Research Chair position is the first endowed chair position in the Sciences at Loyola. Dr. Moran moved his laboratory from The University of Wisconsin-Milwaukee where his research was based for the previous 19 years. His training began at the University of New England Australia working under Dr. Barrie Entsch. After completing two years of doctoral work, he came to the University of Michigan to work collaboratively with the research group of Dr. David Ballou. He then continued his studies as a postdoctoral researcher in the laboratory of Dr. Paul Fitzpatrick at Texas A&M University.
In each stage of his training Dr. Moran's work was based in understanding the dynamic and transient states that exist as an enzyme catalyzes a chemical transformation. The unifying theme of his independent research career has been finding evidence for the chemical mechanisms of enzymes. The study of enzymes tends to emphasize the chemistry in biochemistry and seeks to provide definitive descriptions of the reactions these complex molecules catalyze. A number of the enzyme systems studied over the last two decades in the Moran research group have had applications in medicine and agriculture, but the emphasis of the work has remained elucidation of the curious and intricate chemistry at work. Over the last few months Dr. Moran has established a state-of-the-art biochemistry laboratory on the fourth floor of the Flanner Hall that has greatly expanded the research capabilities of the department. Prof. Moran is looking forward to teaching his first classes this year, working with his new colleagues in the Department of Chemistry & Biochemistry, and advancing the research enterprise of Loyola University Chicago.
Graduate Student Daniel Catlin Receives Prestigious Award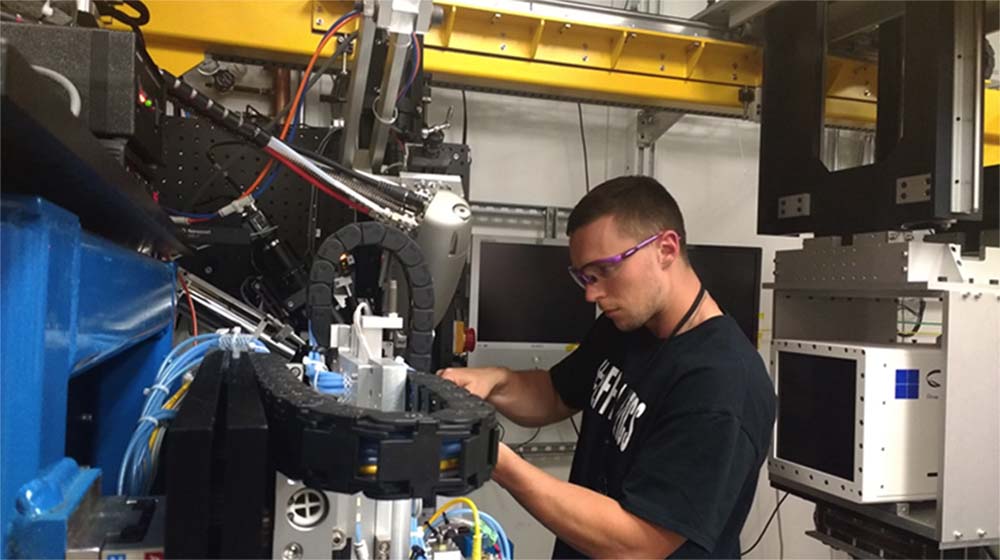 Daniel Catlin, a fifth year PhD student in Professor Dali Liu's research group, received an Arthur J. Schmitt Foundation Fellowship for 2018-19. Funding from the Fellowship provides Catlin vital support to conduct research while preparing him to be a leader in his field.
During the past few years Catlin has been generating critical data on two federally funded projects. His data on the study of a novel antimicrobial target named "PvdQ" was recently published in ACS Chemical Biology, a well-regarded journal in Biochemistry. In another collaborative project with researchers at Northwestern University, Dan's research on a hepatic cancer target provided critical evidence supporting a new potential drug for cancer treatment. The results stimulated a new direction of the rational drug design effort to treat Hepatic Cancer. In another collaborative effort, Dan worked alongside Dr. Brian Cannon, professor of Physics at Loyola, to study a key protein component regulating the virulence of bacterial pathogens using the cutting edge single molecule Fluorescence Energy Transfer.
In Dr. Liu's lab, Dan mentors three Loyola undergraduates conducting research. Dan also mentors economically disadvantaged high school students through the American Chemical Society's (ACS) sponsored SEED project. He also engages with students in Loyola's First Year Research Experience program.
The Chemistry Department faculty and staff congratulate Dan for receiving this prominent award in recognition of his work.
Organic chemistry professor receives NIH grant
Dr. Jim Devery, Assistant Professor of Organic Chemistry, has received a grant from the National Institutes of Health (NIH) for $404,000 to use over the next three years. The award will support research in the mechanistic characterization of iron(III)-catalyzed carbonyl-olefin metathesis—a new approach for the construction of cycloalkenes. These studies will enhance the success of reactions designed by synthetic chemists in the construction of medicinally important molecules. The grant will allow the Devery research group to study the implications of the carbonyl-olefin metathesis reaction, which is a new method for the production of valuable chemicals in the pharmaceutical and agrochemical industries.
"Research in my lab focuses on the kinetic and thermodynamic characterization of mechanisms, allowing us to not only gain insight into their catalytic cycles, but determine the controlling factors that direct reactivity." said Dr. Devery.
Receiving this grant is a tremendous achievement for Dr. Devery, who began his professorship at Loyola in July 2015. He earned his PhD in chemistry from Lehigh University in 2013. After earning his degree, he pursued research as a postdoctoral fellow at Boston University and the University of Michigan.
Dr. Devery currently works alongside a team of 8 people, one graduate student and seven undergraduates. His students utilize organic, organometallic, analytical, and physical chemistry to observe reaction mechanisms. Funding for their work will support training in not only organic and organometallic synthesis, but separation and characterization of complex systems using chromatography and spectroscopy.
Reaction mechanism of carbonyl-olefin metathesis.

Click here to learn more of Dr. Devery's research and his group.
Biochemistry faculty receives 2018 Sujack Award
‌
The Sujack Awards were established in 1994 by Edwin and Vivijeanne Sujack to take special notice of outstanding teachers and researchers within Loyola's College of Arts and Sciences, and to honor them for their dedication to their profession.
The Chemistry Department is proud to congratulate Biochemistry Associate Professor, Dr. Miguel Ballicora, for receiving the 2018 Master Researcher Award.

Congratulations, Dr. Ballicora!
‌Recipient of the 2018 Master Researcher Award, which honors faculty for their devotion to individual research and scholarship outside the classroom. In a time when funding for scientific research has become limited, Dr. Ballicora has conducted studies on sustainable energy sources by the means of a $600,000 grant from the National Science Foundation (NSF).
Rachael Farber Awarded for Outstanding Graduate Research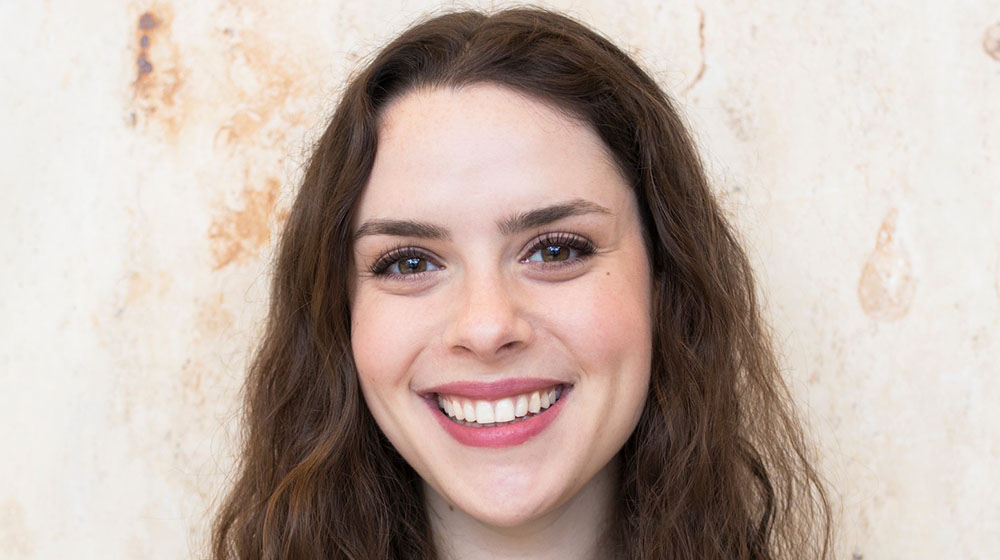 Recently profiled doctoral student Rachael Farber received the 2018 Anna Louise Hoffman Award for Outstanding Achievement in Graduate Research through IOTA SIGMA PI, a national honor society for women in chemistry. Farber's work focused on elucidating the chemical and physical effects of oxygen incorporation on catalytically relevant metals using surface science techniques.
ISP covers all divisions in the field of Chemistry and Biochemistry and therefore casts a wide net of nominees. There are over 300 eligible Chemistry and Biochemistry Departments at accredited Universities across the country that can nominate one student annually for this award. This significant achievement highlights Farber's exceptional accomplishments as a graduate researcher at Loyola.
The value of these awards is tied to the larger appreciation of Farber's research. Accruing accolades goes beyond recognition; the awards also bring awareness to her field of study, creates additional collaborative opportunities, and acknowledges that the ideas, issues, and research she conducts has a meaningful impact on science and in our communities.
Rachael will continue her work as a post-doc starting in May 2018 at University of Chicago, where she received the Kadanoff-Rice Fellowship.
Dr. Brazdil Receives Award for Excellence in Teaching Freshmen

Loyola University Chicago values excellence in teaching as being central to its mission of providing an engaging, transformative education. The Office of the Provost formally recognizes and celebrates the exceptional faculty who demonstrate excellence in teaching by announcing university-wide teaching awards that recognize the value of the many different ways in which faculty contribute to transformative learning.
This Fall 2017, Dr. Linda Brazdil, was named the winner of The Provost's Award for Excellence in Teaching Freshmen for Fall 2017!
Dr. Brazdil is the Director of the Center for Science and Math Education, comments that the challenges college exerts on students in its expectations of growth, discovery and self-realization can be overwhelming; students need the proper support with these transitions in order to be successful. She recommends that students discover new passions and find things that will sustain them as they continue their journey through life. It is a small wonder that students came forward to nominate the professor who never tired of answering their questions and guiding their learning. As one student states, "Dr. Brazdil embodies all the ideals of Loyola. She believes in her students and in the mission to help people find their place on earth where they make a difference in the world." In her personal statement, Dr. Brazdil describes the joy in watching students grow and mature, mind, body and spirit, as one of the main reasons she loves working at Loyola. She delights in the many opportunities her program provides students along this journey.
Click here, to learn more of the Faculty Teaching Awards.
The fight against fentanyl abuse
If you pop your head into one of the newly renovated laboratories in the basement of Flanner Hall, you might see a coffee grinder sitting next to a bottle of aspirin. And next to that, you might find a container of black pepper or even poppy seeds. What, you might ask, are these doing in a science lab?
They're all everyday materials that senior lecturer James DeFrancesco and his undergraduate students examine to reveal the underlying legal drugs found within them that are often similar to illegal drugs. This is the root of DeFrancesco's research: to understand and analyze the chemicals we consume.
DeFrancesco has been at Loyola for less than two years, but he's already made his mark on campus, across the nation, and worldwide. For nearly two decades, he served as a forensics scientist for the United States Drug Enforcement Administration's (DEA) laboratory in Chicago. There, he analyzed more than 4,500 drug exhibits (illegal drug evidence obtained by the agency) and participated in more than a dozen clandestine drug lab raids.
Recently, he has played a critical role in the fight against the opioid epidemic. He gave key insights into the underground synthesis of fentanyl—a synthetic opioid that is 100 times more powerful than morphine—to the UN's Commission on Narcotic Drugs. His counsel to the group led to the recent passage of stricter international regulations on the chemicals used to synthesize fentanyl, making it harder for the drug to be produced, sold, and exported. Here, DeFrancesco talks about what people should know about fentanyl, his role in securing international controls on the drug, and his other research interests.
What is fentanyl?
It's a Schedule II controlled substance at the federal level in the United States. It's a legitimate pharmaceutical that was developed over 50 years ago when Janssen Pharmaceuticals was actively looking for new, more effective opioids. Over the last 30 years, it's popped up on the street, particularly in street heroin.
What do people need to know about fentanyl?
There's no threat to the general public other than if you know anybody who has an opioid addiction and they can't get their prescriptions anymore, they may turn to using heroin and the heroin on the street is far more powerful than they could ever handle. That's how people overdose and die because the bad guys are replacing the heroin with fentanyl since it's so much easier to produce. And, a lot of the news you see nowadays about opioid overdoses may involve drugs like fentanyl, or a something with new chemical structure—a lot of which aren't even controlled.
What was your role in the UN commission placing fentanyl ingredients on a control list?
At the DEA, I analyzed a lot of heroin samples over the years. In late 2005, we noticed a rise in heroin and fentanyl overdoses and I noticed that the fentanyl I was seeing started to look like it was from a clandestine source (made on the street) based on the chemical markers present. So, that's when CPD (Chicago Police Department) and the DEA started a multi-agency investigation. By mid-2006, we identified a clandestine lab in Mexico. I went in there and processed the lab, collected the evidence, and witnessed firsthand how it operated. Then recently, the CNC (Commission on Narcotic Drugs) contacted me and said it wanted to know from people who had been in lab raids to get some information about what I saw and what materials I saw them making the fentanyl from. That information was used to seek out international controls.
What are the implications of this new regulation?
It's important at the international level because the sourcing of these new opioids, especially in the last five years, has been international. So, if at the international level we're able to agree that not only the finished product is banned but these precursors are as well, that should give countries the necessary law enforcement controls to put a stop to this.
And finally, what other research are you working on?
I'm working with analytical chemistry professor Paul Chiarelli on several projects involving the analysis of drug metabolites in wastewater and the breakdown of antimicrobial agent like triclosan (found in soaps and similar products) in treated waters like pools and hot tubs. Lastly, the interaction of PCBs—typically chemical/industrial products—with microplastics in fresh water bodies.
Organic chemistry professor receives NIH grant
Dr. Hee Yeon Cho, assistant professor of Organic Chemistry, has received a grant from the National Institutes of Health (NIH) for $429,000 to use over the next three years. The award will support research in catalytic enantioselective synthesis of geminally-bismetallated organic compounds—a process that could lead to new innovations in synthetic and medicinal chemistry.
"In my lab, the focus is on developing new synthetic methodologies," she explained. "The synthetic methods proposed in this grant may one day lead to important drug developments in the future."
Receiving this grant is a tremendous achievement for Dr. Cho, who began her professorship at Loyola only a year ago in July 2015. She earned her PhD in chemistry from Boston College in 2013. Immediately following, she worked as a postdoctoral researcher at University of California, Berkeley for two years.
Cho's research group studies new organic reactions and catalysis to synthesize optically active organic compounds. Considering that the majority of medicinal agents are optically active chiral entities, easy accessibility and utility of such chiral molecules are regarded significantly important. The goal of the proposed research is to invent efficient synthetic methods for the construction of optically active geminally-bisfunctionalized organic molecules.
Dr. Cho is currently working with a team of 13 people, one postdoctoral associate and twelve undergraduate students, to cultivate this new process for making complex organic molecules.
Chemistry professors will use NSF grant to research sustainable energy sources
Miguel Ballicora, associate professor and assistant chair of the Department of Chemistry and Biochemistry, has received a grant from the National Science Foundation (NSF) to be used over the next three years. The award of over $600,000 will support research on ADP-glucose pyrophosphorylase, an enzyme responsible for the production of glycogen in bacteria and starch in plants. The conducted research will investigate the bacterial enzyme and its evolution, which has great potential to be used in the future to improve crops or algae for biofuel production.
"Starch is one of the most important sources of calories for human nutrition, and its crop yield is dependent on the processing of this enzyme," says Ballicora. "Since some of those crops are also used for the production of biofuels, it will be critical in the near future to enhance the production of starch to satisfy both nutritional and energetic demands of our society."
This research, he explains, could also impact the future development of biofuels and will help improve sustainable energy sources thus, having a significant impact on our society's natural resource supply. Dr. Ballicora will work with Dr. Dali Liu, associate professor, and a team of graduate and undergraduate students, to analyze the enzymes in the laboratories of Flanner Hall. This December, an Argentinian scholar from Universidad Nacional del Litoral will visit to help support their research.
Dr. Willetta Greene-Johnson: Where Science and Award-Winning Music Meet
Receiving a PhD is a difficult feat. So is receiving a Grammy. But Loyola Professor Willetta Greene-Johnson can say she has achieved not just one, but both in her lifetime.
As one of the first African-American women in the country to obtain a PhD in theoretical physics, Dr. Greene-Johnson has taught at Loyola University for over 25 years for the Departments of Physics and Chemistry.
At the same time, Dr. Greene-Johnson has created a name for herself in the music world as an accomplished composer, arranger, and songwriter. She wrote the lead song, "Saved" on the 2004 CD by choir group Brooklyn Tabernacle Project, which won the Grammy Award for Best Gospel Choir Album that year.
Local publication and historical newspaper The Chicago Defender even named her one of the Women of Excellence in 2010 for her notable achievements in music.
In addition to her songwriting, she has been involved with the Chicago-Sinfonietta for over six years, serving this year as a guest conductor for their annual Martin Luther King Concert, for which she arranged two of the four pieces featured.
Here, Dr. Greene-Johnson discusses her work and how both music and science have enriched her life.
What influenced your decision to become a professor?
My parents were both scientists. My mother, a research chemist, was one of the first dozen black women to receive a PhD in Chemistry, and my father was an engineer who trained Tuskegee Airmen. I was always skilled in science and math, but I also wanted to study music in college. My parents steered me in the opposite direction, knowing science would pay the bills.
With both your parents' backgrounds being in science, how did music play into your early life?
Although we heard a lot of science terms growing up, my parents greatly enjoyed music too. My mother would listen to artists like Ella Fitzgerald and Barbara Streisand, and my dad was fond of bands such as The Beatles and Earth, Wind, and Fire. It was a wonderful mix of genres that swung from Beethoven to James Dean.
With so many genres of music around you, what attracted you to orchestra and gospel music?
One of my earliest memories is being taken into an auditorium for a concert when I was in second grade. The moment they started playing the music – Beethoven's Fifth Symphony – I sat straight up in my seat, I was so struck by the music.
There's something amazing about hearing all those different instruments working together. Their differences make something exquisite.
If only people could come together in the same way!
What is your songwriting process like?
Some songwriters begin with lyrics and build around it. I tend to get the melody first and play with it until the right words associate, until they fit the melody.
Before I wrote "Saved," I had this beautiful melody in my head for quite some time. Although that song was inspired by my mother's death, I like to write about religion, love, and social justice as well. Music can bring people together in this way.
Do you ever struggle to balance your career as a professor and your music?
I am privileged to have a career that allows me three months each summer to work on my music. Although I'm typically immersed in teaching during the academic year, I split my time in the summer between researching physics topics, creating lessons, and writing and recording music.
Moreover, I feel that Loyola fully allows me to foster my creativity; the environment is very congenial and much different from other schools.
There's been an increased focus on STEM education in K-12 schools as of late; how can we encourage science and math learning without forgetting about the arts?
The arts can help us in a lot of abstract ways. There are studies to show how music can improve cognitive skills, teamwork, and emotional well-being.
There is also a lot of math you can learn from music! It makes sense when you think about how many scientists have had an affinity for music. Many of my colleagues also enjoy playing instruments in their spare time; Dr. Gordon Ramsey even teaches a course on the Physics of Music.
I typically keep my music and teaching separate, but I've found that singing to students during a certain moment in class can calm them down - It's comforting. Music is a healthy outlet for emotion; why would we want to take away something that can be a safe space for students?
Finally, knowing how successful you've been as a musician, would you have pursued music exclusively, instead of science, if you could go back in time?
I don't think I would change anything. Science has enriched my life, as have my colleagues and students; they keep me young!
To connect to people through art, it helps to connect to people in real life first. Although as a professor, I am supposed to challenge my students, they challenge me too. Being around my students has helped my music grow and remain approachable to all eras and social strata.
Recognizing Outstanding Faculty
Congratulations to Dr. Linda Brazdil on being named a 2015 Fellow by the American Chemical Society (ACS) for her distinguished service to the field of chemistry. ACS bestows this distinction to professionals for excellence and leadership in scientific research, education, and volunteer service in the ACS. Seventy eight individuals across the country received this recognition this year.
Dr. Brazdil was cited for the development and mechanistic studies of industrial catalysts and leadership in chemistry education innovation to make chemistry concepts accessible, relevant, and interesting for students. At Loyola University Chicago, Dr. Brazdil teaches in the Department of Chemistry & Biochemistry, is the Director of the Center for Science and Math Education, and leads several key projects that support students in STEM education. She has been lauded for her devotion to facilitating comprehending the complex nature of science and for helping students achieve a deep understanding and appreciation for chemistry that move them into the professional arena of science. Brazdil says that she, "Is honored by this distinction that highlights the great collaborative work and exciting advances in catalysis science of which I was able to be a part as well as the exciting education research and practice that allows me to share the excitement of chemistry with students."
ACS Fellows Program Purpose

The purpose of the ACS Fellows Program is to recognize and honor members of the American Chemical Society for their outstanding achievements in and contributions to the science and the profession and for their equally exemplary service to the Society. The ACS Fellows Program recognizes specifically for those who have made exceptional contributions to the science or profession and have provided excellent volunteer service to the ACS community.
Read more about Dr. Brazdil and the Chemistry & Biochemistry Department.
Chemistry faculty inspire future scientists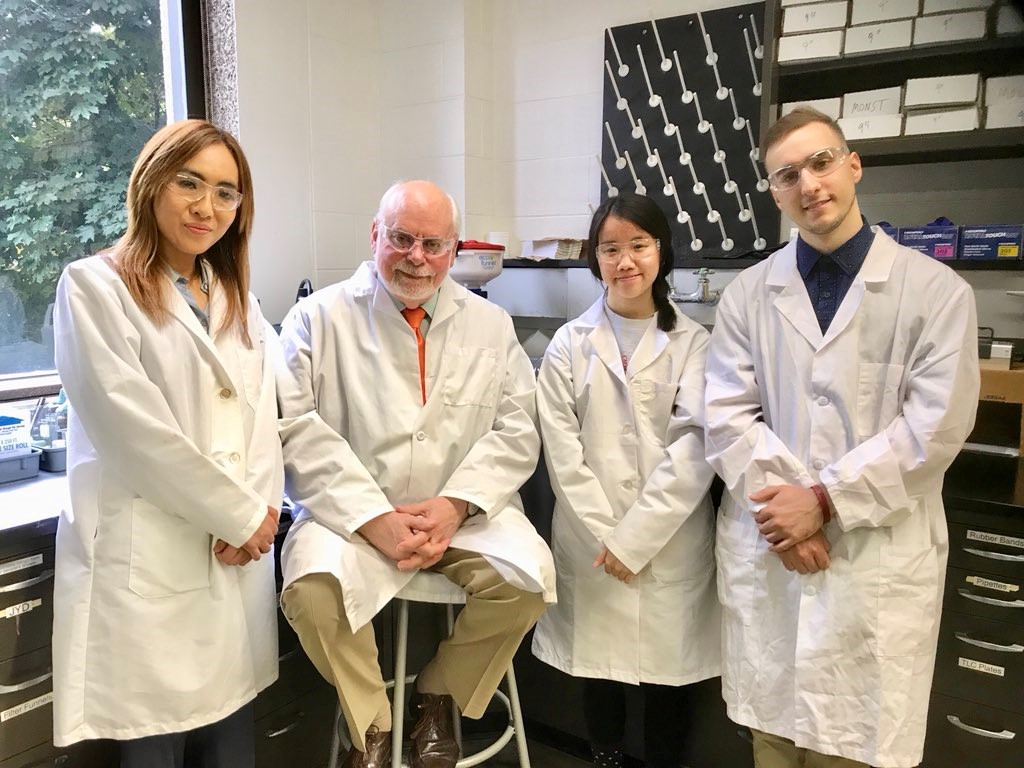 Local high school students are learning what the world of science is about in Loyola's Chemistry and Biochemistry department. Since 2015, these students have come to Loyola through the Project SEED's summer program to experience and understand scientific research first-hand. Loyola is the only university in the Chicago area to take part in the program this year—2018.
In 1968, the American Chemical Society (ACS) developed Project SEED, a program geared toward economically disadvantaged, high-achieving high school students by providing them with an opportunity to work directly with professional chemists and university professors for a summer.
Loyola professor Hee Yeon Cho, PhD and Northwestern professor Fraser Stoddart, PhD along with Loyola students Jordan Delev, Wiktoria Koza, and Julian Gonzalez have served as mentors to students as they conducted a two-month scientific research project.
The students chosen for this program receive a $2,500 stipend, as well as a chance to win a SEED college scholarship in the future.
Hee Yeon Cho, PhD, assistant professor of organic chemistry who co-facilities the program, said one of the most rewarding aspects of running a research laboratory at Loyola is the ability to participate in outreach projects with young scientists.
"It is important to train future scientists in a professional setting to instill a love for scientific research and change their perspective on education," she said.
By cementing scientific inquiry, Loyola's faculty members help to shepherd students through this intense process, giving them insight to college and potential long-term possibilities.
The Chemistry Department is involved in several outreach programs throughout the year and the ACS-SEED program is a great example of their efforts. Although the students conduct research under a faculty member, they are also mentored on a daily basis by postdoctoral researchers, graduate students, and undergraduates.
Visit the Department of Chemistry and Biochemistry to learn more about other programs offered and more faculty research.
New freshman science research project prepares students for careers
Loyola students studying science or math will get a chance to start their research earlier than ever. The University's new First-Year Research Experience allows undergraduate students pursuing STEM (Science, Technology, Engineering, and Math) degrees a chance to perform exciting research with faculty members as first-year students. The program is funded in part by a $1.9 million grant from the Howard Hughes Medical Institute, a science-oriented philanthropic organization supporting research and scientific education.
According to the Howard Hughes Medical Institute, students who perform research early in their academic careers are more likely to stay in their field. Chemistry Instructor Linda Brazdil, PhD, who is also the director of Loyola's Center for Science and Math Education, said students sometimes get discouraged from these challenging fields and switch majors before getting a chance to experience academic research. The program intends to introduce it to students early, exposing them to the nomenclature of scientific inquiry and career possibilities.
The program runs from spring semester into the summer and includes a credit-based course to prepare students for their upcoming research. It concludes with a three-week experience in May in which students work directly with faculty members to conduct research and receive an $800 stipend. Most students are housed either at Loyola's Lake Shore Campus or at the Retreat and Ecology Campus in Woodstock, IL.
The program currently serves 80 students this semester, but Dr. Bradzil said they expect to have as many as 160 annually in coming years. Students must apply to be considered. Although all first-year students majoring in a STEM field are eligible, the program is intended particularly for underrepresented groups, women, and first-generation college students.
The program gives students a chance to build their resumes, as well as develop professional contacts and experience. "The goal is for students to learn the research tools and how-tos in order to succeed, so they continue to engage with faculty and research," said Dr. Brazdil.
Learn more about this program or the Department of Chemistry and Biochemistry by visiting LUC.edu/chemistry.

Chemistry Professor Awarded for Sustainability Work
Chemistry Professor Patrick L. Daubenmire has been recognized for his work in bringing sustainability into chemistry classrooms. Dr. Daubenmire is one of four recipients of the 2015 Award for Incorporation of Sustainability into Chemistry Education, a prestigious award from the American Chemical Society and its Committee on Environmental Improvement.
The ACS is a Congress- chartered nonprofit organization that, with more than 160,000 members, is the single largest scientific society in the world. The ACS has chapters across the globe and publishes 44 different scientific journals. One of the society's main initiatives includes implementing "green chemistry" practices into chemical enterprise.
Dr. Daubenmire's publication, Using the Chemistry Curriculum as the Starting Point for Engaging Students and Their Families in Pro-Environmental Behaviors, was nominated earlier this year for the award. The project illustrated how learning the science behind sustainability principles can foster environmentally friendly behavior in students and their family members.
"Environmental issues are contexts for numerous chemistry principles and those issues are at the forefront of problems that our societies much solve," Dr. Daubenmire said. "All people (scientists and non-scientists) need to be part of that dialog and should be informed as they do so."
As part of the award, Dr. Daubenmire has been invited to present his work this March at the 2015 ACS National Meeting in Denver.
Earlier this year, Dr. Daubenmire received the Loyola Excellence in Teaching Freshmen Award. Daubenmire teaches general and inorganic chemistry, as well as the university core scientific course, UCSF 137. He is also currently involved in a volunteer program for high school students, which teaches them about science and sustainability.
Carl Moore Endowed Chair in Chemistry and Biochemistry, Loyola University Chicago
The Department of Chemistry and Biochemistry invites applications for the Carl Moore Endowed Chair beginning fall 2015. Preference is for an appointment at the rank of Professor, although advanced Associate Professors will also be considered for the position. Applicants from all research areas of chemistry or biochemistry will be considered but analytical biochemistry is of particular interest for this position. A Ph.D. degree in chemistry, biochemistry, or in a closely related field is required. At the time of application, the successful candidate will be expected to have a tenured appointment and an externally funded research program as well as a notable number of highly-cited publications. The incumbent will be expected to maintain an internationally recognized and a competitive externally funded research program, leading to continued publications and funding opportunities.

This appointment will be accompanied by a reduced teaching load. The Department offers PhD, MS, and ACS approved BS degrees. For more details about the department, visit http://www.luc.edu/chemistry.

Candidates should complete an online application at www.careers.luc.edu, with a cover letter, a Curriculum Vitae, and a description of research and teaching interests. Applicants should provide the names and email addresses of three individuals prepared to speak to their professional qualifications for this position. Review of applications will begin on December 15, 2014 and applications will be accepted until the position is filled. Underrepresented minorities and women are especially encouraged to apply.

Loyola University Chicago is An Equal Opportunity/Affirmative Action Employer.


This content should not be displayed. If you are seeing this content please contact: jdrevs@luc.edu.
Dr. Daubenmire 2015 recipient of the ACS-CEI Award
Daubenmire recognized for teaching first-year students
Patrick Daubenmire is one of four professors who received Loyola's Excellence in Teaching Freshmen Award. Here, he talks about his love of chemistry, his passion for good food, and how his Jesuit professors in college inspired him to become a teacher.
---

Patrick Daubenmire, PhD
Assistant professor and the undergraduate program director for the Department of Chemistry and Biochemistry
How did you feel about receiving the award?
It's always nice to get an award, but I have to admit it took me by surprise. Part of that year of teaching for me was teaching Scientific Basis of Environmental Issues, a new Core course in the science foundations strand. Being part of that rollout was really exciting.
Are there any research projects that you're working on right now?
I'm overseeing a couple of projects. I have a graduate student who's looking at an inquiry-based approach to general chemistry lab for our majors and how their metacognitive strategies—basically, the ways in which they monitor what they know and do not know—might be developing. I also have some undergraduates looking at how general chemistry students solve problems and how that aligns with how their instructors teach them in class. And I'm also managing a project that is a volunteer program for high school students. It integrates formal and informal environments for learning about science, sustainability, and service to communities.
What made you want to become a chemistry professor?
I had a great high school chemistry teacher who got me interested both in teaching and the content of chemistry. Also my experience with many outstanding Jesuit teachers at Saint Louis University really pushed me and inspired me to become a teacher.
What are the specific classes you'll be teaching next?
I'll teach general chemistry in the spring for our declared chemistry majors, and that's a pretty cool course because it's both a lecture and a lab. In the summer I'll teach another chemistry class, and that will be interesting because it will be online. I taught the 101 version online two summers ago, and we really think as a department there should be a 102, so I'll be developing that version. Lastly, I will be returning to the Core science foundation's course in the fall of 2014.
What is your favorite part about teaching?
I love watching other people discover new ideas. It just has a special energy to it.
What's your biggest challenge?
I'd have to say discovering multiple ways to convey a concept and making that material accessible to a wide range of learners and learning styles. It's certainly doable, but it comes with some obstacles.
Do you have any hobbies outside of the classroom?
My No. 1 hobby would definitely be cooking. I love to cook and feed people. Recently, I've also been trying to get myself to learn music.
About the professor
Hometown: Grew up in Lebanon, Ohio, and now lives in Bartlett, Illinois.
Professor at Loyola since: 2005
Courses taught: General Chemistry A & B (CHEM 101 & 102); Basic Inorganic Chemistry (CHEM 106); Scientific Basis of Environmental Issues (UCSF 137).