archive
Loyola piques high schoolers' interest in chemistry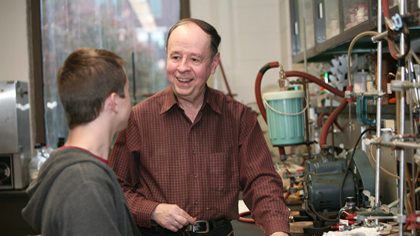 In 1968, the American Chemical Society (ACS) developed Project SEED, a program geared toward economically disadvantaged, high-achieving high school students by providing them with an opportunity to work directly with professional chemists and university professors for a summer.
Partnering with ACS, Loyola's Chemistry and Biochemistry Department have engaged high schoolers in Project SEED for three years—Loyola being the only university in the Chicago area to take part in the program last summer. Loyola has provided resources for young emerging scientists to experience and understand scientific research first-hand.
Loyola professors Dr. Chad Eichman, Dr. Daniel Becker, Dr. Miguel Ballicora, and Dr. Dali Liu have served as mentors to students as they conducted a two-month scientific research project.
The students chosen for this program receive a $2,500 stipend, as well as a chance to win a SEED college scholarship in the future.
Faculty, students, and projects for 2014 included:
Dr. Miguel Ballicora and Dr. Dali Liu mentored student Amelia Jimenez on a project studying "Allosteric Control in the ADP-glucose pyrophosphorylase Family".
Dr. Daniel Becker mentored student Amanda Lay on the project "Applied Medicinal Chemistry in the Design and Synthesis of Modulators of Transcription Regulator GabR"
Dr. Chad Eichman mentored student Aisha Patel on the project "Biomimetic Asymmetric Oxidative Dearomatizations"
One of the most rewarding aspects of running a research laboratory at Loyola is the ability to participate in outreach projects with young scientists. Dr. Eichman stated that, "it is a truly unique method to engage young scientists at an early age that fosters interest in science as a career." By cementing scientific inquiry, Loyola's faculty members help to shepherd students through this intense process, giving them insight to college and potential long-term possibilities.
The Chemistry Department is involved in several outreach programs throughout the year and the ACS-SEED program is a great example of their efforts. Although the students conduct research under a faculty member, they are also mentored on a daily basis by postdoctoral researchers, graduate students, and undergraduates. According to student Aisha Patel, "this program has given me the opportunity to see science in a whole new perspective."
Visit the Department of Chemistry and Biochemistry to learn more about programs and faculty.
More Featured Stories
Extraordinary Alumni

Get involved with social justice in health care. That is Karen Aguirre's (BS '15) motto—and her advice to current nursing students. "Sometimes an issue is overlooked because of the complex problem-solving that it comes with," she says.


Women in STEM

Loyola's Girls Who Code chapter aims to provide a space for young women to learn, teach, and explore coding in an inclusive and supportive environment.


Ignatian Heritage Month

Musick is the residential services coordinator at the Open Door Youth Shelter in the West Town neighborhood of Chicago, part of the Night Ministry.