archive
Hampton Inn Opens Location Near Lake Shore Campus
Students and community members come together for Earth Day 2013
Ramblin' Around Summer Intern
Ramblin' Around Blog Intern
CTA Plaza Part-Time Summer Position
Update on the Improved Pearson Streetscape
School year comes to a close -Student Move out
Loyola Continues Successful Partnership with Senn High School
Progress for Schreiber Center and Newcastle Tower
Blog to Connect Students and Businesses
RSVP to Loyola University's Community Holiday Party
How Artists Around the World Picture the Nativity - Coming Soon to LUMA
Spring Thaw Reveals Poop City
Kenmore Update: Closure Complete
The Future of Storytelling
Shuttle Sign Brings Safety to WTC
Green Lobby Day 2014
North Lake Shore Earth Day 2014!
Students Return to Campus, Parking Restrictions in Place
Students Ask for Divvy Stations Near Campus
WTC Construction Update
Luau With Loyola Neighbors and Students
Polar Palooza to Feature Crafts, Activities, Local Vendors, and Live Music
Ireland's Grand Opening is a Slam-Dunk
800 Students Unleashed: Ramblin' Around
LUREC: Falling Forward
Save the Date for Earth Day 2015!
Introducing the St. Ignatius Community Plaza
"Summer on the Plaza" at Loyola Station
Artisan Market Streeterville Back for its Fifth Year
Water Tower Campus Move-in and Block Party
Loyola Welcomes its Largest Freshman Class
Get Your Challenge On at LUREC
Students Build a Sustainable Tomorrow
Special Workshop: How to Save Seeds
Dine the Redline at the Student Dinner Crawl
Institute of Environmental Sustainability Opens on Campus
Alderman Approves Permanent Closure of Kenmore
Water Tower Campus Construction Update
Quinlan School and Residential Tower Update
Halloween Treats at Loyola
Ramblin' Around Student Dinner Crawl: Loyola Students Dined-the-Red Line!
LUREC Restoration Work Days
Canine Invasion
Saturday of Service at Senn Park: The Tom Sawyer Project
"Summer on the Plaza" at Loyola Station
Loyola Celebrates and Re-Opens Kenmore
Polarpalooza to Feature Crafts, Activities, Local Vendors, and Live Music North Sheridan Road Illuminated for the Holidays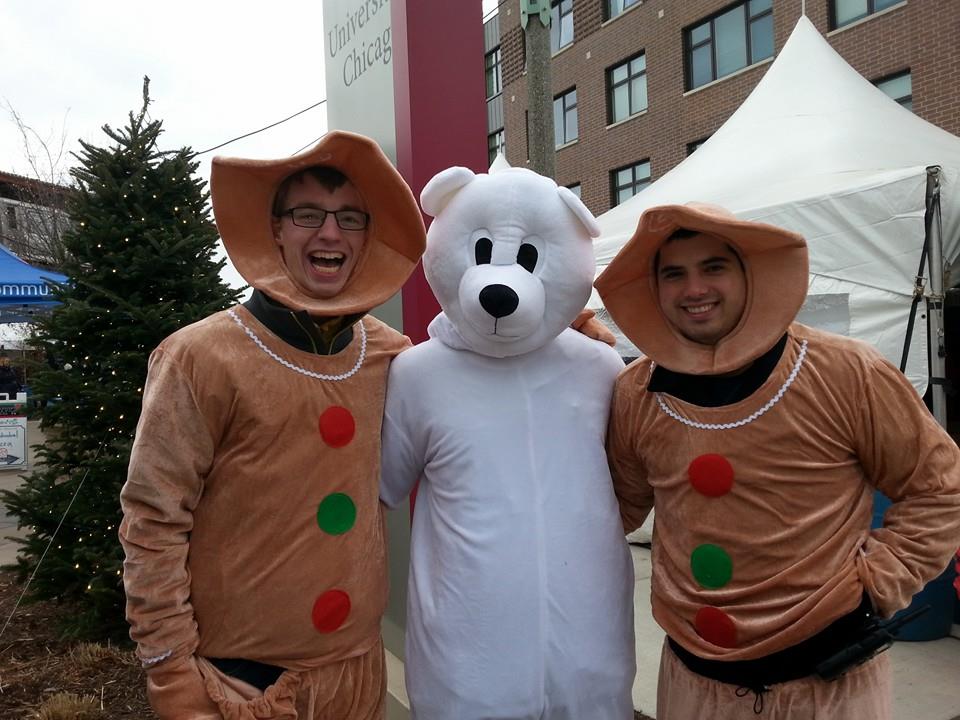 To kick off the holiday season, Loyola University Chicago, Rogers Park Business Alliance, Edgewater Chamber of Commerce and Alderman Joe Moore of the 49th Ward present Polar Palooza, a two-day outdoor winter festival, at Loyola's Lake Shore Campus for Chicago's north side.
Attendees of all ages will enjoy food from local restaurants, live local music, ice sculpting (Sat.), skating, live reindeer (Sun.), face painting, character meet-and-greets, shopping with local artisans, and more.
Admission is free but $5 per person will provide access to arts and crafts, ice skating on a synthetic rink, and face painting from 1pm-4pm.
Attendees of the Loyola Rambler's Men's Basketball game on Saturday December 5 at 1:00pm vs. Creighton University will receive $2 Polar Cash to spend at the festival.
In anticipation of Polar Palooza, Loyola University Chicago and Rogers Park Business Alliance (RPBA) will be illuminating the Loyola CTA Station and North Sheridan Road in Chicago's Rogers Park neighborhood with thousands of white lights for the holiday season.
This is the second year that RPBA has used funds from the Sheridan Road Special Service Area (SSA) and a voluntary contribution in lieu of taxes from Loyola University Chicago to bring holiday cheer to dozens of trees on the busy half-mile stretch.
Sheridan Road carries more than 35,000 cars a day commuting to downtown Chicago and the CTA Station serves an additional 35,000 commuters on busses and trains. Both the Business Alliance and the University want to attract those commuters to Sheridan Road's main street atmosphere. These lights also serve to provide light to the darkness of winter which makes pedestrians feel safer walking at night to restaurants and shops on Sheridan Road.
For more information on Polar Palooza, visit LUC.edu/communityrelations.
When:
Saturday, December 5
Noon – 8 p.m.
Sunday, December 6
Noon – 6 p.m.
Where:
The Loyola Redline Plaza
6550 N. Sheridan Road
Chicago, IL 60626