archive
Alderman Approves Permanent Closure of Kenmore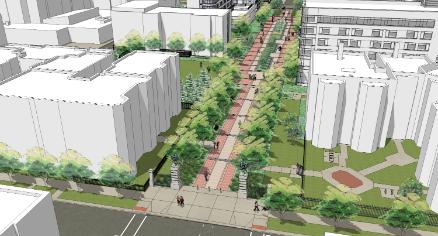 For the better part of two years, the Department of Campus and Community Planning has been working towards the goal of an expanded south campus through the vacation of 6300 N Kenmore Avenue. Through this expansion, Loyola would develop a sustainability corridor or "people street" that would bring the elements of Loyola's newest addition, Institute for Environmental Sustainability, to the public realm for all to enjoy and appreciate.
The IES will be an innovative, interactive and adaptable sustainable living and learning environment; and provide both a prototype and a demonstration of the opportunities for innovation and integration that an urban academic/residential setting provides. The development of the outdoor corridor allows Loyola to share sustainable learning and green amenities with its students and neighbors to include:
Bike Lane
Maps
Passive park space and play fields
Bench seating
Outdoor cafe
Rain Garden
Butterfly sanctuary
Shade trees
Native landscape
Educational signage
North-south gateways
Emergency access routes
On Thursday, July 18, Alderman Harry Osterman held a final public meeting, after a series of meetings hosted by Loyola, Association of Sheridan Condominium Owners, and North Edgewater Beach Association to explain the project to surrounding neighbors and property-owners and gather critical feedback.
The vast majority of attendees wholeheartedly endorsed the project and the overall positive improvements Loyola's investments in Edgewater have garnered the neighborhood over the last 10 years including the removal of the Wincrest Nursing Home, Lakeside Boarding House, , creation of Satellite Safety Office on Granville, and conversion of former badly maintained buildings into student resident halls.
Traffic and parking concerns were a major element of concern for members of the community and the University was asked to address these concerns in its proposal. As part of the traffic study conducted prior to Kenmore's closure in 2011, Loyola committed to reducing the additional traffic east of Kenmore in the alley by installing rubber speed humps and repaving the alley.
Additionally, the university has committed to re-opening the street to traffic during the Sheridan Road sewer, water and resurfacing project to alleviate the traffic congestion. Speeding traffic has increased considerably since Kenmore re-opened on August 5 and Loyola is working with Chicago Department of Transportation to identify solutions to traffic calming, including installing speed bumps on the 6300 block of Kenmore to ensure pedestrian safety.
Finally, to address neighbor's concerns for deficiencies in street parking availability, Loyola is working on two separate initiatives. First, through our partnership with Sacred Heart Schools, Loyola is identifying parking near the school to provide additional spaces for Sacred Heart faculty and staff. Second, the University has created a Community Parking Program. Beginning Tuesday, September 3, residents can come to the Community Relations Office and receive a one-day pass that allows parking in the main structure at Winthrop Avenue and West Sheridan Road from 5:00 p.m. – 2:00 a.m. Monday Through Friday, and 5:00 a.m. – 2:00 a.m. Saturday and Sunday. The Community Relations office is open Monday-Friday from 8:30 a.m. – 5:00 p.m. and is located at 6439 N Sheridan Road, Suite 220. For more information, contact Summur Roberts at 773-508-7450.