archive
Green Lobby Day 2014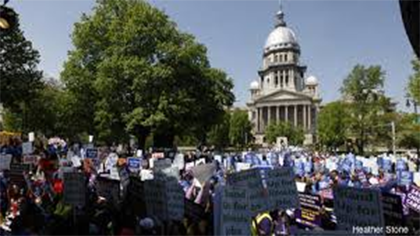 Loyola University's Office of Community Relations and the Institute for Environmental Sustainability partner with our local organizations Edgewater Environmental Sustainability Project, Illinois Environmental Council and others to plan the inaugural Green Lobby Day in Springfield, Illinois.
Loyola Students will team up with local residents of Edgewater and Rogers Park to engage with Illinois legislators and advocate for a series of environmentally-focused legislative measures, including a bill that would ensure the state's continued investment in renewable energy sources, and bill that would support the investment in clean water infrastructure. Students will also encourage the Illinois General Assembly to vote in support of a bill that will properly manage pollution from major carbon sources by instituting a carbon cap. Through this event, Loyola students will be learn how to be an environmental advocate and bridge knowledge in the classroom with legislative priorities as part of the Institute for Environmental Sustainability's larger advocacy and policy focus.
Students will join with community members to take part in larger conversations regarding green policies on a state and national level.