archive
Institute of Environmental Sustainability Opens on Campus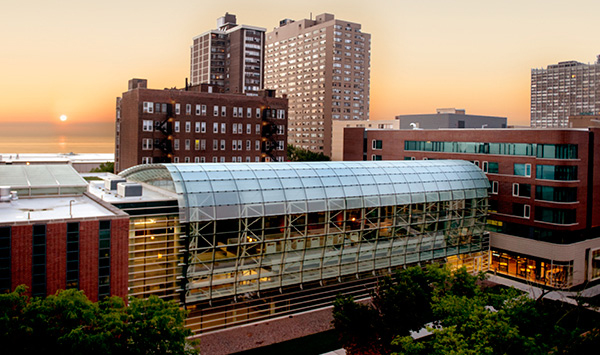 On September 6, Loyola University Chicago celebrated the grand opening and ribbon cutting for its newest project, the Institute for Environmental Sustainability.
Loyola's president, Michael J. Garanzini, S.J. joined Congresswoman Jan Schakowsky, Congresswoman Robin Kelly, Illinois House Speaker Mike Madigan, State Senator Heather Steans, State Representative Kelly Cassidy, Alderman Joe Moore, Alderman Harry Osterman , the university's Board of Trustees and hundreds of faculty, staff, and community members for the ribbon cutting and blessing at noon followed by a reception and open house later that evening.
The Institute is the University's most ambitious effort yet to confront today's environmental challenges. Loyola's commitment to educating young people in innovative ways to prepare them for the future is something members of the Society of Jesus have done for hundreds of years. With natural resources under threat, Loyola is answering the call to action to restore the relationship with creation.
The building is impressive in scale and function, combining academics and research with sustainable agriculture and community living. This new facility includes clean energy and biodiesel production labs, two aquaponics systems, an Ecodome, classrooms, and a 410-bedroom residence hall. The institute's sustainable features include the largest geothermal heating and cooling installation in Chicago, rainwater harvesting, and high-efficiency heat-recovery technology.
Loyola's Biodiesel Program is the only school-based operation licensed to produce and sell biodiesel in the United States. It is run entirely by students (with the help of one staff member) and is financially self-sufficient.
The aquaponics systems blends fish farming with soil-free agriculture to create a sustainable food production system. In the set-up at the institute, fish live in water tanks on the bottom level, while plants grow in trays on top.
More than attractive and shiny, the Ecodome is a soaring glass ceiling that wraps around the institute and serves multiple purposes:
It ventilates the building;
Collects rainwater; and
Provides plenty of natural light for the plants growing inside the dome.
At 500 ft below ground, the earth's temperature remains about 58° year-round in Chicago. This constant temperature is at the core of the geothermal system that heats and cools the institute. The 91-well system—the largest of its kind in Chicago—is extremely efficient, cutting the building's heating and cooling costs by 30 percent.
Speaker Madigan , Alderman Osterman, Loyola president Michael Garanzini, S.J. and Nancy Tuchman, founding director of the institute took the podium to reflect upon Loyola University Chicago's investment in a sustainable future.
Academic program areas include: Biodiesel production, Urban Agriculture, Organic Student Farm, Composting and Recycling, Water Conservation, Farmers Market, Research and Transportation.
In addition to robust academic programming, the Institute features Engrained Café. Managed by Aramark, this café features sustainably grown foods sourced within 150 miles of campus. It is open to the public.
For more information about the Institute of Environmental Sustainability, visit their website.