Allergen-Free Recipe for Fall
Prepared by Loyola Student: Chloe Doherty
How I lived without the fall season for eighteen years, I'll never know. I finally came to my senses and realized the joy of crisp leaves, layering clothes, and of course, delicious foods.
Breakfast: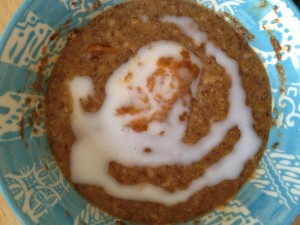 Pumpkin Pie Oatmeal- Photo by Chloe Doherty
Is working out as effective if I looked at delicious Thanksgiving pie ideas the entire time I was on the elliptical?
I don't know, but I do know that I was craving some comforting pie after my workout. Of course, pie is definitely not the healthiest, and very few gluten-free, dairy-free pies exist. Enter pumpkin pie oatmeal! My roommate told me about this treat, and it is my new favorite breakfast. Just in time for fall!
To prepare:
Cook oatmeal (microwave or the pot)

Add about ½ cup of pumpkin puree

Mix the oats and pumpkin

Add a little nutmeg and cinnamon

Drizzle with a little bit of coconut milk
Coconut milk provides a satisfying creamy texture while remaining dairy free. If you want, add chopped walnuts, pecans, or almonds, and you have a warm, hearty breakfast that tastes more like a fall dessert!
Dinner: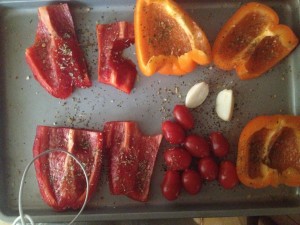 ‌
‌

Roasted Vegetables- Photo by Chloe Doherty
To prepare:
Arrange desired vegetables (I used two bell peppers, tomatoes, onions, and garlic) on a cooking sheet sprayed with a little olive oil.

Sprinkle veggies with a little lemon juice and herbs and spices of your choice. (I used cilantro, oregano, and a 21 seasoning mixture.)

Roast vegetables for 20 minutes at about 350 degrees. All ovens are different, so be sure to check on your vegetables often (or you will set off the fire alarm like I did.)The vegetables are ready when they are browned, not burnt.

Put the roasted vegetables in a blender and puree them for two minutes.

Add some coconut milk; a little if you want a thick soup, more if you want a thinner soup.

Puree for another few minutes until you have reached your desired consistency.

If the pureed mixture is too cold, heat it up in the microwave or in a pot.

Serve with a side salad.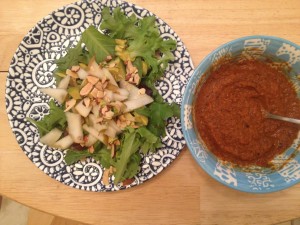 ‌
Salad and Roasted Vegetable Soup- Photo by Chloe Doherty
‌Recipe originally posted in the LUChameleon