Loyola Announces Advisory Partnership with Senn High School
Loyola Neighborhood News: Lake Shore Campus - V3, I8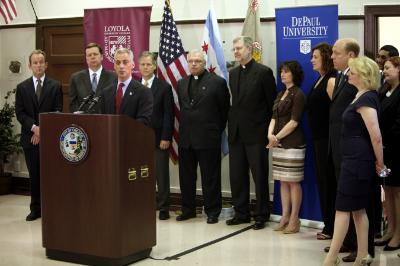 At a press conference on Wednesday, May 23, 2012, Mayor Rahm Emanuel announced a partnership between Loyola University Chicago and Senn High School.
Loyola will work collaboratively with the administration and faculty of Senn in developing a high quality, International Baccalaureate (IB) program for the geographic community served by Senn. This partnership will be a University-wide effort, led by the School of Education, and includes the School of Social Work, School of Nursing, Center for Urban Research and Learning, Department of Fine and Performing Arts, Department of School Counseling, Department of Computer Science, and others to be announced.
Loyola University Chicago's relationship with Senn will be an extension of the university's strong presence in Senn feeder schools including Swift and Hayt Elementary in Edgewater and is to be the cornerstone of the myriad other successful partnerships the School of Education has throughout the CPS system including the Principal Training Program, IB Certification, and the Center for Math and Science Education.
The specifics of the relationship will be continuously rolled out to the Senn community this summer and throughout the 2012-2013 academic year.
"As the specific and broad-based needs of Senn High School become clear, potential areas of the university involvement will emerge" stated David Prasse, Ph.D., dean of Loyola's School of Education. "Existing opportunities for Loyola's involvement beyond the School of Education might include School of Social Work, Department of Fine and Performing Arts, Computer Science and Instructional Technologies, and the School of Nursing. Each of these units holds expertise that represents a University wide potential contribution to the partnership."
It is anticipated that the faculty of Loyola's School of Education would work with the school principal, administrative team, and faculty to help support the academic achievement of the students at Senn High School. Loyola seeks to support the faculty and staff at Senn High School using a multi-disciplinary approach, with direct contact between Loyola and Senn educators in the areas of teacher preparation, school counseling, school psychology, special education, curriculum and instruction, and educational leadership.
The goal of this collaboration would be to build on the current initiatives underway at Senn including what has been done with both the IB and the new Fine and Performing Arts Program. The partnership would combine the academic and curriculum strengths of Loyola, the strength of CPS in providing infrastructure services to a public school, and create a culture empowered by shared decision making and shared practice.
IB programs include a curriculum and pedagogy, student assessment appropriate to the age range, professional development for teachers and a process of school authorization and evaluation. IB programs are available through 3,411 World Schools in 141 countries.