Meet the CCP Team: Phillip Kraft, Debate Champion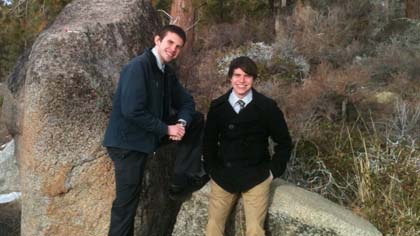 After researching, traveling and debating for Loyola, Loyola junior and Equipment Manager Program coordinator, Phillip Kraft is packing his bags and heading abroad.
Kraft has debate skills in his blood. He first joined his high school debate team after watching his siblings before him. "It sort of trickled down… I saw them writing arguments, doing a lot of research. And I just sort of thought that that was normal and that's what I was supposed to do," Kraft said. "But then it caught on. Once I did it, I really enjoyed it."
Kraft joined Loyola's debate team as a freshman in 2010 and has been debating ever since. He and his partner, Joe Carroll, qualified for a debate called the National Parliamentary of Excellence in Reno, Nevada this March. They prepared for topics on actions the United States federal government should or should not take. One team would argue for the proposition and the other would argue against it.
Many schools have large debate teams, and therefore, many students to help with research before tournaments. Loyola is different. Research was left to Kraft, Carroll and their coach, communication professor David Romanelli. They researched through spring break, and placed 13th in the National Parliamentary of Excellence against high-ranking universities, like Southern California and Pepperdine.
"That's one of the main perks about debate," Kraft said. "You get to travel around the country debating a wide array of schools, some of them really reputable universities."
Washington D.C.'s George Washington University heard about Loyola's success in Reno and invited Kraft and Carroll to compete in the Elysée Treaty debate held at their university in April.
French and German ambassadors hosted the debate to celebrate the cultural unity of France and Germany as a result of the Elysée Treaty. Kraft and Carroll found success yet again- so much success that they won a free trip to Europe. From late May to early June, Kraft and Carroll will be exploring Paris, Berlin and Brussels. They'll learn about different aspects of the countries' government and culture.
"The big payoff is winning tournaments, usually … you just feel good about yourself doing this," Kraft said. "But being recognized on that level... I don't feel like I deserve a free trip to Europe, personally, but it's really cool that people care about debate that much. I think that's really awesome."
Kraft would like to thank Dean Don Heider and the School of Communication for their support and patronage.
Philip Kraft works as a student coordinator in the department of Campus and Community Planning. He organizes the Equipment Manager Program and serves as a liaison with the Cook County Board of Elections and has recruited over 300 students to serve as equipment managers to serve during the elections throughout the year.