Relay for Life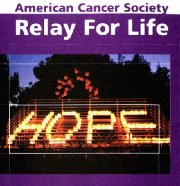 This year, the American Cancer Society (ACS) is turning 100 years old. To celebrate, Loyola University Chicago's Colleges Against Cancer has pledged a goal of $100,000.
Each year, more than four million people in over 20 countries take part in Relay for Life. This global phenomenon raises much-needed funds and awareness to save lives from cancer.
Loyola students organize Relay for Life on campus. Registered teams will walk through the night on April 12-13, 2013 in symbolism of the darkness of cancer and the bright dawn of hope and healing. This year they want to reach out to the community for their participation and support.
According to student organizer, Jeremiah Johnson, "Not only will this be the biggest Relay for Life Loyola has seen, but one of the biggest in the Midwest! Please come out and join us in the biggest student run fundraiser at Loyola and join the fight. Anybody can start or join a team, but members of the Loyola community are encouraged to sign up under the 'Loyola Community' page. "
All members of the community are welcome to participate and help the students to spread the word through friends and social networks.
For questions, please contact Jeremiah Johnson at jjohnson22@luc.edu.
Register: RelayForLife.org/LoyolaIL
For more information, visit us on Facebook!