archive
Students and community members come together for Earth Day 2013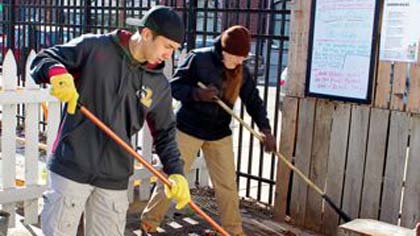 Chicago's chilly spring season didn't stop our dedicated volunteers from participating in a series of environmentally-themed service projects for our two-part celebration of Earth Day on April 13 and April 20. For this year's North Lake Shore Earth Day, Loyola Community Relations partnered with 48th Ward Alderman Harry Osterman, 49th Alderman Joe Moore, Illinois Senator Heather Steans and State Representative Kelly Cassidy, to sponsor a series of hand-on tasks to clean, green and beautify the Rogers Park and Edgewater communities. With the help of over 50 Loyola students and 30 teen volunteers from the organization One with Nature (OWN), we were able to participate in six different Earth Day projects, including gardening at the Vedgewater and Edgewater Gateway community gardens, fence-painting at Cochran Park, trash-removal at the Dunes Restoration Project in Rogers Park and data collection for the 49th Ward's Recycling Mapping Research Project. These projects proved to be not only a celebration of Earth Day, but also a celebration of community. Loyola Students and local residents of these two communities worked on these projects side by side, fostering a sense of shared responsibility to protect and preserve the neighborhoods in which they both live.
Loyola Community Relations would especially like to thank Act One Pub, for sponsoring this event and hosting our volunteer after party on April 13. We also extend our thanks to Whole Foods Evanston-South, and KIND Food Company, Inc., who generously donated healthy snacks for our Earth Day volunteers.
As Loyola continues to integrate green-conscious programming, projects, and general environmental sustainability awareness into the University's mission, there will be increased opportunities to participate in environmentally-themed projects and learning opportunities taking place on our campus. Stay tuned for Earth Day 2014!