archive
Loyola Welcomes its Largest Freshman Class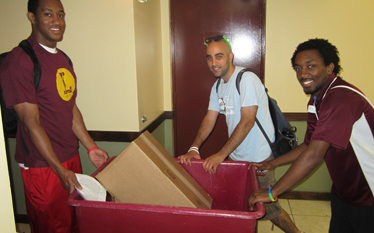 PLEASE CLICK LINK BELOW TO VIEW FULL SCHEDULE
In the coming weeks, Loyola will welcome a little over 4500 on-campus and several hundred off-campus student residents to Rogers Park/Edgewater and the Gold Coast. As you are very much aware, the arrival of new students and the return of upper-class students bring with it both the excitement and energy of a new academic year as well as the well-known headaches of getting them all moved-in during a short period of time.
Despite the large number of students expected, the University has worked hard to minimize the impact move-in has on our surrounding neighbors. Loyola has streamlined its parking requests to reduce the number of hours each year based on student/parent behavior. We are reducing our overall no-parking requests by 5% for 2013 despite a 33% increase in student population. We will continue to find ways to REDUCE neighborhood impact in as many ways as we possibly can.
Lake Shore Campus
Move-in for Lake Shore Campus will span six days: Monday, August 19 - Thursday, August 22 and Saturday, August 24 - Sunday, August 25.
San Francisco Hall and di Nobili Hall students will move in off the 6300 block of Kenmore.
Loyola Avenue will become a temporary one-way westbound on Tuesday, August 20 and Wednesday, August 21.
Bellarmine Hall (Northshore and Sheridan) will move in off Northshore between Sheridan and the alley to the west.
Campus Safety will be on hand to direct cars and traffic.
Water Tower Campus
Move-in for Water Tower Campus will span two days: Sunday, August 18 and Tuesday, August 20.
Move-in will take place on the north-side of Pearson Street between State Street and Wabash Avenue.
Construction of Quinlan School of Business will not be impeded by move-in activities.
Campus Safety will be on the street to direct cars and traffic.
PLEASE CLICK LINK BELOW TO VIEW FULL SCHEDULE
‌