archive
Loyola Sponsors Regional Botball Competition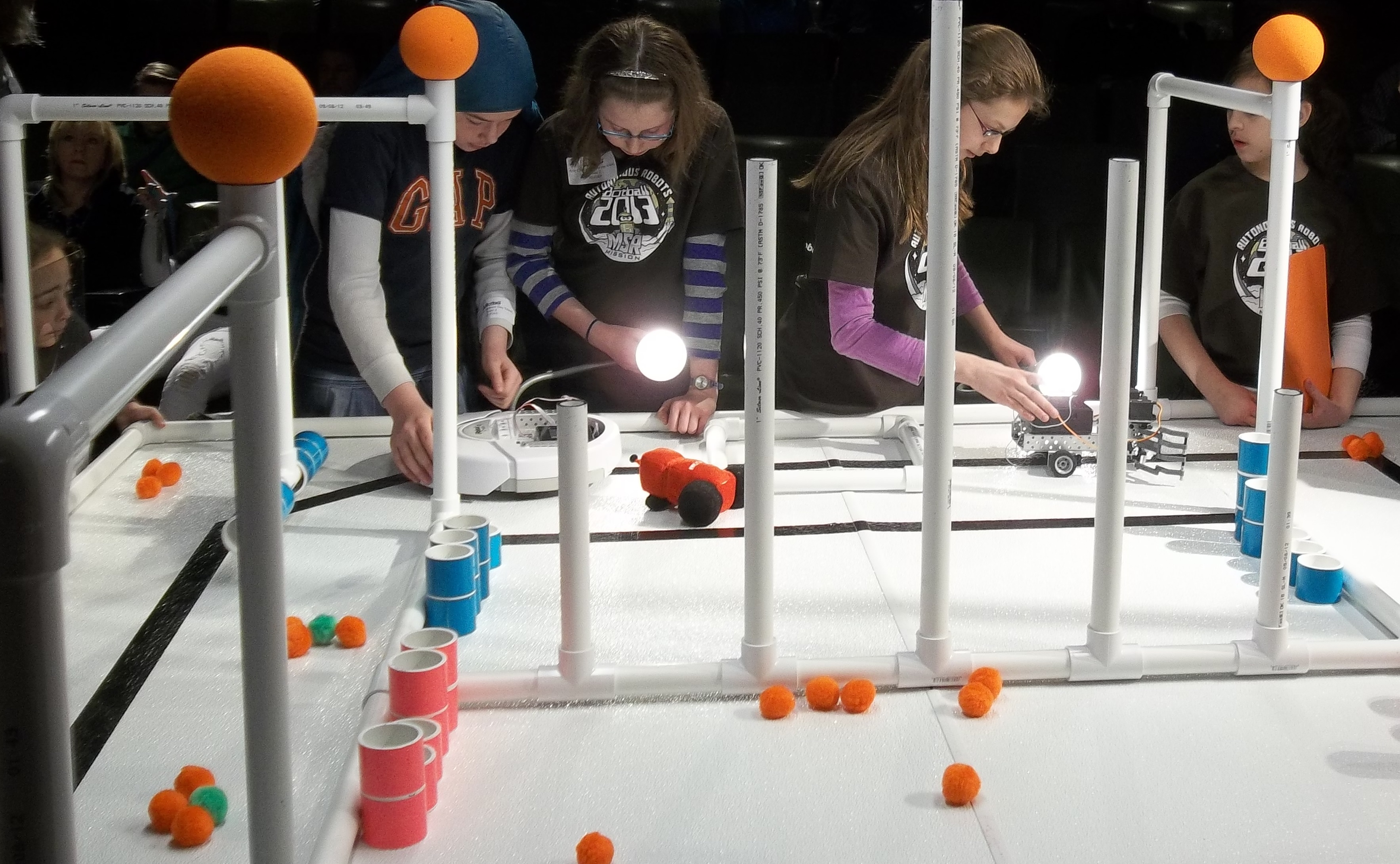 12/05/2013
Loyola played a key role in this year's Greater Chicago Regional Botball competition. This educational robotics program, designed for middle school and high school students, strengthens a wide variety of skills and builds excitement for future work in STEM (science, technology, engineering, and mathematics). As a regional sponsor, Loyola hosted the kickoff workshop in January and provided volunteers to assist teams and to judge at the culminating tournament. Ten teams competed at the tournament on April 14 at the Museum of Science and Industry. The teams each built two robots from a given kit of parts and composed computer programs to control them.

"I was delighted with the excitement level of participating students and their parents, and I could see that students were learning a great deal on many levels," said Dr. Ronald Greenberg of Loyola's Computer Science Department, who coordinated Loyola's participation. "Before the actual tournament competition, the students were required to make several online documentation submissions and an oral presentation, so the students exercised skills in communication and project management as well as mathematics, computer programming, and engineering. At the tournament itself, students could learn lessons in additional areas such as discipline and sportsmanship."

At the tournament, students competed in a simulated Mars Sample Return mission and could earn points by successfully manipulating a variety of objects on the official game table. Each team began by completing three seeding rounds with only their own robots on the table. Then the seeding positions were used for a double elimination tournament, with each round pitting two teams against each other on the game table at the same time. Overall winners were determined by placing a one-third weighting on each of documentation, seeding, and double elimination scores. The non-profit KISS Institute for Practical Robotics managed the competition and presented several types of awards.

Loyola students who assisted during the course of the Botball season included Zachary Bruno, Jake Kumar, Jessica Herrera, and Steven Reisman. Corporate support from regional sponsor Integrated DNA Technologies also was greatly appreciated.‌