Archive
Exploring social: Computer Science major Salomon Smeke spent his summer interning at 4C working on social media ads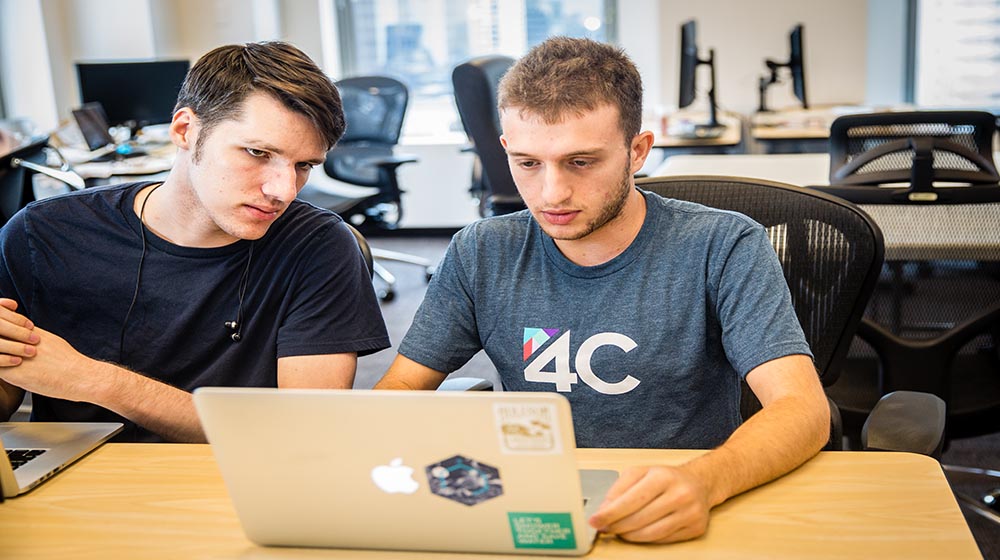 Intern profile: Salomon Smeke
Loyola senior Salomon Smeke is a Mexico City native who spent his summer being a sort of Mr. Fixit as an intern for 4C—a social media advertising and technology company based in Chicago. In this internship, Smeke was lured by his longtime interest in computer technology but soon discovered a newfound interest in advertising. In this interview, he talks about the impact of the internship and how it has influenced his career goals after graduation.
4C describes their company as a global leader in data science and media technology that is transforming the way advertising and content are measured, planned, bought, and sold. In plain English, what does that mean?
It's a lot of big words. Just to simplify things: advertising and social media are the cornerstones of this company. There's a bunch of ads on Facebook, Pinterest, LinkedIn, and Twitter. These are our four platforms. 4C is a way to manage advertisements on these platforms.
What attracted you to this internship opportunity? Honestly, advertising is not something I ever really was that interested in. Then one of my friends started working there and kept telling me how amazing 4C was as a place to work. He told me he was learning a ridiculous amount EVERYDAY. And that's what I want to do: learn more.
What interests you about working at 4C?
4C has a lot of interesting features some of which aren't available on native tools. For example, if you were to go through Pinterest tools to make ads you wouldn't see them, you wouldn't have some of the features that 4C offers. The company also offer analytics on your advertisements. What's working, what's not working.
What are you currently working on at 4C?
Much of my job is about fixing problems. Every product has bugs. A very large chunk of my job is to fix those bugs. QA (Quality Assurance) finds them and we fix them. There is a part of my job that also works on adding features: For example if you wanted to grab a set of ads and label them. Adding that feature to a platform like Pinterest is something that I'd do.
What's something interesting you've discovered during your internship?
You learn a lot from classes but it's something else to work in the field that you study. Going from building a project in the classroom to this internship where there's 22 people working on platform and there's standards, you have to adapt. For me it was a change in perspective. It allowed me to see what my job is going to be like as a software engineer hopefully.
What's your favorite part of 4C?
When you're working on a large advertising system it becomes very apparent that working with others is the cornerstone of this field. I assumed for a very long time, I could do anything by myself if I tortured myself: Eat a bunch of bagel bites and stay up all night. But no. There's no way. I realize now that it's a bigger art to work in a group with experts in your field. It's way more critical than just powering through by myself.
How do you think this internship will help you in your career?
Previous to going to 4C, I had no idea what half of this technology was. If you had told me CoffeeScript is something we used, I would have drawn a blank. Since I started my studies at Loyola 4 years ago, I've been angling toward web development and design. 4C has allowed me to discipline myself and expand my knowledge. So who knows?