Digitizing the Michalak Collection
This collaborative project of the Center for Textual Studies and Digital Humanities and the Loyola University Libraries aims to preserve, digitize, and make accessible via multiple platforms a rich collection of late eighteenth- and early-nineteenth-century political cartoons and pamphlets generously donated to Loyola University Archives and Special Collections by Thomas J. and Jo-Ann Michalak.
The Michalak Collection of Nineteenth-Century British caricature and satire features broadsides and books with illustrations by such leading artists as James Gillray (1757-1815), Isaac Cruikshank (1764-1811), Robert Cruikshank (1789-1856), George Cruikshank (1792-1878), John Leech (1817-1864), and others. This collection is particularly rich in materials related to the Napoleonic Wars (1803-1815), capturing the reaction of the British to the French military leader and emperor's aggressive expansion across Europe and in the colonies.
Under the supervision of University Archivist Kathy Young and Douglas Guerra (English PhD '12), the project has digitized an initial group of 66 prints, and those digital images with metadata are now publicly available in Loyola's Digital Special Collections. In the next stage of the project, faculty and students are working to create a mobile app for viewing the images with a multi-touch interface and using annotated edited pathways. This will allow users to unlock the significance of the often forgotten meaning behind the symbols, techniques, and words used in each image.
The digitized broadside prints are part of a much larger collection donated by the Michalaks. Consisting of over 1000 objects which includes political cartoons, graphical satires, illustrated books and pamphlets, finding aids, and reference works, the collection is housed in University Archives and Special Collections.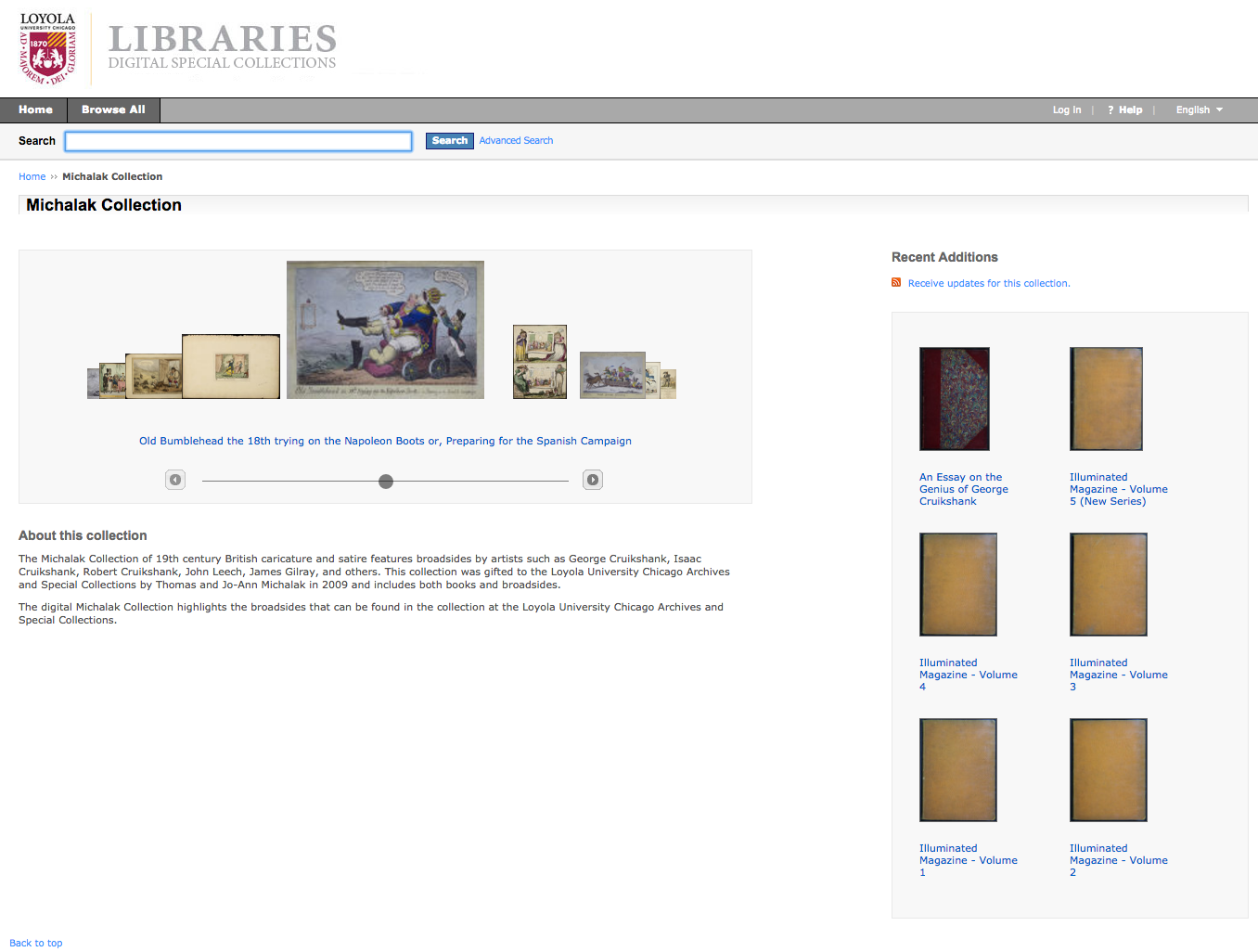 Project Director: Kathy Young
Website: http://content.library.luc.edu/cdm/landingpage/collection/coll32
Field(s): critical curation, digital archives, digitization, metadata