Student Research
At the CTSDH we are committed to nurturing student scholarship in the Digital Humanities and Textual Studies. Below you will find more information about projects undertaken by Loyola undergraduate and graduate students. Browse through and enjoy the diversity of creative work happening by the next generation of digital humanists!
‌
Blog Author: Bianca Barcenas
Blog: https://mappingvalleycatholics.wordpress.com/
Field(s): critical curation, digitization, history of the book and print culture, digital mapping
This summer and fall, Bianca Barcenas, an intern for the Jesuit Libraries Provenance Project, is helping analyze and map the rich data on Catholic readers found in an1840s book trade ledger maintained by the Jesuits at St. Louis.
About the Author:
I am a Junior from Portland, Oregon, and came to Chicago to immerse myself in history. History has been my passion ever since elementary school (to eight-year-old me, nothing was cooler than The Titanic or King Tut), so it was no surprise that it became the subject to pursue in college. I really enjoy researching information for papers and projects; I just love learning about historical moments and figures too much! While studying history, I am also pursuing my love of technical theatre at Loyola. Ultimately, I would like to go to graduate school to study Public History, then pursue a career in archives.
Being a part of the Jesuit Libraries Provenance Project will allow me to gain more experience in analyzing archived material. From completing the Ramonat Seminar my Sophomore year, I gained a large appreciation for such documents, especially those where I can connect my own story to them. The JLPP will be a great way for me to dive into primary research and find a deeper meaning from seemingly simple texts. I am very excited and fortunate to be working on this project, and I cannot wait to see where this takes me!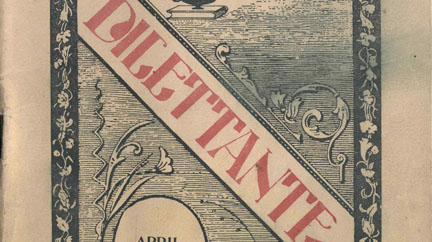 Blog author: Kyle Scheuring
Blog: http://dilettantemjp.weebly.com/
Field(s): digital archives, digitization, Modernist journals, ephemeral cultures
The Dilettante is a little magazine that was published in Spokane, Washington in April, 1898 and ended in 1901. Very little is known about this magazine. It was published on a fairly irregular basis and never lasted more than a few years. Kyle Scheuring's primary job is to digitize, mark-up, and upload scanned versions of The Dilettante to the Modernist Journals Project. In his blog, Kyle documents his experience as he delves into the world of fadazines and ephemeral bibelots through The Dilettante.
About the Author:
I am a Sophomore from Phoenix, Arizona. Growing up, I never would have thought English would be my preferred field of study. It wasn't until halfway through high school I realized how dynamic literature can be. Through my studies at Loyola I have found a specific interest in publishing and editing. I find the relationship between publishers and the authors fascinating. This interest was first sparked through my classes on medieval literature. Since printing wasn't invented, no two manuscripts have the same design, meaning the same work can appear in a variety of different forms. This opened up a layer of analysis I never knew existed. In most cases, I became more interested in the texts themselves rather than the stories or poems inside of them.
My work with the Modernist Journals Project has expanded my interests to a more recent time period. By digitally uploading late 19th century literary magazines, I am able to be a part of the publishing process. In the summer of 2016 I also had the opportunity to intern with Bigfish Publications, a retail magazine publishing company. Although my initial interest in publishing started with medieval literature, I am now looking at publishing as a possible future career.