archive
Loyola Awards Grant to Help Commemorate 150-year History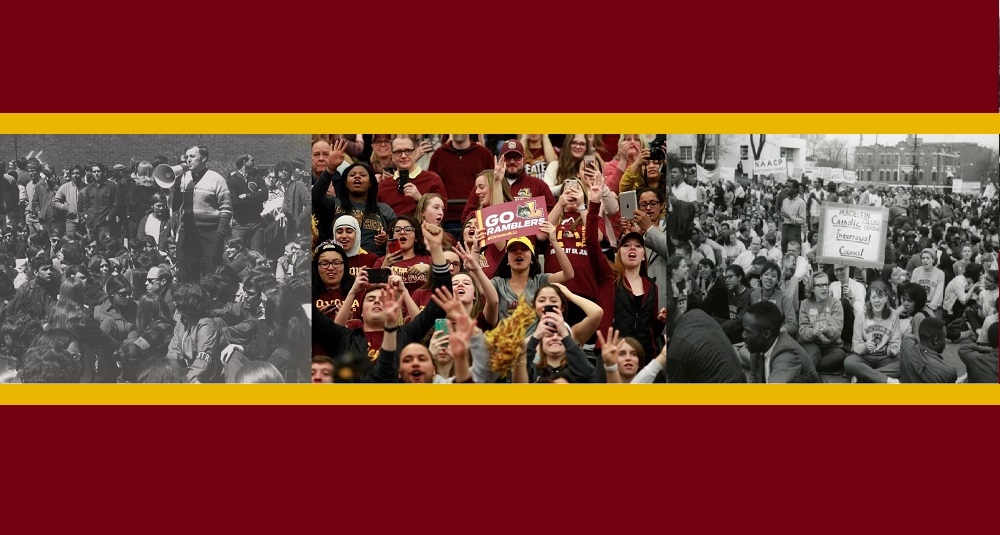 Documenting University's Past is First Step to Planning for its Future
Loyola has started initial planning for its 150th anniversary by documenting and digitizing its rich history. The Center for Textual Studies and Digital Humanities (CTSDH), Public History Program, and the University Libraries are the recipients of a three-year grant to help prepare for the university's 150th anniversary celebration which takes place in 2020. The grant provides funding to research the University's history, digitize important materials, and create digital projects that begin to interpret how the University has evolved through its first 150 years. The project runs through 2020 and began this summer.
The grant will fund employment for four graduate students as Sesquicentennial Scholars in University Archives and Special Collections in Cudahy Library and the Women and Leadership Archives in Piper Hall. The scholars from Public History and Digital Humanities will uncover and make accessible significant material related to the history of the university. The fellowships give them an opportunity to use the skills they are learning in the classroom while preparing for future professions.
"I am thrilled to be given the opportunity to highlight the history of Loyola and Mundelein," shares Sesquicentennial Scholar Tina Figueroa (MA in Digital Humanities '19), "and to make accessible the photos and documents that tell our story."
The Center for Textual Studies and Digital Humanities (CTSDH) is a collaborative multidisciplinary research center within the College of Arts and Sciences. It supports research projects and public programming at the intersection of the humanities and computing. It administers a Master's Program in Digital Humanities, one of the few such programs in the country. "The Sesquicentennial Scholars Program is a wonderful opportunity for our bright Master's students to put their skills to work while being mentored by talented professionals," explains Kyle Roberts, CTSDH Director.
Loyola's Public History Program is one of the oldest in the country, offering both a Master's in Public History, a joint MA in Public history and MLIS with Dominican University, and a PhD. Public history uses the past to serve a variety of contemporary needs. Graduates of the program work in museums, archives, preservation as well as any arena where the knowledge and skills gained through historical training can serve the public. According to Patricia Mooney-Melvin, History Graduate Program Director, "the Sesquicentennial Scholars Program represents an excellent mentored opportunity for our students to sharpen their communication skills, engage in collaborative work, and gain experience in translating history and using historical skills outside of the traditional classroom."
The University Libraries, with collections totaling nearly 1.5 million items in four facilities on the Lakeside Campuses and a library at the John Felice Rome Center, houses premier special collections materials in multiple archives. "We are so pleased to be able to collaborate on this important initiative," said Marianne Ryan, Dean of Libraries. "It's an opportunity to showcase our unique collections to highlight Loyola's heritage."
University Archives and Special Collections holds the historical records of Loyola dating back to its founding in 1870 as St. Ignatius College. These records document the growth of the University and reflect the accomplishments that have given the institution its unique identity. "The Sesquicentennial Scholars Program allows University Archives staff to partner with capable graduate students in the Digital Humanities and Public History programs to highlight Loyola's history and its relationship to the city of Chicago," said Kathy Young, University Archivist.
Loyola's Women and Leadership Archives (WLA) holds the records of Mundelein College, an all-women's college established in 1930 by the Sisters of Charity of the Blessed Virgin Mary (BVMs). From the beginning, Mundelein and nearby Loyola shared faculty, activities, and social justice values, eventually merging in 1991. According to WLA Director Nancy Freeman, "The 150th Scholars are excellent partners with the WLA to highlight the often unknown history of Mundelein, an integral part of Loyola's past. The Scholars bring energy, enthusiasm, and a strong desire to tell varied stories. It's fun and exciting to see their research and ideas!"
In addition to funding from the President's Office, generous in-kind support has also been given by the Center for Textual Studies and Digital Humanities, the Graduate School, the History Department, and the University Libraries. A public website with updates on their discoveries is in preparation and will debut later in the year.
About Loyola University Chicago
Founded in 1870, Loyola University Chicago is one of the nation's largest Jesuit, Catholic universities, with more than 16,600 students. Nearly 11,500 undergraduates call Loyola home. The University has four campuses: three in the greater Chicago area and one in Rome, Italy, as well as a course location in Vernon Hills, Illinois, and a Retreat and Ecology Campus in Woodstock, Illinois. The University features 13 schools, colleges, and institutes, To learn more about Loyola, visit LUC.edu, "like" us at Facebook.com/LoyolaChicago, or follow us on Twitter via @LoyolaChicago or @LoyolaNewsroom.
Meet the Sesquicentennial Scholars
Zach: Zach Stella is a first year graduate student in the Digital Humanities MA program at Loyola University Chicago. He holds a BA in English Studies from Illinois State University and has prior experience working as a technical writer for ISU's College of Arts and Sciences I.T. department.
Tina: Tina Figueroa is a second year MA student in the Digital Humanities program with research interest in Women Studies and History.
Hannah: Hannah Overstreet is in her first year of the Public History M.A. and currently works as a Sesquicentennial Scholar in the Women and Leadership Archives.
Austin: Austin Sundstrom is a first year M.A. Public history student, with a focus on American Civil War History. He has prior experience working on creating a searchable database for declassified CIA daily presidential briefing during his undergraduate.