archive
Kale Williams Award 2014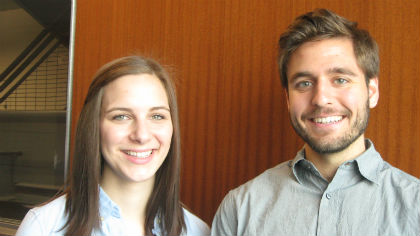 Risa Visina and Michael Janusek have been named as recipients of the 2014 Kale Williams Award for Exceptional Work in Promoting Human Rights and Social Justice. Each year this award is given to two CURL undergraduate or graduate fellows who exemplify the work and ideas of Kale Williams.

Kale Williams served as senior scholar in residence at CURL for ten years. Through his volunteer work at CURL, as well as through his human rights advocacy throughout his life, Kale has served as a model for everyone around him. Following service in the Navy in World War II he became a pacifist and worked with the American Friends Service Committee organizing projects to address injustice including interventions in Chicago's low-income communities, assistance to Native Americans in the Southwest, feminine relief in the Nigeria-Biafra civil war, and opposition to the Vietnam War.

In Chicago he worked with Dr. Martin Luther to bring about fair housing opportunities for all citizens regardless of race, ethnicity, religion, or income. After the 1966 open housing marches, Kale helped to found the Leadership Council for Metropolitan Open Communities, an organization for which he served as executive director for over 20 years. After service there, he was invited to Loyola University Chicago as Visiting Professor of Applied Ethics. It was after this visiting professorship that he became the Senior Scholar in Residence at the Center for Urban Research and Learning.

This award is a reminder that this spirit and commitment continues at CURL through the work of you and all of the faculty, staff, student, and community colleagues in CURL research projects.

This end-of-the-year award is distinct from the Kale Williams Scholarship Fund for which we are actively fundraising to create year-long scholarships for undergraduate students.