archive
Kale Williams Award 2015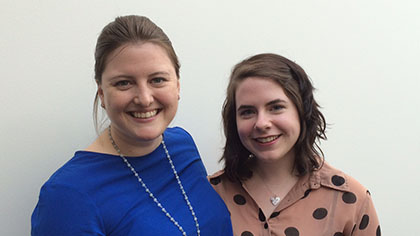 Leah Durst-Lee and Emily Nethercott have been named as recipients of the 2015 Kale Williams Award for Exceptional Work in Promoting Human Rights and Social Justice. Each year this award is given to two CURL undergraduate or graduate fellows who exemplify the work and ideas of .
Leah Durst-Lee
Leah has been working with CURL since May 2014 and has effectively coordinated our project with the Chicago Metropolitan Battered Women's Network. The Battered Women's Network is a collaborative membership organization dedicated to improving the lives of those affected by domestic violence through education, public policy, advocacy, and direct connections to service provides. One of our CURL staff members noted that Leah has "singlehandedly restructured the project to get it off the ground."
Emily Nethercott
Last summer as part of a Women's Studies Project, Emily got involved with ongoing work at Deborah's Place. For over 30 years Deborah's Place has been working to break the cycle of homelessness among women in Chicago through provision of supportive services and a variety of housing options. Since Fall 2014, Emily has been a CURL Undergraduate Fellow and a stalwart in working with our community partners. Most notable is Emily's work with the Family Court Enhancement Project, which is an initiative of the Cook County Domestic Violence Court.