Urban Studies Minor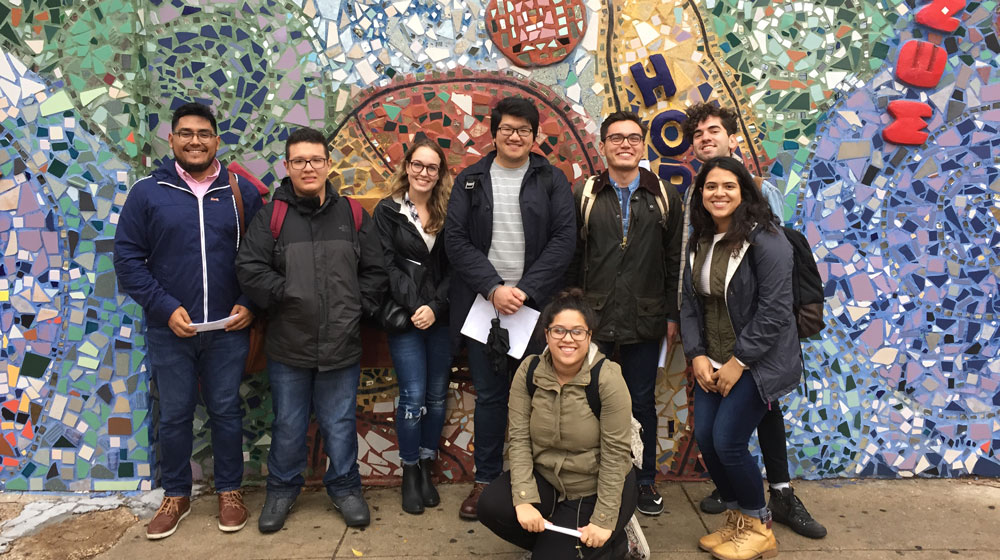 Seeking Solutions to Pressing Urban Issues in Partnership with Chicago Communities
The Urban Studies minor provides students with a unique opportunity to gain an understanding of how a city works. An interdisciplinary program of the College of Arts and Sciences, Urban Studies combines coursework in fields like sociology, psychology, history, philosophy, criminal justice, economy, environmental studies, and political science. Not only do students study social, political, economic, and cultural institutions in Chicago (and beyond), but they also get involved in research projects with community organizations seeking solutions to pressing urban issues.
The distinctive capstone of the minor consists of two courses: Urban Studies Seminar and Urban Studies Research. In the seminar, students learn about contemporary urban policy from readings, discussions, guest speakers, and neighborhood tours. In the research course, students contribute to a community-based, collaborative research project (housed at the Center for Urban Research and Learning – CURL www.luc.edu/curl) where they work with graduate students, faculty, community organizations, and government agencies.
The minor consists of two tracks:
General Track: Receive a broad introduction to themes and issues such as urban politics and com­munity life, as well as racial, ethnic, and economic inequality.
Environmental Sustainability Track: Focus on both sustainability in the social world (e.g. health, housing, education, jobs, and community) and in the physical environment (e.g. water, air, and soil).
How Does Urban Studies Fit into My Career Interests?
Students from a wide range of majors and minors will find Urban Studies directly relevant to their career paths. The minor provides the complementary skills and knowledge to work in fields such as social service, education, community organizing, business, law, politics, government, and environmental advocacy among others.
With the research team experience students receive in the capstone courses, the minor provides a distinctive research opportunity that helps undergraduates distinguish themselves when applying to graduate and professional schools. Urban Studies students have worked on many of CURL's research projects over the years and gone on to graduate study in urban planning, law, medicine, and a variety of other academic disciplines.
Many Urban Studies students are also selected for one of the paid CURL Undergraduate Fellowship positions which provide stipends during the academic year and sometimes during the summer.
What will I get out of the Urban Studies Minor?
With more than 8 million people, the Chicago Metropolitan area reflects the many complexities of urban life. Problems and solutions in the realm of politics, social life, education, and economics present themselves in a variety of subtle and not-so-subtle ways. Students in the Urban Studies minor will:
Understand the major developments, conflicts, and events that have shaped urban life
Contribute to active solutions to many of the issues facing local communities
Recognize the roots of urban social problems
Develop a deeper understanding of the methods researchers use to study urban life
Appreciate the links among social and physical dimensions of the urban environment (Environmental Sustainability Track)
Gain an understanding of sustainable policy solutions that bridge social science and natural science approaches (Environmental Sustainability Track)
Enroll in the Minor
Students who want to declare a minor should go to LOCUS and follow the instructions for declaring a minor. When they graduate, their Urban Studies minor will be noted on their official Loyola transcript. Students are strongly encouraged to meet with Dr. Gina Spitz to discuss participation and application of credit towards degree requirements.
Non-Minors Interested in the Capstone Courses
All of the courses in the Urban Studies minor are open to non-minors as well. In particular, students who wish to enroll in the capstone course – Urban Seminar (SOCL/PLSC 335) and Urban Research (URB 397) - should go to LOCUS and enroll for SOCL/PLSC 335 and then email Dr. Gina Spitz, the Director of the Urban Studies minor, who will complete their LOCUS registration for URB 397.
Non-Loyola Students Interested in the Program
Students not currently enrolled at Loyola are welcome to participate in Urban Studies but must first be admitted to Loyola. Please contact Dr. Gina Spitz to discuss the best way to expedite admission to the university before applying to the Urban Studies program.
Contacts
Dr. Gina Spitz
Director of Urban Studies
Associate Research Professor
Center for Urban Research and Learning
gspitz@luc.edu
773.508.8529
Mailing Address
Center for Urban Research and Learning
Loyola University Chicago
Cuneo Hall, 4th Floor
1032 W. Sheridan Rd.
Chicago, IL 60660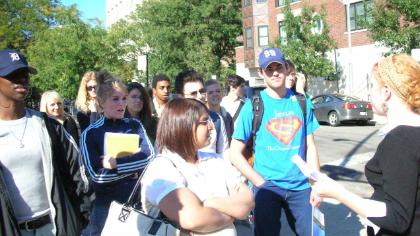 ‌Organization of the NorthEast youth organizer discusses affordable housing in Uptown.
‌City of Evanston Urban Planner discusses downtown development with Urban Studies Students.